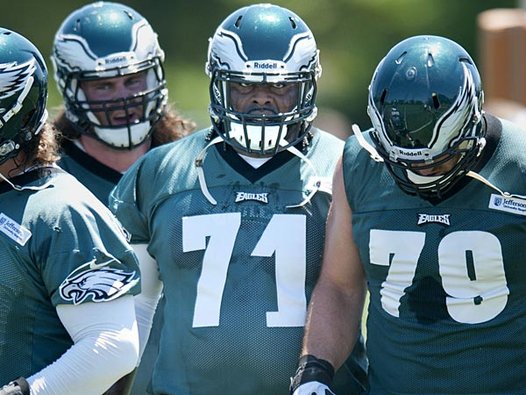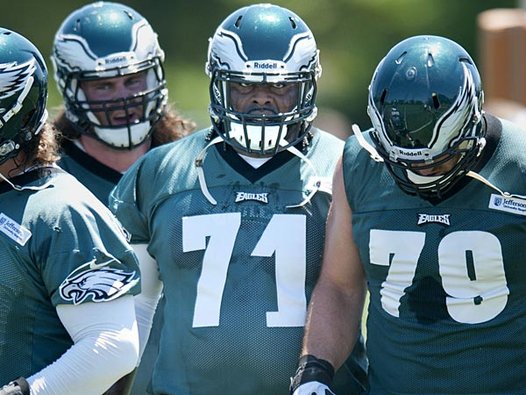 Jason Peters
After watching King Dunlap and Demetress Bell at the left tackle spot in 2012, Jason Peters was a sight for sore eyes, even if he wasn't quite the player he was several years ago.
Peters brought stability back to the position, but he didn't quite dominate like he did back in 2011. But by no means was Peters a weakness, and his form last year was still much better than the majority of left tackles in the game.
Evan Mathis
Mathis comes off of his strongest season yet, having been named to the All-Pro team and the Pro Bowl.
I wasn't a huge fan of Mathis during his first two seasons with the team, and I didn't see him as anything more than a serviceable starter in the past. But this year its become clear to me that while Mathis may not be a dominating, road-grading guard, he's a technically sound player that doesn't make many makes, and fits what the Eagles need him to do perfectly.
Mathis compliments Jason Peters and Jason Kelce extremely well.
Jason Kelce
Kelce bounced back from his season-ending 2012 injury and performed at a high level in 2013. He's not the biggest center in the game, but he's still exceptionally strong and is also a very smart player. The stability of the offensive line was greatly improved with Kelce around for 16 games.
The only knock I have on Kelce is that he had more than his fair share of botched snaps this year, occasionally resulting in a turnover for the Eagles. Perhaps he just needed some time to adjust to the pace that the new offense required of him, but its a problem he can work on for next year.
Kelce's best effort came in the game against the Lions, where he played a big role in helping the offensive line dominate against the dominant Detroit combo of Ndamukong Suh and Nick Fairley.
Todd Herremans
Herremans did not get off to a good start this year. He struggled throughout the first month of the season, missing blocks and getting pushed around in the pass rush. At one point, there was talk of Herremans getting benched in favor of Alan Barbre.
However, the dependable veteran was able to pick himself up and finished the year strong. It took some time, but Herremans eventually readjusted himself to the guard position and became the sturdy presence that the team needed him to be.
Moving forward, however, there's reason to wonder just how much the former 2005 draft pick has left in the tank. Herremans is a guy with a lot of miles on him, and his body has a great deal of wear-and-tear.
The Eagles can plan on Herremans being their starter for another year, but they've also got to think about getting a replacement in line for the years to come.
Lane Johnson
The top draft pick had his ups and downs, but overall did a good job holding down the right tackle position all year.
Every now and then, Johnson had a game where he'd be flagged for a couple of bad penalties, or get pushed around in pass protection.
But just compare his body work in his first year to the last offensive lineman that the Eagles drafted in the first round, Danny Watkins, and you really have to feel good about what Johnson did.
Watkins couldn't win a job that was handed to him in Training Camp during his rookie year, and proved to be soft mentally and spent the majority of his two years in Philadelphia on the inactive list when gameday came around.
Johnson showed plenty of potential in his first year, and he while he went through some growing pains in 2013, he's got a great group of veterans around him and a solid coaching staff that will help him harness his potential in 2014.
Alan Barbre
Barbre proved to be a versatile backup, capable of playing almost any of the line positions in a pinch.
He never made a start, but several times was called upon to replace Jason Peters and the unit didn't miss a beat. His most memorable effort came against the Green Bay Packers, where he relieved an injured Peters for almost the entire game.
He's a valuable sixth-man for the offensive line, and its a real luxury to have a starting-caliber backup waiting in the wings at all times.
Julian Vandervelde
Won the backup center job in Training Camp, and was never pressed into action.
Dennis Kelly
Preseason injury prevented Kelly from seeing the field although he was on the active roster for the entire year.
Without any looks at him in live action, its impossible to determine whether or not Kelly improved from what he was in 2012.
Matt Tobin
Raw talent won him a job in the preseason. He played primarily on special teams, and stayed active over Dennis Kelly even when Kelly was healthy.
Final Thoughts/Possible Changes
The Eagles got a great year out of their offensive line in 2013.
All five starters started every game, and when a line is healthy for a full season, they're going to jell together and get stronger as the year goes on.
Moving forward, the Eagles don't have any pressing needs at these positions, but it would be nice if they could continue to build up their depth. Having Alan Barbre around is a tremendous luxury in itself, but the Eagles don't have any proven options beyond him. Matt Tobin, Dennis Kelly, and Julian Vandervelde all have shown at least a little potential in the past, but none of those three strike me as starting caliber players.
With the exception of Danny Watkins, Howie Roseman has done a pretty good job at finding quality contributors from free agency and the late rounds of the draft to add to his offensive line. Evan Mathis and Barbre were both additions off of the NFL's veteran scrap heap. Jason Kelce was a sixth-round pick in 2011. Roseman seems to have a pretty decent idea of what to look for in a quality offensive lineman, and hopefully he can add at least one more quality piece to the reserves to improve the depth and help plan for the future when older guys like Peters and Herremans will need to replaced in the coming years.