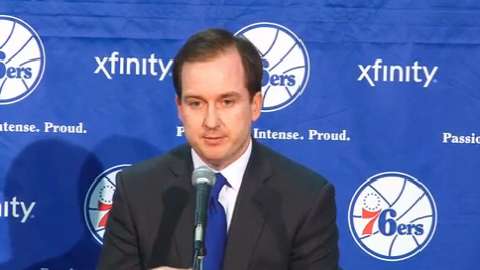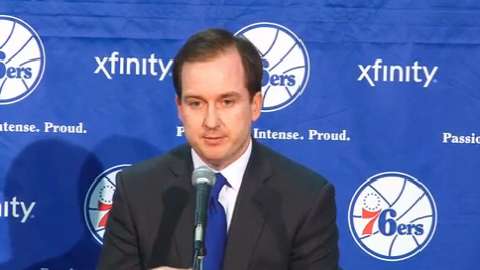 This is going to be an important week for the Philadelphia 76ers.
With Thursday marking the NBA's trade deadline, the pressure is on for general manager Sam Hinkie to make a couple of trades that will help benefit the franchise in the future.
Evan Turner, Spencer Hawes, and even Thaddeus Young are all on the trading block, and I believe its important for several reasons that Hinkie find a way to move at least two of these three before the deadline comes and goes.
Acquiring additional assets for the future is obviously a big key. The Sixers have been said to be seeking a first-round pick in any deal for either Turner or Hawes, and a haul like that would be ideal. This team is going to have to rebuild primarily through the draft. They're going to have the money to hand out big contracts to free agents but the LeBron James and Kevin Durants of the world don't currently view the Sixers and Philadelphia as an ideal destination.
Hinkie may have to be creative with how he goes about acquiring his future first-rounder though. Hawes and Turner have value, but with both players set to be free agents at the end of the year, its going to be a tough sell to get even contending teams to part with future first rounders. Hinkie may have to accept a pick from a year beyond the deep 2014 draft, or he may have to package another young asset such as Arnett Moultrie or even Nerlens Noel to help sweeten the deal for any interested parties.
But regardless of what it takes to make it happen, its imperative that Hinkie move at least one of the team's key veterans before Thursday. Not just for whatever future assets they might bring, but its also important for the Sixers hopes of landing a top pick in the lottery that they become even worse than they currently are.
As bad as they've been this year, the Sixers have overachieved under Brett Brown this year and have shown that they're capable of ripping off more wins than we expected. Subtracting even just one of either Turner, Hawes, or Young would be a crushing blow to this team's depth. They'd be down one more starting caliber player, and forced to give increased minutes to the likes of Hollis Thompson/Elliot Willams/Levi Brown/etc which means the gap in talent between the Sixers and other teams increases significantly and the losses will pile up even faster.
Standing pat is not an accepting option for Hinkie and the Sixers. In order to continue down the path towards making the future brighter, they've got to get worse in the present. Immediately.