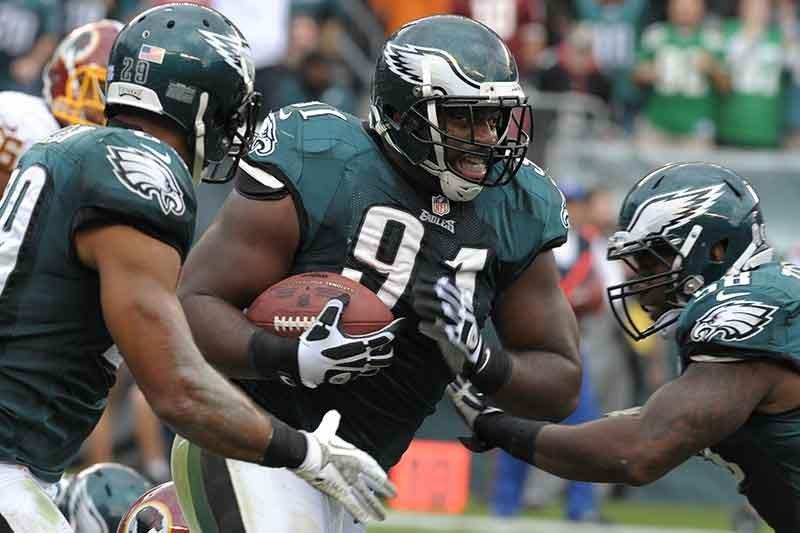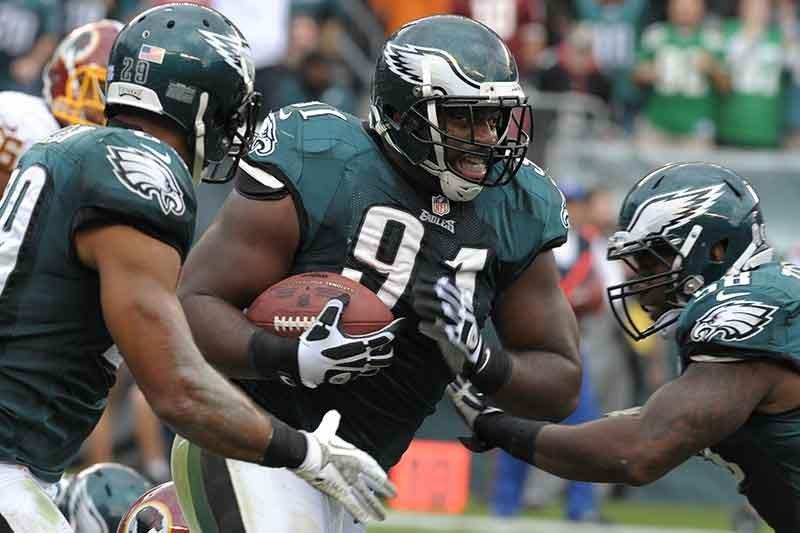 Fletcher Cox
Going into the season, we didn't know to what to expect from a lot of players on the defensive line.
With the change from a 4-3 to a 3-4, there was a lot of concern about which players on the roster would be able to make the transition.
Flecther Cox, however, was the one guy that a lot of people expected to really thrive in the new attack.
I thought Cox's production was a bit of a mixed bag in 2013.
First, let's look at the positives. Cox plays with a mean streak, and has an intensity about him that was really refreshing to see. There were times that Cox would just plow right through opposing lineman, and get into the backfield to help make a play.
The downside was that Cox wasn't always consistent, and there would be some weeks that you just wouldn't hear from the guy. In six games this season, Cox was held to one tackle or less. He also recorded only three sacks on the year, with his final sack coming on October 27th, giving him none in the critical months of November, December, or January.
I still like Cox a lot. He still has a high ceiling that he can hit, especially now that he's been in the new scheme for a year. What Cox really needs to bring out the best in him is a true nose tackle that can really cause some disruption in the middle of the line to help free him up.
Bennie Logan
Logan took over as the starting nose tackle for the ineffective Isaac Sopoaga, and really gave the line a nice boost.
Logan brought a lot of energy to the line, and recorded three or more tackles in five of his eight starts.
The third-round pick showed that he's capable of playing significant snaps in the middle of the line, even though he's a bit undersized. The Eagles could stand to upgrade over Logan eventually, but its not as pressing a need as other areas of the team.
Cedric Thornton
Thornton was one the team's most pleasant surprises, and was easily one of their most improved players.
Thornton made the transition to a starting 3-4 defensive end very well, and played well throughout the season. Even during the month of September when the defense as a whole was struggling (and looked like they were on pace to be historically bad), Thornton was one guy that you could point to and feel optimistic about.
Thornton finished with 60 tackles (averaging over three stops per game). His signature moment came in the Sunday night game against the Bears, when dropped star running back Matt Forte for a safety with just one arm.
Thornton even shifted over to play nose tackle in certain situations, and performed well.
Vinny Curry
And now, we look at the curious case of Vinny Curry.
Curry's situation has been a puzzling one since he was drafted by the team in 2012. Neither Andy Reid nor Chip Kelly's coaching staff seemed to think enough of Curry to put him on the field during meaningful situations, despite all of the positives that he had shown through two Training Camps and preseasons.
The concern with Curry this year was that he just wasn't a fit in the new defense. Before Training Camp, I don't believe that the coaches even intended to keep Curry on the final roster until they saw what he could do in the preseason and forced them to find a way to keep him around.
After surviving the final cut, the coaches still didn't seem to know what to do with Curry. He was inactive for the first two games of season, and saw his first action against Chiefs once Billy Davis and the defensive staff became desperate for a pass rushing threat.
Curry made his presence felt when given the opportunity, picking up four sacks in part-time duty. However, his effectiveness began to fall off during the final months of the year, and he didn't record a sack after the Green Bay game on November 10th.
The Eagles have a decision to make on Curry moving forward. If they're going to trade him, this has got to be the year they do it.
He's a young guy with a cheap contract who was a high draft pick that has flashed big play ability, and could potentially be a great pickup for a team that runs a scheme that will allow him to really flourish. I don't think picking up a third or fourth round pick for Curry is out of the question. As much as I like Curry, I just don't know that he's ever going to be more than a role player in this system, and if the Eagles can flip him into a player that could potentially be more than just a role player, I think they've got to make that move.
Clifton Geathers
Acquired in a trade with the Colts, Geathers made the team out of Training Camp and was a regular member of the defensive line rotation.
Geathers is quick, and moves very well for a man of his size, but he's nothing more than a rotational run defender and doesn't bring anything to the table as a pass rusher. He's a reliable option, and could return for another year in 2014, but he's very replaceable.
Damian Square
The last guy off of the bench, Square didn't see much action during the regular season after making the team as an undrafted rookie.
He was active for the first two weeks of the season, but lost his spot in the rotation to Curry. He remained inactive until the Sopoaga trade, and he became the team's primary backup behind Bennie Logan at the nose.
Square is a smart player, and will have a chance to be back with the team if he can keep improving.
Final Thoughts/Possible Changes
As a whole, the defensive line was solid, but unspectacular.
For the most part, this group did a good job against the run, but offered very little against the pass.
Young players like Cox, Thornton, and Logan have bright futures ahead of them, and should continue to grow and progress.
The Eagles are eventually going to have get a bigger body to play the nose tackle position, but with needs at safety, corner, outside linebacker, and potentially wide receiver, the nose is unlikely to be a top priority this year.
Vinny Curry is one of the team's most attractive trade chips, and I expect the Eagles to do everything they can to try and get a decent return on him between now and the draft.
B.J. Raji or Paul Soliai are top veteran options available to possibly upgrade nose tackle, but neither guy is going to come cheap, and with the Eagles taking on a much more cautious approach to free agency, I don't expect the team to get heavily involved in the discussions for either one.