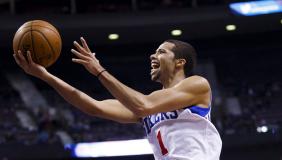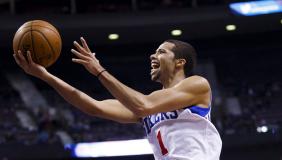 The Philadelphia 76ers lost their 12th straight game on Wednesday night, falling to the Magic 101-90. Their record drops to 15-43.
After their embarrassing effort against the Bucks, the Sixers rebounded with a more respectable effort tonight. They played Orlando evenly through most of the game, and actually led at halftime.
However, the wheels would fall off in the fourth quarter, when the Magic outscored Philadelphia 34-23.
Michael Carter-Williams had an off night shooting, connecting on just 3-13 shots.
Brett Brown shook up his starting lineup, removing Tony Wroten and Arnett Moultrie while inserting Henry Sims and Hollis Thompson.
Sims turned in a decent effort with 10 points, six rebounds, and a block.
Eric Maynor came off of the bench and scored 13 points, connecting on five of six shots.
Arnett Moultrie played just over 15 minutes.
Thaddeus Young led the team with 19.
Former Sixer Nik Vucevic scored 21 points to go with 13 rebounds.
The Sixers shot just 5-22 from three-point range.
The Magic outrebounded the Sixers 55-42.
Final Thoughts
Its becoming more and more clear that Arnett Moultrie has no future with the Sixers.
Moultrie has barely seen the court all year, and even when healthy he's been in Brett Brown's doghouse because of conditioning issues.
Now, after two lackluster starts, the former first-round pick is barely in the rotation at all after playing just 15 minutes tonight. He doesn't fit what Brown and the organization want to do physically, or from a mental standpoint. The Sixers want players who will be willing to come in and grind things out everyday, and Moultrie has shown he's not that guy.
He's sulked and moaned throughout the year, and given poor effort when he's had opportunity. That's a recipe to earn a ticket out of town next summer.