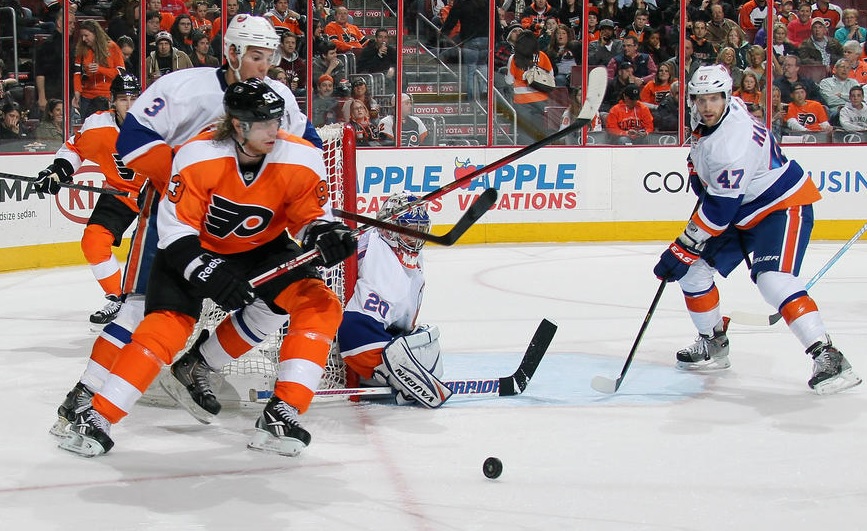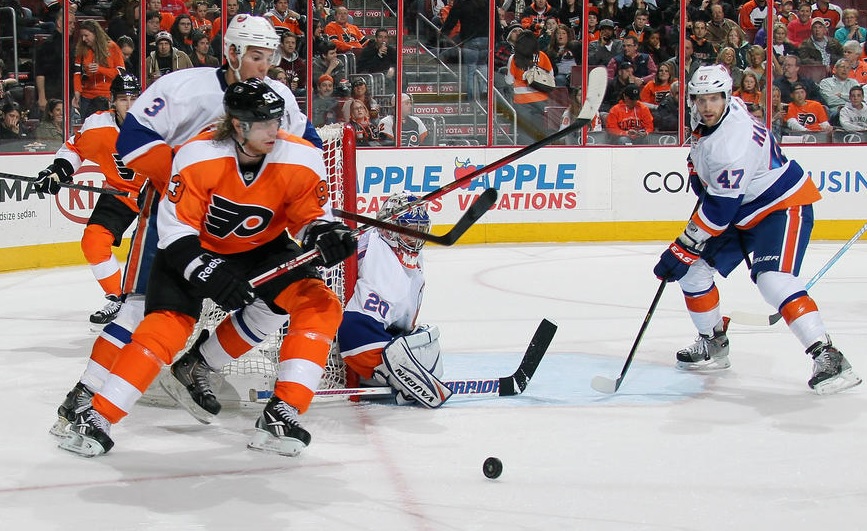 The Philadelphia Flyers announced on Tuesday afternoon that they have acquired defenseman Andrew MacDonald from the New York Islanders in exchange for a 2nd round pick in the 2015 NHL Entry Draft, a 3rd round pick in the 2014 NHL Entry Draft, and defensive prospect Matt Mangene.
The deal has been met with mixed reactions from Flyers fans and media alike.
It has been argued for months that while the Flyers' blue line has been serviceable when the team commits to defense as a group, the individual defensemen comprise predominantly 4th/5th defensemen- that is, players who are perfectly fine in a second or third pairing role but do not fare as well when expected to take on greater responsibilities.
The team also has three puck moving defensemen on the roster with varying long-term concerns.
Erik Gustafsson is a young, quick defenseman, but hasn't been able to crack the roster full-time while head coach Craig Berube bounces between "Gus" and Andrej Meszaros. He inexplicably sees significant ice time in the limited games he plays, but there aren't many expectations for him to serve as more than a third pairing defensemen.
Mark Streit steadily improved as the season wore on, but he is 36 years old and on the decline of his career.
Kimmo Timonen remains the best player on defense, but at 38 years old, he also can't be expected to anchor the blue line as a #1 defenseman forever.
It would be ideal for the Flyers to have addressed these concerns with the acquisition of a young, puck moving defenseman. What they have acquired instead is another talented 4th/5th defenseman that is excellent at blocking shots, in the vein of Nicklas Grossmann and Luke Schenn.
By itself, the trade isn't that bad. The Flyers sent along two draft picks for a 27-year-old defenseman that has averaged more than 23:20 of ice time in each of the last four seasons.
His possession numbers have not been particularly good in the last few years, but it's worth noting that he has taken on #1 defensive responsibilities in each of those seasons. As I noted a few weeks ago, it's fairly typical for defensemen used in the situations he's been used in to see a ton of shots against. Playing against the Crosbys and Ovechkins of the league will do that.
MacDonald's best possession numbers came in the 2009-10 NHL season, when he was primarily used with Mark Streit as a 1st/2nd pairing defenseman. If MacDonald bumps Nicklas Grossmann down to 3rd pairing (and sees slightly easier competition as a result), he is arguably a good upgrade at the 2nd pairing defenseman roster position.
Here's where the trade becomes questionable.
Right now, the Flyers have nine defensemen on the roster. It is very, very unlikely that they are going to continue the season with this many defensemen. They also do not need all of Schenn, Grossmann and MacDonald on the roster. There's too much redundancy in this group with none of them being ideal top pairing defensemen to keep all of them.
One of the reasons that the Islanders did not re-sign MacDonald already is because his asking price for an extension was five years at $5 million per year. He currently makes $550,000 per year. The Islanders initially offered him four years at $3.5 million per and then $4 million per year, but he rejected both.
Grossmann and Schenn, playing the same role, currently earn $3.5million and $3.6-million, respectively. Understanding how the Flyers have approached these situations in the past, it isn't out of the question for them to meet MacDonald's demands and then some come the offseason.
We can't fully evaluate this trade then until after Wednesday's 2:00 p.m. trade deadline. If the Flyers move one of these players or, say, Meszaros for a 2nd round pick elsewhere, then the net value of the moves isn't all that bad.
The other factor that indirectly affects the evaluation of this trade is the trade market around the league today.
The Chicago Blackhawks acquired defenseman David Rundblad, 23, from the Phoenix Coyotes for a 2nd round pick. Rundblad currently makes $785,000 and will be a restricted free agent defenseman after the 2014-15 NHL season.
Rundblad is a young, puck-moving defenseman with very good second pairing potential and a generally unknown talent ceiling at the NHL level.
The Flyers aren't the only team that apparently dropped the ball here, but Rundblad would have been an excellent pick-up for the Flyers at a surprisingly low cost to actually fill their long-term needs.
The Blackhawks obviously know a thing or two about winning Stanley Cups in the modern NHL. It is a bit disconcerting to see them continue to make very intelligent moves to continuously stack their rosters while the Flyers appear to be limited to the type of defensemen they're willing to dress on a nightly basis, but as mentioned before, we'll have to see how the next 18 hours play out before full understanding the implications of today's trade.
MacDonald will wear #47 for the Flyers.