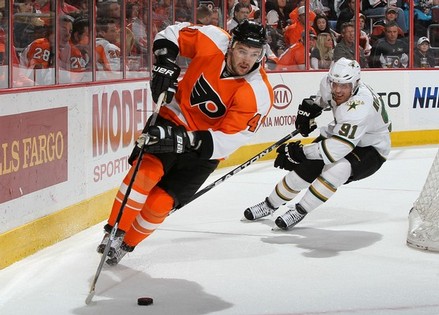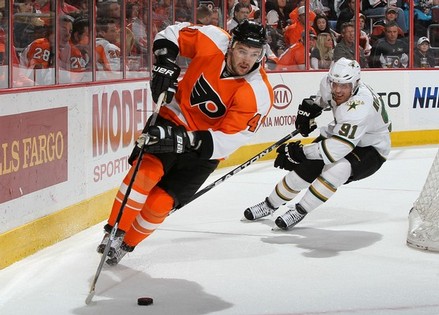 The Flyers acquired defenseman Andrew MacDonald from the New York Islanders yesterday. As noted then, it would be difficult to evaluate that trade until all moves before the trade deadline were finalized on Wednesday.
Just before the 3:00 p.m. deadline, the Flyers traded defenseman Andrej Meszaros to the Boston Bruins for a conditional 2014 3rd round draft pick.
The conditions of the draft pick:
If the Bruins make the Eastern Conference Finals and Meszaros plays in at least 2/3 of all playoff games, OR the Bruins re-sign Meszaros before the NHL draft, it becomes a 2nd round draft pick.
If the Bruins sign Meszaros after the NHL Draft, the Flyers receive an additional 4th round pick in the 2015 NHL Entry Draft.
As interesting as these clauses are, it would be pragmatic to anticipate the Flyers only receiving a 3rd round pick. Meszaros does have ties with fellow Slovakian olympian Zdeno Chara, but the Bruins are likely to keep Dennis Seidenberg slated for the top pairing next October and may not have need for Meszaros' services.
In essence, the Flyers traded Andrej Meszaros, a 2nd round pick and a 3rd round pick for Andrew MacDonald and a 3rd round pick. On paper, it's a relatively lateral move that provides the Flyers with a defensive defenseman that may be more reliable than Nicklas Grossmann and Luke Schenn, but doesn't address the puck moving concerns on the blue line.
The Flyers didn't make any dramatic moves, but that's not necessarily a bad thing. General manager Paul Holmgren will still need to take a long hard look at his defense in the offseason (especially if Kimmo Timonen does retire), but the defense has proven serviceable to date if the team remains composed and committed to backchecking.