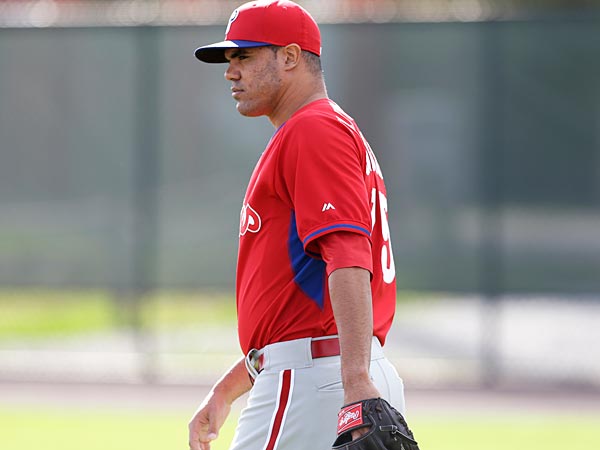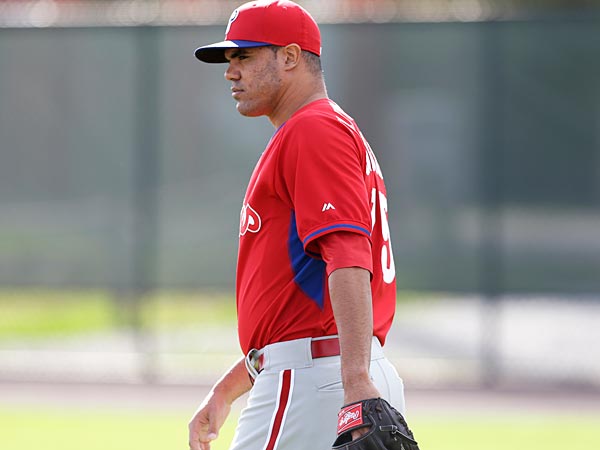 The Philadelphia Phillies lost their Grapefruit League match to the Baltimore Orioles on Friday.
A.J. Burnett was pounded for six runs over three innings. Burnett gave up seven runs and one walk, and struck out only one batter. The veteran gave up two runs in the second inning, and four in the third.
Miguel Alfredo Gonzalez followed Burnett with a rough performance of his own, getting blasted for four runs on four hits and two walks in just one inning.
Mike Stutes took the mound next, and didn't fare much better, allowing two runs on two hits and a walk in one frame of work.
David Buchanon gave up a run in the sixth.
Caesar Jimenez allowed a run in the eighth.
While the pitching staff was a disaster, the Phils did get some good news at the plate. Ryan Howard went 1-3 with a double and drove in a run.
Darin Ruf hit a solo home run in the eighth inning, his second long ball of the spring.
Cody Asche went 1-3 with a walk.
Catcher Cameron Rupp went 2-3 with a homer.
Marlon Byrd went 1-3 with a single and drove in a run.
Bobby Abreu went 0-3.
Final Thoughts
Earlier today, there was a report on CSNPhilly.com that the Phillies may be taking a look at bringing in additional starting pitching help in the form of Erwin Santana, who is still available as a free agent. The team later shot down the report, but they seriously need to reconsider.
If today's game is any indication, the Phils need to do all they can to make another move to upgrade this rotation as soon as possible.
Cole Hamels' status is becoming more of a concern with each week. He's already suffered a setback, and I'd be surprised if we see him before mid-May.
Cliff Lee and A.J. Burnett (who just got rocked today) are the only solid options in the rotation. The Phillies are already looking at having two fifth starters in their rotation with Kyle Kendrick and Roberto Hernandez serve as their third and fourth starters to begin the year. Miguel Alfredo Gonzalez has been a complete disaster, and he hasn't shown anything to make anyone think he belongs anywhere near a major-league mound.
The idea of having two low-end starters plugged into the three and four holes is bad enough, but when you consider that the fifth starter spot is going to have to be either Gonzalez or a guy like David Buchanon, that's downright frightening. That's very bad news for a team that doesn't have a good enough offense to overcome poor pitching.
Back in 2008-2009, the Phillies could endure subpar pitching because they had an incredible explosive offense that could overcome it. They don't have that anymore, and with a rotation that could feature three fifth-starters, its going to make it even more difficult for this team to stay competitive.
The Phillies desperately need more help for their rotation, and they've got to go out and make another move before the season.