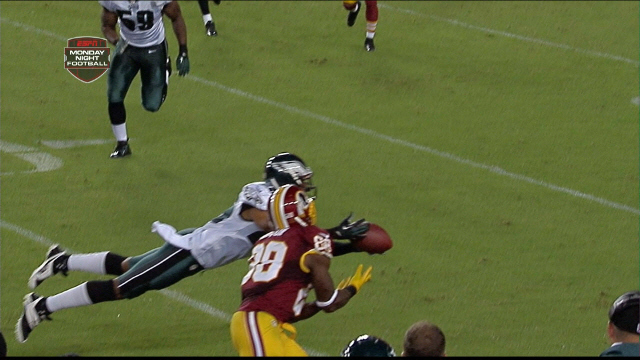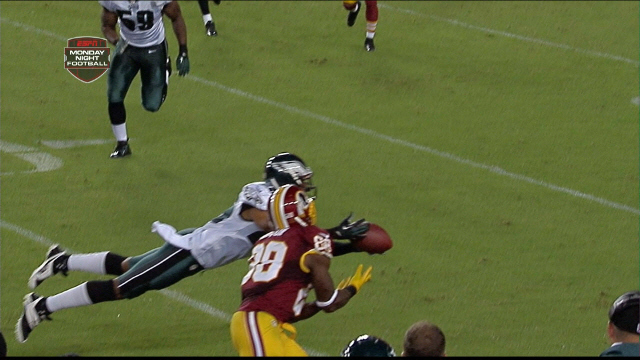 Cornerbacks
Cary Williams
Williams isn't a shutdown corner, but he accomplished what he was brought on board to do: be a serviceable starter, and bring some toughness to the defense.
Williams became one of the faces of the defense, and became one of the defense's leaders. He called his defensive teammates out early in Training Camp for being too soft, and that the unit desperately needed a culture change. With his feisty play on the field, Williams helped that culture change become a reality, as the defense improved and developed a certain toughness over the season.
Williams recorded three interceptions, and 67 tackles. While he wasn't perfect, basic fundamentals such as tackling were a vast improvement over what we had seen in recent years from the likes of Nnamdi Asomugha and Asante Samuel. Unlike Asomugha and Samuel, Williams' attitude wasn't a distraction. He didn't point the finger at his safeties after a broken coverage like Asomugha, and he never had problems playing the run like Asante.
Williams did take some bad penalties at times, but that was something that was expected of him. He had a reputation for drawing a lot of penalty flags during his time in Baltimore.
The former Raven is a virtual certainty to be a starter again next year, and the Eagles could help make his job a lot easier if they're able to upgrade the safety talent around him.
Bradley Fletcher
After struggling mightily in the preseason and early in the regular season, I thought Bradley Fletcher made some nice strides as the year went on.
Fletcher registered two interceptions along with 70 tackles. Durability was a bit of an issue at times, as the former Ram missed three starts over the year with various injuries.
Fletcher showed that he can be a viable starting option in this league, but he's far from elite and will need to be upgraded down the line. He played well enough in 2013 that the Eagles don't need to make cornerback one of their top priorities during this off-season, but not well enough to make anybody think he's truly a long-term solution.
He's technically sound, and isn't a liability. But he's not a gamechanger.
Brandon Boykin
Boykin enjoyed a breakout campaign, and truly was the star of the secondary.
Boykin had a Pro-Bowl caliber season.
He's a versatile player who has excelled in whatever role the Eagles have asked him to play this year.
The 23-year old has finished the regular season with six interceptions (one returned for a touchdown), 17 passes defended, and two forced fumbles. He's also been one of the team's most effective special teams players. He's often been the guy who has run down Donnie Jones' punts to down them deep in opposing territory.
When you look at those turnover numbers that have come from a guy who isn't a starter and doesn't play on every down, to get that kid of turnover production is absolutely remarkable. But whats even more stunning is when you examine those turnovers even more closely.
Many of Boykin's turnovers have come in big moments when the team has been in dire need of a big play.
In Week 2, Boykin forced a fumble before the end of the second half on a drive where San Diego was marching into the redzone looking to go up another touchdown.
In Week 5 against the Giants, Boykin made an incredible interception, taking a ball away from Hakeem Nicks that helped seal the road win against New York.
In Green Bay, Boykin picked off a pass in the redzone and returned it 76 yards. It was a game-changing play that helped the shift momentum in the Eagles' favor.
In Week 11 against Washington, it was Boykin who came down with the interception in the endzone that stopped Washington's comeback effort with 40 seconds left and helped the Eagles hang on for another win.
And much like he did against the Redskins, the young corner had another huge interception last night against the Cowboys, intercepting Kyle Orton at the end of the game to help preserve a two-point lead and win the Eagles their first division title since 2010.
That's five games that Boykin has had a significant, game-changing impact on. He's become an impact player who is thriving in his role with this team.
Roc Carmichael
Carmichael was thrown into the fire several times during the year when Bradley Fletcher was out of the lineup.
The former Texan didn't have any terrible moments when he was on the field, and that alone could make him worth keeping around as a fourth cornerback.
Carmichael certainly didn't flash any big play ability, but when you consider the fact that he was brought aboard midway through the season and forced into the lineup out of necessity because guys like Brandon Hughes/Curtis Marsh/Jordan Poyer/Shaun Prater couldn't step up and earn playing time despite being on the roster throughout the whole summer, you have to give Carmichael some credit for going out there and just surviving.
He'll be in the mix for a roster spot, and hopefully with a full off-season to work with the coaches, he'll be able to gain a greater understanding of the system and build upon what he was able to do this year.
Curtis Marsh
One of the remaining major busts from the 2010 draft still hasn't shown any reason that he belongs on an NFL roster. The Eagles need to do better than Marsh next year as their fourth corner.
Safeties
Patrick Chung
The 2013 free-agent class brought some great additions to the roster (Cary Williams, Connor Barwin, Bradley Fletcher, Donnie Jones), but there were also some pretty big busts, and Patrick Chung may been the biggest bust of them all.
Chung was expected to come in and lock down one of the safety positions, but he was a complete liability whenever he was on the field and actually made a lot of fans appreciate what they had in Nate Allen.
Chung ended up losing his starting position to rookie Earl Wolff. He didn't record a single interception, and seems very unlikely to return next season.
Nate Allen
Allen had his best season as a pro in 2013, although that isn't really saying much.
The former second-round pick had only one interception, but he was much less of a liability than he had been during his previous years as a starter. Allen enjoyed working with new secondary coach Todd Lyght, who really helped the young safety get back some of his lost confidence.
Allen is set to be an unrestricted free-agent, and I don't think he's likely to return. I think the Eagles might be interested if they're unable to land one of the top names on the market, but I believe they really want to move on from Allen and get themselves a significant upgrade for the position at this point.
Earl Wolff
When healthy, Earl Wolff flashed some nice potential.
The problem was that Wolff wasn't healthy very often. He missed five games with a knee problem, and forced the Eagles to use Patrick Chung much more often than they would have liked to.
Wolff is a natural strong safety, and brings some good physicality to the table. He's the only safety from the 2013 roster that is a lock to return for 2014, and will likely be in the mix for a starting spot.
Kurt Coleman
Coleman wasn't liked by the coaching staff, and never received an opportunity to start even over a totally ineffective Patrick Chung. That doesn't bode well for the future of the former seventh-round pick, who has more than likely played his last game as an Eagle.
Colt Anderson
Everyone loves what Anderson brings to the table as special teams ace, but how much longer can the Eagles justify devoting a roster spot to a guy that can't contribute anything to the regular defense?
Final Thoughts
If the Eagles are going to make a splash in free agency, its going to be at the safety position. Neither Jairus Byrd or T.J. Ward were tagged, and will be unrestricted free agents next week.
Howie Roseman has commented that the Eagles won't go into the draft without some kind of viable starting option at all positions, which suggests to me that the Eagles plan on adding at least one of the top three or five safeties on the market.
As for the cornerback position, its another area where the Eagles need to improve their depth. Roc Carmichael may be the only reserve worth hanging on to, and with Bradley Fletcher a durability concern, the Eagles need to get some better talent behind him.