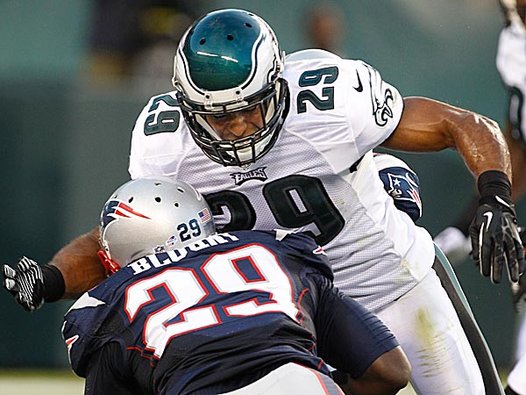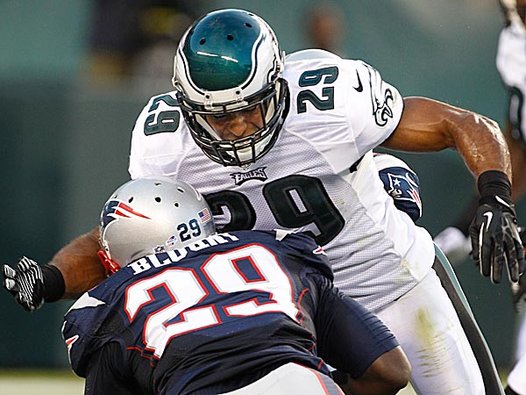 The Eagles have signed three safeties this offseason. Pair these acquisitions with 2013 5thselection Earl Wolff, and the Eagles arguably have their projected safeties for the 2014 season. Jenkins will be accompanied by the winner of the Wolff/Allen position battle. Jenkins was a full time starter lastseason with the Saints and Allen with the Eagles, while Wolff showed enough when "healthy" to earn the respect of his teammates and coaching staff. With the now "depth" on paper at the safety position, is it best for the Eagles to still invest a first round selection on a safety?
I can't envision anyone "excited" that Nate Allen has returned. A former second round pick, a forgettable career in Philadelphia, yet to establish a resume that elevates him past the "Donovan McNabb" selection . Not to excuse Nate Allen, but prior to his injury in his sophomore season, he showed potential. After the injury in which he rushed back from with his rehabilitation process, his mental and emotional confidence was all but gone, and so was the consistency with his defensive coaches. Add to that the lack of talent helping him at safety and cornerback, the guy has had little stability around him. Fully healthy, the same defensive coordinator as last season and improved help at the other safety position, maybe the pieces are in place for Allen to improve on a "solid" 2013 campaign.
As far as Early Wolff, he was a fifth round selection, he "moved up" on the depth chart due to injuries with Chung, and how Coleman and Anderson were only for the special team units. When the lack of talent around you is as pitiful as the contribution was minus Allen, anything you do right is going to be recognized as an "upgrade." Wolff showed he is a sound tackler with good closing speed and willing to put his helmet in the numbers with his run defense. His skill set is different than, providing the coaching staff with some options to compliment what Jenkins does best.
If talent was available in the fifth round last year in Wolff, we know that a potential starter can be found later then the first round. Additionally, most are projecting for both Pryor and Clinton-Dix to be drafted by the time we select at #22. We saw how quickly safeties were signed in free agency, and not all teams that needed safeties landed one. A few of these teams draft prior to the Eagles, which leads me to believe we will have to move up to get one of these "top" safeties.
Is the desperate feeling that we "must" land one of these two safeties as strong as it was prior to our free agency signings? Are you prepared to trade additional draft picks to get yourself into position to take a Pryor or Clinton-Dix?
I believe the Eagles would need to trade up to pick 13 (Rams second pick in the first round) to get one of the two top safeties. The Bears (14th), Steelers (15th), Cowboys (16th), Dolphins (19th), and Packers (21st) are all in the need for upgrades at the safety position. The cost to move up that high will be additional early round draft picks that could fill the void of other defensive needs.
With the talent already on this roster and the salary cap figures for 2015, cornerback, outside and inside linebacker, wide receiver and defensive line are all areas that we could target in round one. Roseman and Kelly will get a great player if they wait until their pick at #22 and it may not be the safety we covet.
Will you be alright with that? Which "non-safety" player(s) name would you want called with the 2014 first round selection of the Philadelphia Eagles?