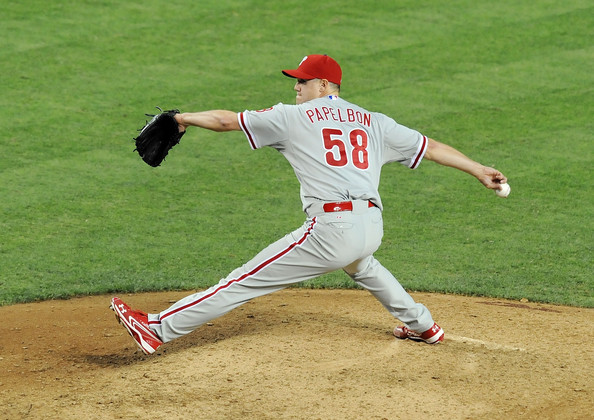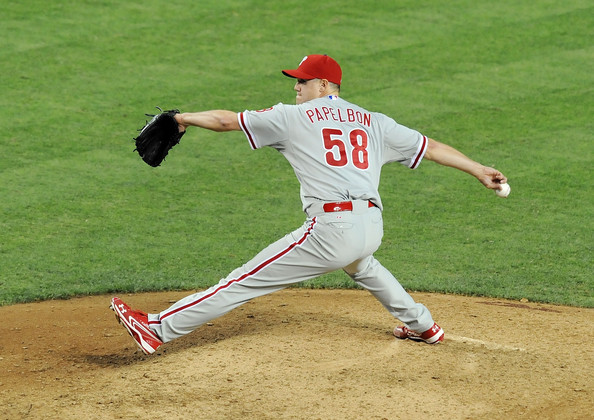 The Philadelphia Phillies lost the final game of their series with the Rangers 4-3. Their record drops to 1-2.
Kyle Kendrick anchored the team with a solid start, tossing seven innings and allowing just one run on five hits and one walk.
Kendrick got into some early trouble in the first inning. He gave up two singles, and a throwing error by Domonic Brown put runners at second and third with none out. He managed to strikeout Prince Fielder, and then he, Cody Asche, and Carlos Ruiz were able to work together to get Shin Soo-Choo out at home on a ground ball by Adrian Beltre. Kendrick finished the frame by forcing Alex Rios to fly out.
Kendrick stayed out of trouble until the seventh inning, when he gave up a one-out triple to Mitch Mooreland who would come around to score two batters later.
Ryne Sandberg rolled out his third different lineup in as many days. Today, Sandberg hit Carlos Ruiz out of the two-hole, while starting Jayson Nix at short (Jimmy Rollins was on leave to be with his pregnant wife), played Ryan Howard as a DH while inserting John Mayberry at first, Domonic Brown returned to left, and Cody Asche was back in at third.
Sandberg's new lineup enjoyed some early success in the first inning. Carlos Ruiz hit a one-out double, and then was driven in by Chase Utley with a single.
In the third inning, two batters after Carlos Ruiz worked a walk,  Ryan Howard hit a two-run homer, his first of the season.
Jayson Nix wasted a scoring opportunity in the second inning, grounding into an inning-ending double play.
Domonic Brown's struggles continue. Brown struck out twice, and failed to come through with two on and two out in the fifth inning.
Ben Revere went 0-5 and left three runners on. He's gone two games without a hit since his strong performance on Opening Day.
Cody Asche went 1-4 in his return to the lineup.
Ryne Sandberg went back to Mario Hollands one day after the rookie played a role in losing the team a game. Hollands was asked to protect a two-run lead in the eighth inning, and he responded by tossing a scoreless inning.
Jonathan Papelbon blew the save and took the loss after imploding in the ninth inning. Papelbon allowed runners to reach second and third with one out, and then gave up two RBI-singles to tie the game. After loading the bases, the closer walked home the winning run.
Final Thoughts
The Phillies were so close to getting off to a great start. They could have potentially swept the series. They should have at least taken two of three. Instead, the Phillies leave Texas with a pair of gut-wrenching losses.
Two late bullpen collapses. Two games where the offense failed to score more than three runs, and tack on to their early leads.
Jonathan Papelbon's ninth inning effort was absolutely wretched tonight. For a guy who speaks loudly about stepping up in big moments and providing leadership, he just doesn't deliver. His final line for the night? Three runs on four hits and two walks. One miserable out recorded. He was spotted a two-run lead, and couldn't protect it.
Way to step it up, Paps.
Ryne Sandberg has done a lot of juggling with his lineup so far, and it looks as though we're going to continue to see a number of wild combinations until he finds one that he's comfortable with. Batting Carlos Ruiz out of the two-hole turned out to be a pretty good decision, and helped generate all three of the team's runs.
Sandberg's management of the bullpen has been very curious so far. Its strange that he's gone to Jake Diekman, B.J. Rosenberg, and Mario Hollands multiple teams throughout these three games while not using either Brad Lincoln or Justin De Fratus once. The decision to go back to Hollands one night after he lost the team a game paid off, but he's going to have to give these other guys a shot too, just like how he's trying every combination possible with his lineup.