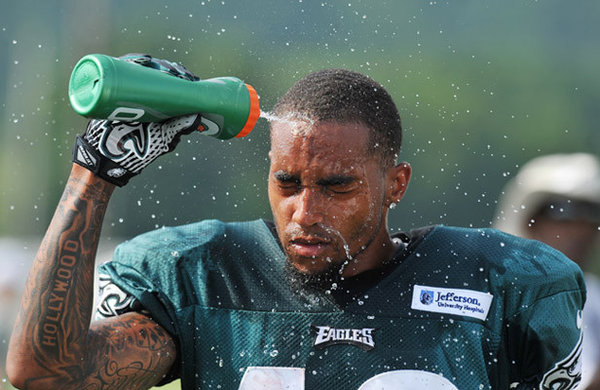 When the Eagles released wide receiver DeSean Jackson a week ago, the move came less than an hour after an NJ.com report that tied Jackson to gang activity.
While the team hasn't given any official explanation for the release, the timing of the release was very curious, to say the least.
With no actual criminal charges or allegations surrounding Jackson, many have speculated that Chip Kelly and the organization may have used the alleged gang affiliation as a cover for the real reason that they released the electric wide receiver, which many (myself included) believe to be that Chip Kelly didn't like Jackson's personality and no longer wanted to deal with the antics of a diva receiver.
The NFLPA has taken notice of the circumstances surrounding Jackson's release, and will be investigating how the Eagles handled the situation to determine whether or not the team may have done Jackson harm during their process.
"That's something that we're going to look at," said DeMaurice Smith. "We've always been aggressive about protecting the integrity of our players, especially where we believe or think that a team may have done something that is impermissible, and that's something that we're gonna look at."
Specifically, the NFLPA will look into whether or not the Eagles purposely leaked gang-related stories about DeSean Jackson in order for them to have some kind of acceptable excuse in the eyes of the public for cutting ties with their three-time Pro Bowler who was coming off his best season yet.
"You're talking to a guy who spent 10 years as a federal prosecutor in Washington, D.C., and I grew up in the city … to have someone come out and say 'gang affiliation,' I'm not sure I know what that means," Smith said. "I certainly know what it means to prosecute members of a gang. I certainly know what it means to be a member of organized crime. I don't know what it means when a team or an official says that there's 'gang affiliations.'
"To me, the real issue is this is the business of football. If you want to make a decision to cut a player, tell a player he's cut. Make a decision. But if you want to smear a player with innuendo or something that is less than proof … you know that I was very aggressive in calling a few GMs cowards for what they said about a young man coming out of college [former Missouri defensive end Michael Sam]. It seems to me that the same thing applies … if you want to smear someone and you don't have any evidence."
I haven't been a fan of DeMaurice Smith since he took over as the head of the players association, but I believe he's absolutely right in this case.
If the Eagles leaked misinformation about Jackson in order to cover their own hides, then that's absolutely disgraceful. DeSean Jackson may not have been an angel in the locker room, but he doesn't deserve to have his name and image slandered just because the team may have been afraid to tell the truth about the circumstances surrounding his release.