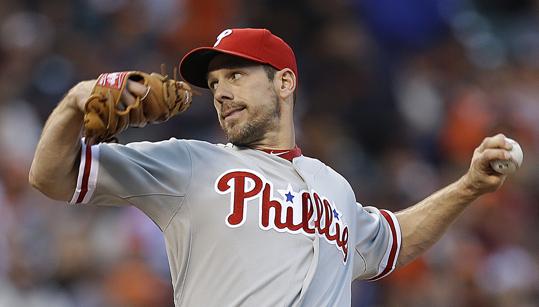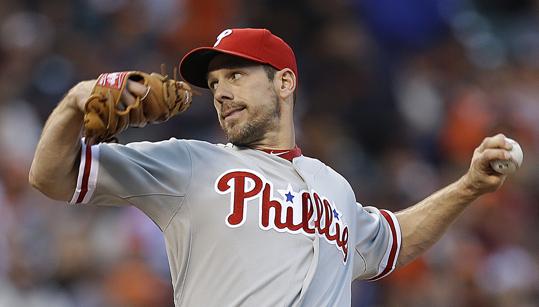 The Philadelphia Phillies won their second straight game on Saturday afternoon, taking down the Chicago Cubs 2-0.
Cliff Lee bounced back from a rough Opening Day start to toss seven scoreless innings. Lee scattered 10 hits, and struck six. 

Lee got out of a jam in the first inning, with two on and two out, he forced Junior Lake to ground out to second.
Lee allowed the first two batters to reach base in the third, but then got a double-play ball.
Lee allowed a one-out double in the fifth, but then got a ground-out and a strikeout to strand the runner.
The veteran saw one more jam in the seventh inning, facing a threat with runners at first and third with two out, and got Justin Ruggiano to strike out swinging.
Chase Utley had another strong game at the plate. Utley began the game with a solo home run in the first inning, his second of the season. He also drew a walk, and came around to score in the fourth on a Domonic Brown single. Utley also doubled in the eighth.
Ben Revere went 1-4 with a single.
Jimmy Rollins returned to the lineup after missing two games on paternity leave, and went 0-4 with two strikeouts.
Wil Nieves got his first start of the season, giving Carlos Ruiz a day off. He went 0-4.
Jake Diekman worked a scoreless eighth inning. Diekman has appeared in all but one of the team's first five games.
Jonathan Papelbon worked a clean ninth inning to earn his first save of the year.
Final Thoughts
Cliff Lee needed a strong start to put to rest some of the concern he created earlier in the week, and he delivered a gem.
While he still gave up 10 hits, the ace got out of every jam that he put himself in, and still managed to keep the Cubs off of the scoreboard for seven innings.
Its also encouraging to see Jonathan Papelbon succeed in a save situation after his horrendous outing on Wednesday.
Offensively, the Phillies haven't looked terrible through five games, but they've still scored three runs or less in three of their five outings so far. The good news is that there hasn't been a game where the lineup has looked completely feeble yet, and at the very least they're putting together some decent scoring opportunities.