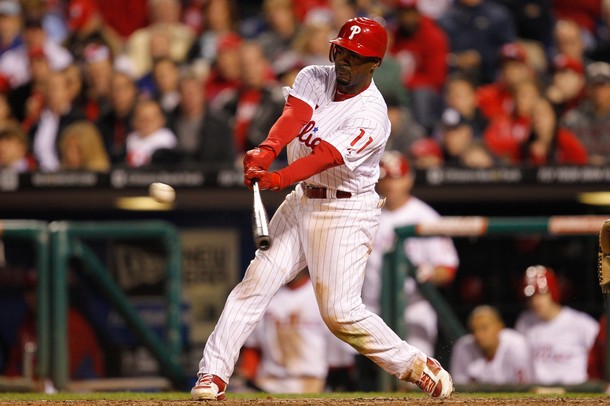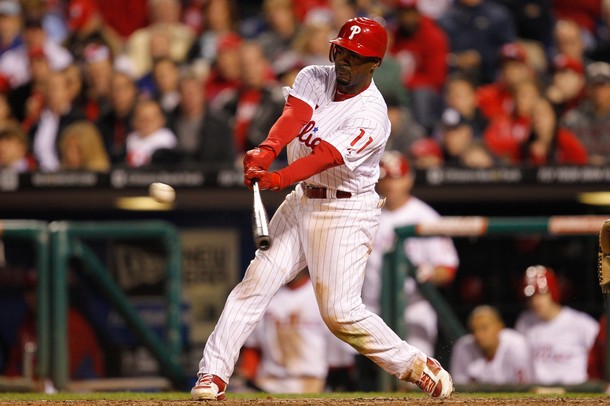 The Philadelphia Phillies won their second straight game on Saturday night, taking down the Miami Marlins 5-4. Their record improves to 5-6.
Jonathan Pettibone made his first start of the season, pitching five innings and allowing two runs on eight hits and one walk. Only one of his runs were earned.
Jimmy Rollins turned in a big night at the plate, going 3-5 with two RBI"s and two runs scored. Rollins hit a walk-off solo home run to win the game in the bottom of the 10th.
Chase Utley continues to swing the bat well, going 2-4 with two doubles and two RBI's. Utley is currently batting .472.
Tony Gwynn got another start in centerfield, and went 2-4 with a double.
Domonic Brown went 0-4 with three strikeouts.
Freddy Galvis got a start at third, and went 0-3.
Justin De Fratus took over for Pettibone in the sixth, and pitched a scoreless inning. The team asked De Fratus to try and make it through the seventh as well, but he wasn't able to record another out, and was charged with two earned runs.
Mario Hollands, Antonio Bastardo, Jonathan Papelbon, and B.J. Rosenberg all threw scoreless innings to keep the game tied through 10 innings.
Final Thoughts
As maligned as the bullpen has been in the early stages of this season, you've got to give them credit for what they accomplished tonight.
To go five innings, and allow only two runs was absolutely critical to tonight's win.
Jimmy Rollins and Chase Utley have really played well to start this season.
Rollins has been pretty effective out of the two-hole, and has gotten some pretty big hits. He had the grand-slam on Opening Day, and tonight he won the game with his homer in extra innings. Rollins hit only six homers all of last year, he's already got two in the first couple weeks.
Utley has been batting nearly .500 with two homers and five doubles.
Its nice to see some of the older stars on this team put in some productive games.