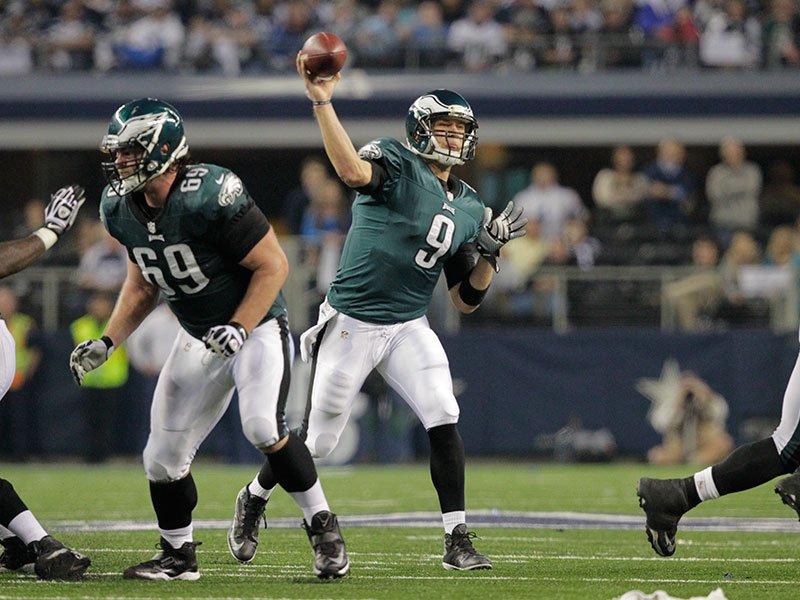 The Eagles wide receiver situation for 2014 is still very much in question. Beyond Jeremy Maclin, who is returning from an ACL tear, and Riley Cooper, who is coming off a breakout season, there are no clear third, fourth, or deeper wide receivers on the depth chart. The uncertainty doesn't worry the Eagles franchise quarterback Nick Foles, though.
"We'll have guys step up," said Foles on Wednesday. "We have Mac [Maclin] back, which is exciting, and we'll see what we do in the draft."
In the countless mock drafts across the internet, the Eagles first pick has been projected as a wide receiver from Odell Beckham Jr. to Brandin Cooks to Kelvin Benjamin. According to Mel Kiper Jr., there are nine wide receivers who could potentially be taken in the first round of this week's NFL Draft. Whether the Eagles take one of those receivers on Thursday (round 1), Friday (rounds 2 and 3), or Saturday (rounds 4 through 7) is yet to be seen, but you can bet that it will be addressed. General Manager Howie Roseman didn't rule out that the Eagles could take more than one receiver, despite having only six draft picks.
With the release of DeSean Jackson, which Head Coach Chip Kelly has since called "purely a football decision," the Eagles have lost a very unique player. His teammates know it but none have come out to defend DeSean and say that the Eagles made a poor decision to give him his walking papers, which has to say something.
"He's a hard guy to replace," said Foles on his top target from 2013, "but we'll have someone step in and do a great job in their own way…I expect my receiver to make plays when they go out there." By "someone," Foles eluded to Cooper and Maclin, who Foles called "a top tier receiver."
Foles built something of a rhythm with Maclin back in 2012 when Foles took over the starting role for Michael Vick for the last six games of the season. In those six games Foles and Maclin connected for 33 receptions, 408 yards, and three touchdowns; all nearly half of Maclin's season totals. It was clear when Foles entered the line up in 2013 that Riley Cooper's numbers and attention benefitted greatly. In ten games with Foles, Cooper caught 37 passes for 729 yards and seven touchdowns.
Extrapolated over a 16 game season, Maclin would receive 88 balls for 1088 yards and eight touchdowns. Cooper would catch 59 balls for 1166 yards and 11 touchdowns.
Those numbers are attractive and entirely possible for the Eagles offense to obtain as they have added OW (offensive weapon) Darren Sproles to their already potent offense. Tight Ends Brent Celek and Zach Ertz will be coming off productive seasons as well. And LeSean McCoy, 2013's rushing title winner (by a margin of 268 yards), will be entering his second season in Chip Kelly's offense.
Nick Foles, who accounted for 32 touchdowns and just two interceptions in 2013, will be facing more challenges with teams now having tape on him. This has prompted him to also study himself more than his opponents will be. "I have to study my tendencies," said Foles. He mentioned his footwork and his release time as things that he has to get better at while mentioning Peyton Manning, Tom Brady, and Drew Brees as players to emulate in those aspects.
"The quarterback's got to be the best quarterback that gives the team success. So that's why I have to keep working every day to be that guy, because if I'm not that guy, somebody else will take it."
That work ethic and confidence is something that is to be admired in the 25-year-old who will be entering his third NFL season, first as the unquestioned starter. In 2013, Foles went from back-up, to starter, to tying an NFL record with seven touchdown passes in a game, to winning the division, to losing a playoff game, to playing in the Pro Bowl and garnering MVP honors for the All-Star game, but none of that matter to him because the primary goal for any NFL team is a Super Bowl. "Our last game was a loss, so we all still have a sour taste in our mouths," said Foles.
Another admirable aspect of Foles is that he doesn't care about the money he is making. Foles is not eligible for a contract extension until after the 2014 season, according to the new CBA. "I don't even know how much I'm making this next year. I just love playing this game with my teammates." For those who do care, Foles is set to make $615,000 in the third year of his four-year rookie contract. When asked about his extension that is likely to come next offseason, the newly-wed (yes, he used Chip Kelly's hurry-up scheme to get engaged and married in the same offseason) said "it'll take care of itself."
Foles finally offered a sentiment that helps to explain the release of DeSean Jackson (indirectly) according to some of the reports that have come out about the receiver since his release. Foles said, "We have guys here that did a great job last year because the Philadelphia Eagles are built on a team atmosphere. We're built as a team and we had success as a team."
DeSean Jackson was frequently referred to as a "me guy" in a recent anonymous talk with a member of the Eagles locker room. His 82 receptions, 1332 yards and nine touchdowns will undoubtedly be difficult to replace. But with a 25-year-old quarterback whose work ethic is relentless, two receivers who have had success with their young quarterback, a new offensive weapon (or "toy" for Chip Kelly), two potentially great tight ends, and the 2013 rushing title leader, the Eagles offense will build on the success they had a year ago.
With the former third-round pick leading the team, and his sole focus on winning games and none of the off-field distractions, the sky is the limit for this team in 2014.
Follow Brenden on Twitter @brendenp2011.