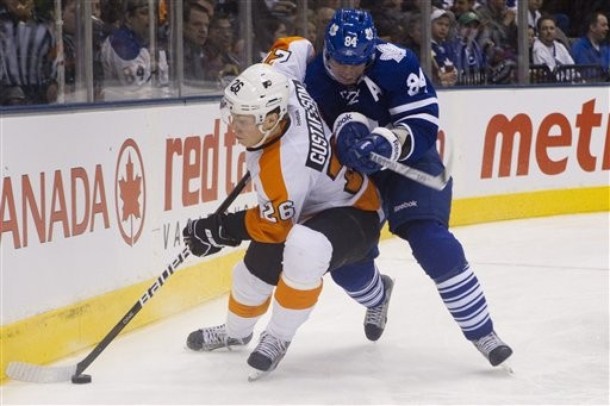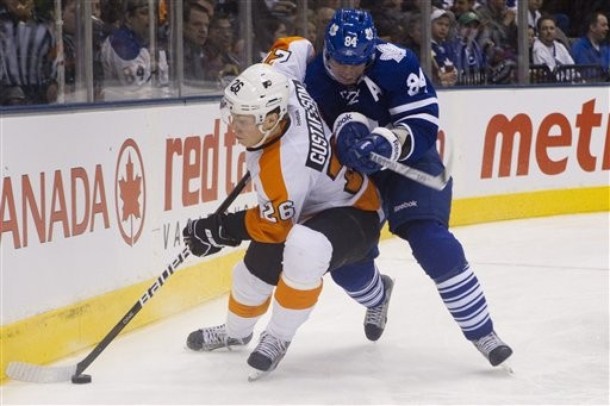 The re-tooling of the Philadelphia Flyers' roster for the 2014-15 NHL season has not officially begun while the Stanley Cup playoffs are still underway. According to a report from Igor Eronko of Sports.Ru, however, one player on the Flyers' blue line will be playing overseas for the KHL team Avangard Omsk next fall- Erik Gustafsson.
Gustafsson was signed as an undrafted free agent in 2010 after three seasons at Northern Michigan University. The 5′-10″ defenseman finished his rookie AHL season with the Adirondack Phantoms as an All-Star, with 5 goals and 49 points in 72 games played.
Over the course of the next several years, Gustafsson bounced in and out of the line-up and even the NHL. He turned heads in a 9-2 drubbing of the Columbus Blue Jackets during the 2011-12 season, when he finished +6 in the game (goaltender Steve Mason probably does not remember this game fondly). As had happened on several occasions during his career, though, he became injured and lost his spot in the line-up.
It's difficult to evaluate Gustafsson's short career to date in Philadelphia because the coaching staff never seemed to know what to do with him. When he was playing, he earned top four minutes. If he made a mistake, he would be benched for five or six games before being thrown back to the wolves.
We know that he's a decent skater and can move the puck well. During the injury-riddled 2013 NHL season, he averaged over twenty minutes of ice time per night on defense. This past season, he finished with 2 goals and 10 points in 31 games played.
For whatever reason, the organization just never fully trusted him to be a starter.
When defenseman Nicklas Grossmann's season ended early during Game 4 against the New York Rangers (suffering an ankle injury), head coach Craig Berube replaced him with veteran defenseman Hal Gill. The decision perplexed many observers, as Gill had not played much during the regular season and replacing Grossmann's size and shot-blocking abilities, while advantageous, did not seem to be as critical as gaining speed at the blue line.
Gustafsson replaced Gill in Game 6, where he scored a breakaway goal after leaving the penalty box. In his NHL career, he's earned 3 points in 9 playoff games.
Gustafsson leaves the Flyers as a restricted free agent, so the organization retains his NHL rights. If the organization wants to add another blueliner down the stretch next season, he will always be an option.
In Avangard, Gustafsson joins Flyers defenseman prospect Valeri Vasiliev (7th round pick in the 2012 NHL Entry Draft). Vasiliev is signed for two years.
Avangard played with fourteen different defensemen last year, so it will be interesting to see if Gustaffson actually sees more ice time or less.