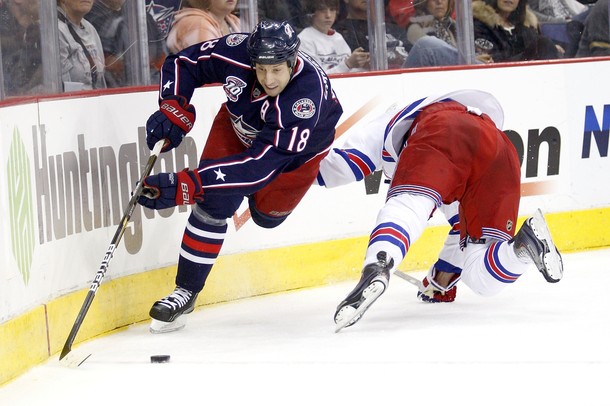 "It's deja vu all over again."
June 23, 2011- The Philadelphia Flyers trade Mike Richards and Jeff Carter.
June 23, 2012- The Philadelphia Flyers trade James van Riemsdyk.
June 23, 2014- The Philadelphia Flyers have announced that they have traded veteran forward Scott Hartnell to the Columbus Blue Jackets for centerman R.J. Umberger and a fourth round pick in the 2015 NHL Entry Draft.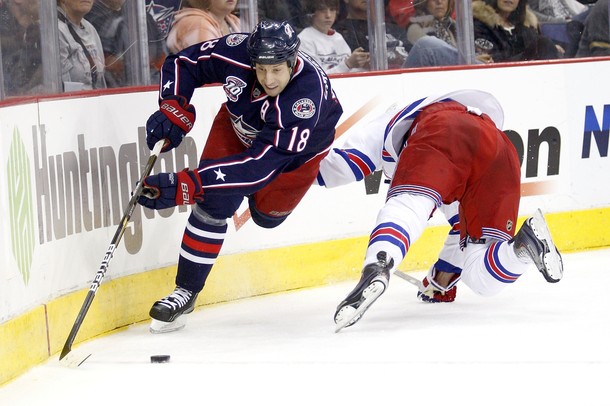 New general manager Ron Hextall has made the first big transaction of his tenure, with mixed reactions from many fans and media members alike.
Hartnell, 32, has had a fair share of up-and-down seasons over his seven seasons in Philadelphia. The top line left winger potted 20 goals and 52 points this season while playing with Claude Giroux and Jake Voracek.
The largest benefit of the move is that Hartnell has five years remaining on his current contract, worth $4.75 million per season, and while he may still have several more productive NHL seasons, it is increasingly unlikely that he repeats as a 25-goal scorer as the contract continues.
On the other hand, one of the offseason topics of discussion has been upgrading the offense with another top six left wing. Regardless of your opinions on Hartnell, the team currently does not have anyone set to replace him unless the organization feels that Tye McGinn is ready to handle his minutes.
Additionally, the acquisition of Umberger doesn't make much sense in the short-term.
Umberger, 32, has a similarly bloated contract in comparison to Hartnell's, albeit a shorter one- three years, $4.6 million per year. The Flyers will shave two years of cap space off the books, but Umberger has been a steeper decline than Hartnell already. This past season, he scored 18 goals and 34 points.
As mentioned earlier, Umberger is also a centerman. Unless he moves to left wing, it likely means another trade or two is coming. Hextall has said repeatedly that his #1 priority is re-signing Brayden Schenn, and yet there have been no rumors of any kind as far as how those discussions have progressed. Schenn could be moved to wing, again, but this move raises a lot of questions.
Umberger played for the Philadelphia Phantoms during the 2004-05 season and was a member of the Flyers from 2005-2008. Umberger is remembered best for his performances during the 2008 Stanley Cup playoffs.