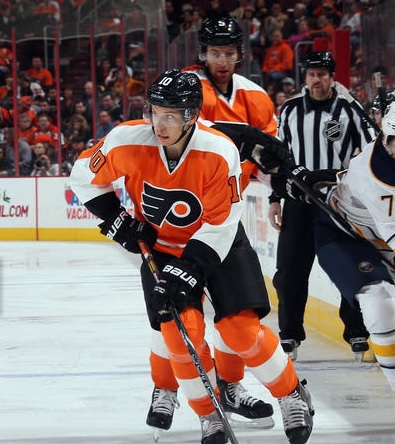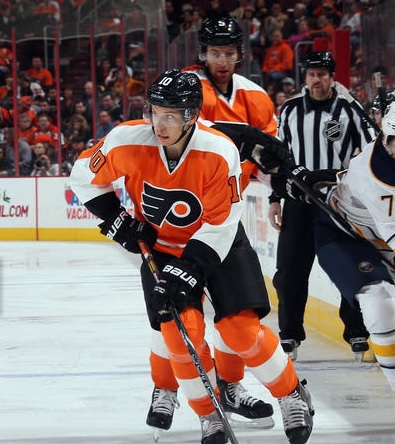 Philadelphia Flyers general manager Ron Hextall expertly diverted this afternoon some of the criticisms lobbied towards his first move today- trading veteran forward Scott Hartnell- with a more even-keeled, cost-effective move- re-signing restricted free agent Brayden Schenn.
Per Bob McKenzie of TSN, Schenn's new contract is worth $2.25 million in the first year and $2.75 million in the second year, for an average salary cap hit of $2.5 million. It is effectively a bridge deal for Schenn, who hit the 20 goal mark this past season but has yet to truly "break out" in the NHL.
Hextall had stated previously that his first priority this offseason was re-signing Schenn. Schenn's first deal was structured by his agent and the Los Angeles Kings (the organization that drafted him) to include a number of bonuses that, while very unreachable during the years of his entry level contract, would inflate the value for his second deal.
The Flyers and Schenn's camp had appeared to be at odds as to what Schenn was ultimately worth in his second contract, but they've managed to work out a compromise that allows Schenn further time to develop without external pressure while not impeding the Flyers' ability to manage their salary cap.
There had been much speculation earlier this year that Schenn would be moved in a trade, considering the organization's penchant for re-signing the players they truly wanted to keep long before their current contracts expired.
This is a new regime, however, and Hextall has made it clear that he believes in building through youth.
It's also worth noting that there was a lot of criticism tossed during these past playoffs towards the Flyers organization for giving up too soon on some of their previous young prospects, including Patrick Sharp of the Chicago Blackhawks and Conn Smythe winner Justin Williams of the Kings. Sharp was traded at age 24 and Williams at age 22.
Perhaps Hextall hopes to avoid these past mistakes.
With Schenn re-signing, R.J. Umberger's acquisition, and recent comments today from Hextall that Vincent Lecavalier would likely be back next October too, though, it certainly muddies the water as to what to expect from the top nine forward positions. Schenn could be moved to top line left wing while Umberger could play as the second line left wing, but it isn't ideal for five of the top nine forwards to be centermen.
It has been a bit of a hectic day for Hextall, but hopefully we'll have a better sense of what direction the team is headed in within the next two weeks.