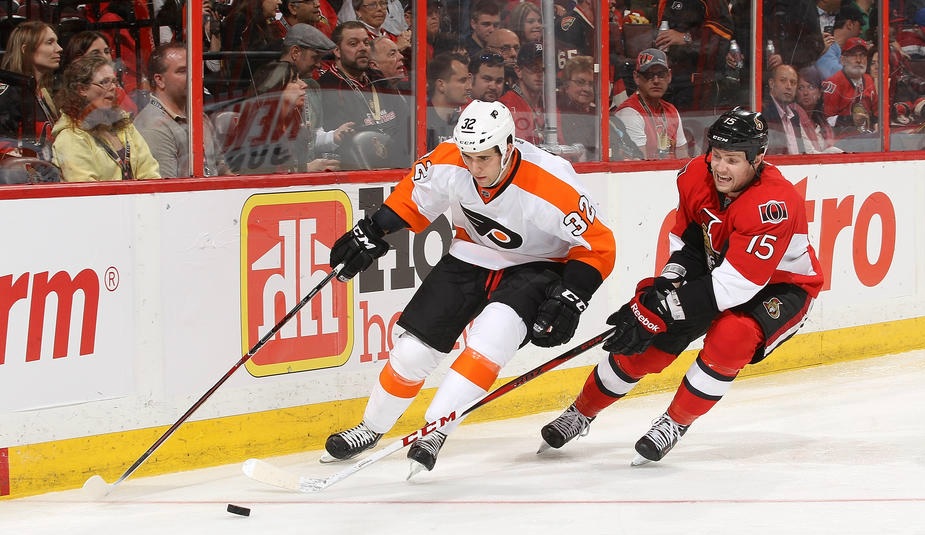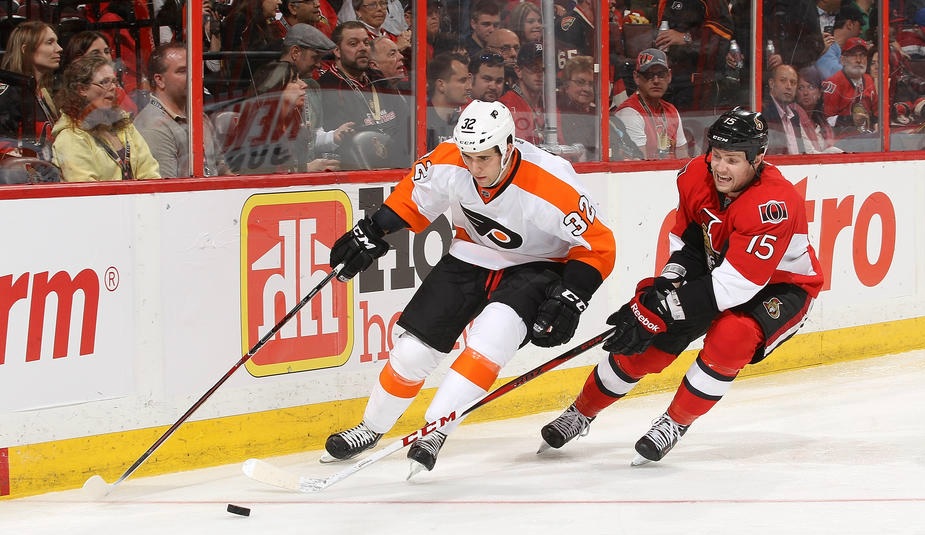 An ongoing problem in the Paul Holmgren era for the Philadelphia Flyers was a lack of contract space.
The organization regularly flirted with the fifty-contract limit, ignoring the additional "slide rule" affected contracts that allowed for players under the age of 20 with entry level contracts to not count towards that limit.
In 2011, the organization had to send a low-ranked prospect and a 6th round draft pick to the Los Angeles Kings in order to squeeze then-rookie Sean Couturier under the limit. A late round draft pick isn't worth pulling one's hair out over, but it's a bad business practice regardless.
Hextall also made it a point at the draft to hammer home for his staff how important it was to eliminate the "it's all a crapshoot anyway" mentality with late round picks. Nobody knows how Oskar Lindblom, Radel Fazleev or Jesper Pettersson will pan out, but the organization hasn't done a particularly good job with late round picks and needs to make these selections count.
Moving past the draft, the Flyers entered the offseason with nine restricted free agents. Only four have been extended qualifying offers before Monday's 5:00 p.m. deadline.
The four to be extended are Jason Akeson, Erik Gustafsson, Brandon Manning, and Tye McGinn.
I questioned McGinn's future with the Flyers last week, but considering that the organization is already over the salary cap heading into free agency, they may need to keep cheaper players available to round out the roster.
Akeson is similarly a player that the organization likely wants to keep for depth. His ceiling hasn't really been determined yet, but he has the speed and skills to fit into the larger vision of what Ron Hextall seems to be trying to achieve.
Manning hasn't developed into a reliable defenseman at the AHL level yet, but he was also the Adirondack Phantoms' most productive defenseman last season. Manning posted 8 goals and 31 points with a -24 rating while the second highest producing Phantom was Bruno Gervais, with 26 points and a -14 rating.
Although Erik Gustafsson already has a deal in place in the KHL, the extension of a qualifying offer allows the Flyers to retain his rights. He won't count towards to contract limit, obviously, but he is still Flyers' property.
That's three prospects returning. The five prospects not extended qualifying offers include:
Defenseman Marc-Andre Bourdon (whose career is unfortunately all but over);
Defenseman Cullen Eddy (graduated from an AHL deal to NHL deal under Homer);
Forward Tyler Brown (signed as an overage junior player the same time as Akeson);
Forward Kyle Flanagan (Hobey Baker finalist signed just last season);
Goaltender Cal Heeter (signed out of Ohio State as a collegiate free agent).
There is a good chance that the organization will completely move on from these players. However, it should also be noted that extending qualifying offers means that the Flyers are required to sign them to NHL deals worth a percentage more than their existing contracts.
I would suspect that Hextall may approach these players again as free agents and offer them AHL-only deals. These players could sign contracts with NHL teams at any time, but it's a low-risk move to keep players in the system developing without being tethered by the restrictions that accompany them.
Randy Miller of NJ.com reported in May that Hextall was looking to sign the Flyers' 2012 3rd round pick Tyrell Goulbourne to an AHL deal back in May, but the prospect is holding out for an NHL contract. Goulbourne was considered a terrible selection last season by many fans and pundits at the position he was drafted, and it's worth praising Hextall for not feeling pressure to sign a player that, fingers crossed, may reach a talent ceiling of thirteenth forward some day.
It's also ludicrous for Goulbourne's agent to tell his client to hold out on his only chance to turn professional, but that's no one's problem but Tyrell's.
The Flyers are currently set to have 36 players under contract or with qualifying rights heading into free agency on Tuesday. They need, at a  minimum, a back-up goaltender at the NHL level and a third-string goaltender at the AHL/NHL level. Goaltending prospect Anthony Stolarz is set to turn pro next season, but won't be anywhere ready to back the Flyers until at least the 2016-17 NHL season at the earliest.
Hextall's primary goal will be to move Vincent Lecavalier to free up salary and take care of goaltending. It's not ideal for the Flyers to have no cap space, but it's almost liberating for once to know that nobody in the organization can push for a horrendous, multi-year, no-trade-clause-restricting contract tomorrow.