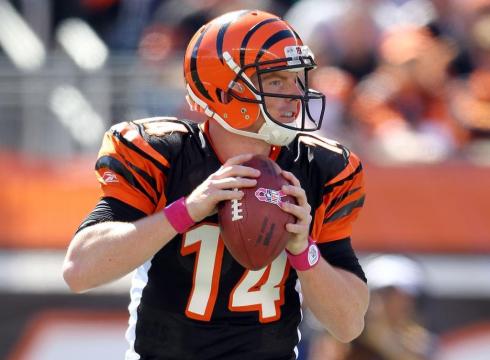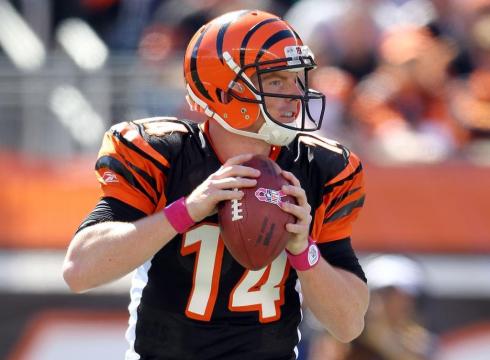 Cleveland Browns
One of the league's most dysfunctional organizations, the Browns are now on their third different head coach in as many years.
Cleveland gave up on Rob Chudzinski after just one season, and replaced him with defensive-minded Mike Pettine.
The Browns also spent a first-round pick on a quarterback for the second time in three years, selecting Johnny Manziel to be their star of the future.
Brian Hoyer, who looked good in several starts last season before going down with a season-ending injury, will have the first crack at the starting job.
Much like Geno Smith in New York, Hoyer is in a situation in which he is set up to fail. Cleveland is eagerly anticipating the dawn on the Manziel era, and it won't take more than a few losses before the patience of the Dawg Pound wears thin, and the pressure builds for Pettine to pull the plug on Hoyer.
I'm not a believer in Johnny Manziel. A guy with his smaller size combined with the mobile game he likes to play just isn't going to work. While he may enjoy a small run of success, in the long-term its going to be harder for him to succeed as the hits continue to pile up. Much like Michael Vick, I expect it to be difficult for this guy to make it through a 16-game schedule most years.
The Browns had one of the league's worst running back situations last season, finishing with a burnt-out Willis McGahee as their starter. They made a move to sign former Houston Texan Ben Tate to be their featured back, and Tate should certainly represent a significant upgrade.
Receiver Josh Gordon had some tremendous moments last year, but it seems that he's going to ruin his career with off-field troubles. He's already facing a season-long suspension for this year, and at this point its unlikely that he plays again.
The Browns picked up a couple of veterans to help out their defense, signing linebacker Karlos Dansby and safety Donte Whitner to help bring some experience to their unit. They also drafted Justin Gilbert to start opposite top corner Joe Haden.
Last year's top free agent signee Paul Kruger and top draft pick Barkevious Mingo must improve their pass rush to help out Haden and the secondary.
Cleveland is building, and the presence of the defensive-minded Pettine should help that unit get a lot tougher and keep the Browns in some ball games. But this squad still has a long way to go before catching up with the other teams in this division.
Projected Finish: 5-11
Pittsburgh Steelers
Ben Roethlisberger continues to perform at a high level, and thus keeps the Steelers relevant. Big Ben threw for over 4,000 yards and 28 touchdowns a year ago, and remains one of the game's best quarterbacks in the fourth quarter. Roethlisberger began to thrive late last year in the team's no-huddle attack, and the offense averaged over 28 points per game during their final nine weeks.
Le'Veon Bell is set to take on a massive role in the offense in his second year. He brought some life to what had been an abysmal ground attack a year ago, and now that he's completely healthy, he should be even more effective. Bell is on his way to breaking out as one of the league's best young running backs. There are few flaws in his game, he runs well, catches well, and even picks up a blitz.
Receiver Antonio Brown broke out with a Pro Bowl season last year, replacing Mike Wallace as the go-to guy in the offense. However, the team has very little depth at the receiver position to go with him. After losing Emmanuel Sanders to Denver, the Steelers are forced to count on their 2013 third-round pick Markus Wheaton to step up and become a reliable starter in his second year.
The Steelers defense has shed most of its veteran starters, with only Troy Polamalu and Ike Taylor starting at over the age of 30.
They've now got a defense built around youth, featuring guys like Jason Worlids, Jarvis Jones, Lawrence Timmons, and rookie draft picks Ryan Shazier, Stephon Tuitt, and Daniel McCullers. This unit has a chance to bounce back and become the backbone of the team once again, but the young talent may be too raw and need another year to develop and settle in.
The Steelers are not by any means a bad team. But they just don't have enough explosiveness on offense, or enough experience on defense to help them emerge in a competitive division against the Ravens and Bengals. Another 8-8 season is likely, and I expect the Steelers to miss the playoffs for the third straight season.
Projected Finish: 8-8, 3rd place.
Baltimore Ravens
Following a Super Bowl Championship in 2012-13, the Ravens dropped off considerably last season, struggling through an up-and-down 8-8 campaign, and missing the playoffs for the first time since 2007.
The faces of the Baltimore franchise drastically underachieved last year.
Joe Flacco suffered through his worst season as a pro, and Ray Rice was a shell of his former self.
Flacco threw an uncharacteristic 22 interceptions to go with just 19 touchdowns. While his offensive line was poor and his receivers were worse, there's no excuse for a $120.6 million dollar quarterback to be turning the ball over at such a high rate. Sure, positional weaknesses factor in to some of those mistakes, but when a quarterback is throwing that many interceptions, most of those are the results of poor decision making.
Rice played at 225 pounds last year, which seemed to slow him down and rob him of his elusiveness. He's also battled off-field problems, and will be suspended for the first two games of the season. He gained just over 650 yards on the ground last season, and while he's down to 210 lbs again, its hard to believe he'll be able to completely recapture his old form.
The team tried to upgrade the receiving, corp by signing former Carolina Panther Steve Smith. Smith isn't nearly as explosive as he was in his prime, but he's still a tough veteran receiver that could serve Flacco just as well as Anquan Boldin did a few years ago.
Baltimore still has pretty solid defense. They've got plenty of pass-rushing from the likes of Terrell Suggs and Courtney Upshaw, and they added linebacker C.J. Mosley to their ranks in the first round of the draft. They also have veteran Elvis Dumervill to mix in off of the bench, who picked up 9.5 sacks in a part-time role last year.
Baltimore has some great leadership with coach John Harbaugh, and the improvements on offense combined with the solid defensive core should put them back in the mix for the playoffs. The play of Ray Rice really has a lot to do with how their season will turn out. They need their featured back to return to top form. I don't think the Ravens have enough to overtake the the Bengals, but they should be in the hunt throughout the season.
Projected Finish: 9-7, 2nd place
Cincinnati Bengals
The Steelers and Ravens have all had their reigns as top dogs in the AFC. Is it the Bengals' turn now?
Cincinnati has put together an extremely talented offense. Andy Dalton has been a solid performer over the last three years, and has been rewarded with a six-year extension. He threw for over 4,000 yards and 33 touchdowns last year, but still threw too many interceptions, tossing 20 in the regular season alone. If Dalton could cut down the turnovers, he'd be a top-10 quarterback.
The Bengals have done a tremendous job surrounding Dalton with an elite supporting cast. A.J. Green has become one of the league's top three receivers, finishing with 98 grabs for 1,426 yards and 11 touchdowns last season. The running back position is one of the league's deepest, featuring a powerful trio of Giovani Bernard, BenJarvus Green-Ellis, and rookie Jeremy Hill.
Bernard is an explosive back, and is widely expected to take on a much larger role in his second year. Green-Ellis is reliable veteran, who will likely get a lot of calls in short yardage situations, and Hill is a rookie that the team spent a second-rounder on, so expect him to play sooner rather than later.
The Cincinnati defense will become stronger with the return of defensive tackle Geno Atkins from an ACL injury, as well the addition of first-round pick Darqueze Dennard.
Cincinnati has one of the most well-balanced rosters in the NFL. They've proven they can succeed in the regular season, now they've got to finally get over the hump and start winning in the playoffs. They're a much more complete team than any of their division rivals, and the North should be theirs to control for another year.
Projected Finish: 10-6, 1st place.