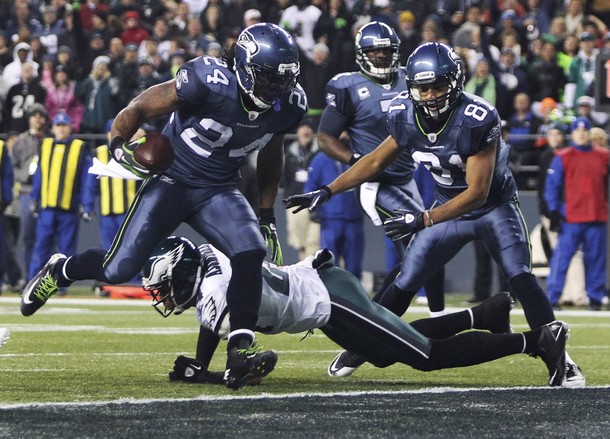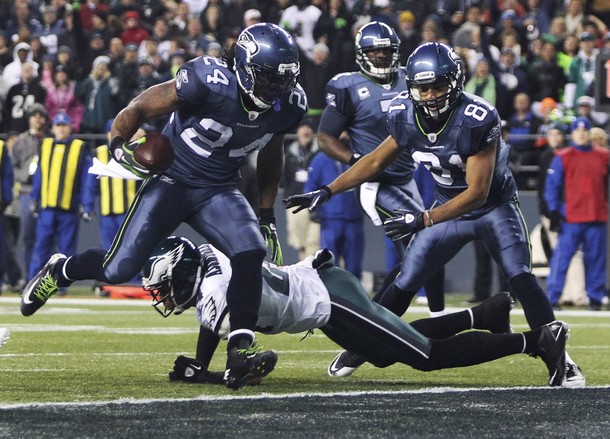 St.Louis Rams
It was now or never for Sam Bradford. Now it looks much more likely to be never.
St.Louis has waited patiently for the former number-one overall pick to establish himself as a quality starter in this league, and its time that they find out one way or another if they can count on him. Bradford was playing well before going down with an injury last year, throwing for 1,400 yards with 14 touchdowns and four picks through seven games, but its not enough to make the Rams commit to him long-term.
However, Bradford has gone down for the season yet again with an ACL tear, the second that he's suffered in less than a year. The team will now turn to veteran Shaun Hill to start the season.
Hill is a bit of a journeyman, and has bounced around several different teams. He's performed decently in short stints here and there, but ultimately his ceiling is very low. This isn't exactly a Kurt Warner-type gem that the Rams are going to stumble upon.
The Rams also need to get a lot more out of their receivers. Tight end Jared Cook was the team's leading receiver with just 51 catches for 671 yards and five scores. They hope that last year's top pick Tavon Austin will make significant strides in his second year, and that troubled Kenny Britt (signed in free agency) can tap into his massive potential.
Running back Zac Stacy stepped up and emerged as the team's workhorse midway through the season, picking up 973 yards and seven touchdowns. He should compliment Hill very well with what he's able to accomplish on the ground. The Rams spent a third-round pick on Tre Mason to give Stacy some support.
Defensively, the Rams are anchored by top defensive end Robert Quinn. Quinn was at the top of the league in sacks last year with 19. He joins with Chris Long, Michael Brockers, and Kendall Langford to give the Rams a very effective defensive line. That line's depth should improve with the drafting of tackle Aaron Donald in the first round, who the Rams hope will generate even more of a pass rush for them. This is potentially a group that could lead the league in sacks.
Linebackers Alec Ogletree and James Laurinaitis are the heart and soul of this unit, combining for just under 300 tackles (155 for Ogletree, 144 for Laurinaitis) a year ago. In the secondary, Fisher has developed three high draft picks (Janoris Jenkins, Trumaine Johnson, and T.J. McDonald) into starters. They spent a second-rounder on Lamarcus Joyner to improve their depth.
Sam Bradford just refuses to do the Rams any favors. Before his injury, St. Louis had a chance to at least be a tough out for a lot of teams, but now they're most likely doomed to a fourth place finish, and another top-10 draft pick.
Projected Finish: 5-11, 4th Place
Arizona Cardinals
There are few things more frustrating in the NFL than enjoying a solid 10-win season, and yet not qualifying for the playoffs.
Carson Palmer turned in a 4,000 yard, 24-touchdown season a year ago, but also doomed the Cardinals in some games with turnovers. Palmer threw 22 picks a year ago, and some of those turnovers may have been the difference in Arizona missing the playoffs. If he can cut those mistakes down, his team will have a much better chance of surviving the regular season.
Running back Andre Ellington is poised to take on a much larger role with veteran Rashard Mendenhall now out of the picture. Ellington is a dual-threat, and has shown that he can be an explosive playmaker. It'd be in the best interest of this football team if Arians decided to turn him loose in his second year.
Larry Fitzgerald's numbers have gone down, but he's still one of the league's most feared receivers. He still caught over 80 balls for 954 yards and 10 touchdowns last season. The other starter, Michael Floyd, has been developing nicely. Floyd went over the 1,000-yard mark last year, and has made it so teams can no longer double-team Fitzgerald as frequently as they had in the past. He should only continue to get better.
The Arizona defense was strong once again, finishing sixth in total defense. They did however lose linebacker Karlos Dansby, who turned in a strong season with 135 tackles, 6.5 sacks, and four interceptions. He won't be easy to replace. Last year's first-round pick Kevin Minter will be asked to replace him.
The defensive front remains strong, with Calais Campbell anchoring the line. Veteran Darnell Dockett is declining a bit, and suffered a leg injury during the preseason, but is still a solid tackle.
Patrick Peterson has established himself as one of the game's most electric young corners, and Arizona has added some significant help around him by signing Antonio Cromartie and drafting safety Deone Bucannon in the first round.
Although they've got a solid roster, its going to be a stretch for the Cardinals to repeat their 10-win performance from 2013. Much like the Rams, the competitive division really makes it difficult for them to find a way to the playoffs even though they're a solid team.
Projected Finish: 8-8, 3rd Place
San Francisco 49ers
The 49ers of the last three years remind me a great deal of the Eagles in the early 2000's.
They're that team that keeps getting close, but can't seem to get over the hump. Anchored by strong defensive play. Mobile quarterback with great potential. There are a lot of comparisons to be made between Jim Harbaugh and Andy Reid, Colin Kaepernick and Donovan McNabb, and the run that the 49ers have been on now to the run that the Eagles went on from 2001-2004.
Kaepernick wasn't quite as sharp last year as he was when he took over the starting job in 2012, but he's an explosive athlete that scares a lot of defenses. The 49ers have worked on improving his receiving corp, adding veterans Stevie Johnson and Brandon Lloyd to go with Anquan Boldin and a now-healthy Michael Crabtree. Having a wider variety of quality targets could help offensive coordinator Greg Roman open up the playbook and expand his vertical attack.
Running back Frank Gore is now 31, and has logged a ton of miles, but the team is still relying on him to be their featured back. The Niners are expected to mix in some of their other running backs however, giving more playing time to Marcus Lattimore, Kendall Hunter, and LaMichael James as they try to find an eventual replacement for Gore, whose contract expires at the end of the season.
The San Francisco defense remains solid, but its fallen off a bit from what it was several years ago.
Star linebackers NaVorro Bowman and Aldon Smith are question marks. Bowman is coming off of a serious injury, and Smith is constantly dealing with off-field troubles. Patrick Smith remains the anchor for this group, but even he's starting to show some signs of wear and tear.
The secondary lost safety DaShon Goldson a year ago, and this year they lost two more starters in Donte Whitner and Carlos Rogers. They did manage to sign another excellent safety in Antoine Bethea, and they've drafted another safety (Jimmy Ward) in the first round of this year's draft to pair with last year's top pick Eric Reid, but this is a very young group that isn't quite as stable as they've been in years past.
When you look at this defense, you see a lot of good names, but you see a lot of question marks next to most of those names as well. Its still a group that should be a top-10 defense, but they likely won't be as dominate as they were several years ago.
The 49ers remain one of the top teams in the NFC. The defense may be declining a bit, but Kaepernick and the offense is still developing and getting better. The question is whether or not they can get past Seattle.
Projected Finish: 11-5, 2nd Place
Seattle Seahawks
In league where the rules bend over backwards to favor the offenses, Seattle's dominant defense stood tall in trumping Peyton Manning and his vaunted, record-setting offense in last year's Super Bowl. It was a very refreshing sight to see a defense win a championship once again.
The Seattle defense, anchored by playmaking, trash-talking corner Richard Sherman is simply the best in the business. Sherman talks a big game, and backs it up. His eight interceptions were among the league leaders, and his critical deflection at the end of the NFC Championship game is one that goes down as one of the most memorable plays in modern NFL history.
But Sherman is just a single piece of one of the league's most dominant secondaries. Earl Thomas has established himself as a premier safety in the game, and Kam Chancellor is a physical force. They did lose Brandon Browner in free agency, but believe they have replaced him with Byron Maxwell, who finished the season as a starter for them in the Super Bowl.
The elite secondary is complimented by a great front seven that are both capable of stopping the run and rushing the passer. Bobby Wagner has become a star at middle linebacker, and Super Bowl MVP Malcolm Smith has a bright future. Its a group with very few flaws, and a shining example of how defenses can still thrive in this league.
The Seattle offense isn't explosive, but they're solid enough that they can effectively compliment their defense. This isn't a situation like the 2000 Baltimore Ravens where the offense was so miserable it could barely manage field goals week to week, this is an offense that can be counted on for 21-24 points per game.
Russell Wilson is still developing as a starter, and he's done a tremendous job so far. He runs the offense efficiently, makes plays with his arm and his legs, and avoids turnovers. And he also achieves this success with a group of receivers that aren't much better than James Thrash and Todd Pinkston.
If Percy Harvin could stay healthy, he'd give Wilson at least one legitimate target to throw to, but Harvin is just one of those guys who will always be battling the injury bug.
Marshawn Lynch remains the true engine of the offense, coming off of another solid season in which he turned in over 1,200 yards and 12 touchdowns. Lynch however is a guy who has been around for some time now, and given the physical running style that he attacks with, it wouldn't be surprising to see him fall off a bit.
The Seattle offense hasn't made many improvements on paper, but as long their defense stays healthy, they're going to dominate week to week, and put this team in a position to compete for yet another title.
Projected Finish: 12-4, 1st Place