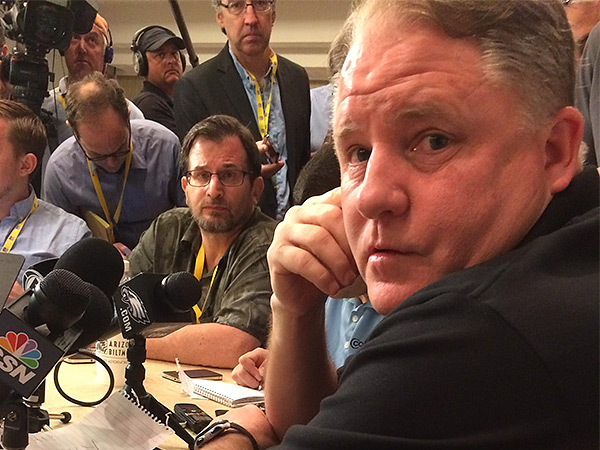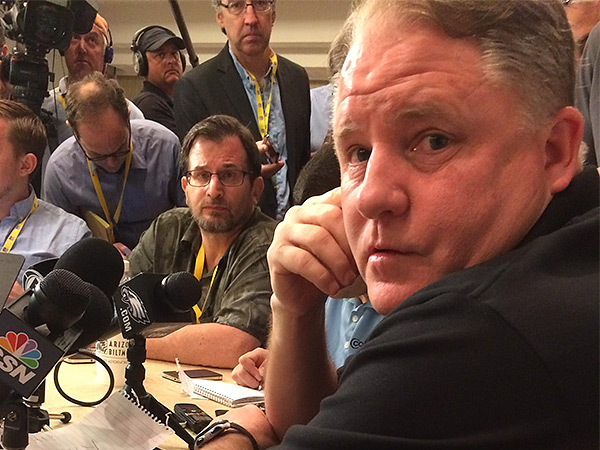 Eagles head coach Chip Kelly doesn't talk to the media all the time but when he does he has a lot to say.  One of the big things Kelly let us know is why he traded for Sam Bradford.  Kelly said he didn't want to trade Nick Foles, but the Rams brought his name up and wanted him as part of the deal.
He says he didn't want to trade LeSean McCoy but he couldn't see them agreeing to a running back being a $11 million dollar cap hit.  Kelly said if you have physical runners like DeMarco Murray and Ryan Matthews, you need two of them because they could get hurt.  Kelly raved about Matthews speed.  He was clocked at 4.3 in the 40 when he was drafted.
Kelly plans on having the two backs share the carries.  Kelly says he would have done it last year, if they had had another running back on the same level as McCoy.
Losing Jeremy Maclin was something Chip says he didn't want to see that happen but the Kansas City Chiefs went higher than the Birds were willing to go.  Kelly rates this draft as a very good one for wide receivers.  I can attest to that.  I was in Indianapolis for the NFL Combine and all I saw were big, fast and talented wide receivers.
When asked what stood out about Bradford, Kelly talked about his ability to throw the football accurately.
Obviously, Kelly believes the 2014 Nick Foles is the real Nick Foles.  The guy who threw 28 touchdowns passes in 2013 and only 2 interceptions doesn't really exist.  That was a mirage.
Kelly says Bradford is working with the Eagles trainers and doctors, as he strives to get back on the field.  The Birds head coach believes it's easier for quarterback to come back from an ACL tear than a wide receiver.
"I would say that it's probably easier for a quarterback with a knee injury than it is with a shoulder injury, as we went through the history of it," Kelly said. "We didn't bring Sam [Bradford] to run the ball 75 times a game. So, I think it's a lot easier for a quarterback with an ACL, than a receiver with an ACL. You look at, I think, the history right now in terms of sports science and what doctors are doing now is move forward it's unbelievable.
"Look at the year Jeremy Maclin had coming off of two ACL's. Look at our center, Jason Kelce came off an ACL when I first got there, was just coming off an ACL and had a sports hernia in the middle of the season and still made the Pro Bowl. Our left-tackle [Jason Peters] w ho is arguably a Hall Of Famer is coming off of two Achilles [injuries] and has played at an outstanding level."
Chip said time and time again, that he doesn't believe in selling the farm for one player.   He talked down the prospects of getting Marcus Mariota and went back and forth with reporters to argue that it doesn't make sense to try and go up.
Kelly expects big things out of 3rd year tight end Zach Ertz.  He said he wouldn't be surprised if he has a break out season.