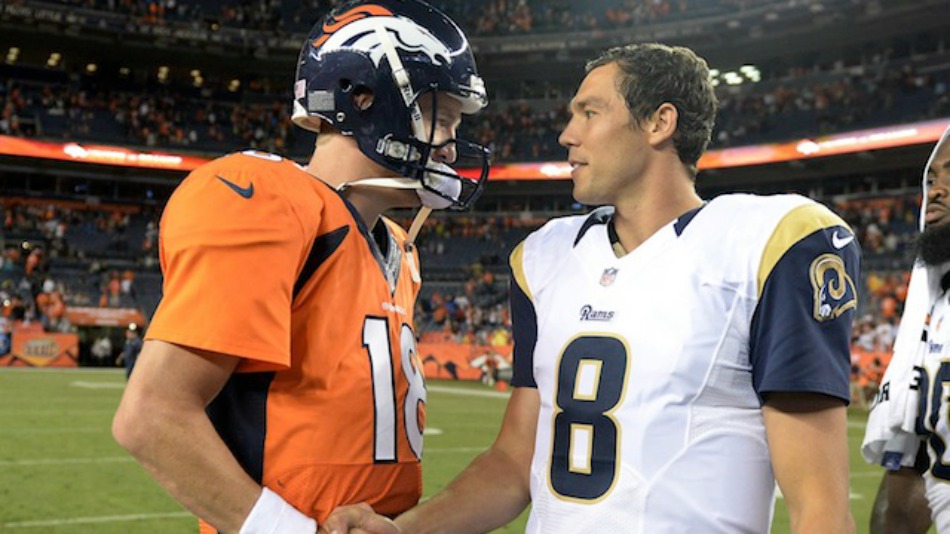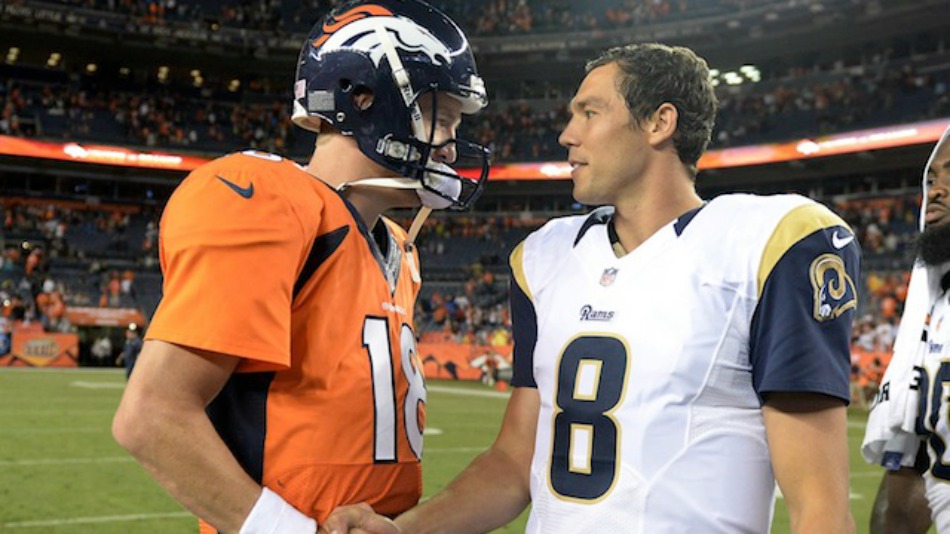 The Eagles season and Chip Kelly's future rest in the play of one player, quarterback Sam Bradford.
According to Eagles owner Jeffrey Lurie, the team had an amazing evaluation of Bradford in 2010 when he was coming out of Oklahoma.
"When he was scouted out of college, we thought — and this goes back to Andy — we thought he was the best young quarterback we'd seen in a long, long time," Lurie said Tuesday. "Probably since Peyton Manning coming out of college. Rookie of the year his first year. Outstanding. Pat Shurmur had him as an offensive coordinator, reconfirmed everything we'd heard about him in the draft process. Extraordinary competitor. Incredibly accurate and needs to stay healthy."
New St. Louis Rams quarterback coach Chris Weinke was asked about Bradford before the trade occurred.
"Love him.  Love him," Weinke told the St. Louis Post-Dispatch when asked about Bradford. "Historically, I look back at every guy that I've evaluated coming out of college. A few years ago when Andrew Luck came out they said who would you compare him to? And I said the closest I would see is Sam Bradford. And I say that without knowing Sam. I'd never met Sam until this process. Looking at his physical skill set. And then obviously talking to people and understanding his mental capacity and his football IQ, and all those different things. Sam by far has had the best pro day out of any guy I've ever evaluated from a physical standpoint. And he was coming off an injury at that point in time. So when you look at a guy who's a pure passer of the football from a physical standpoint, he's as good as anybody I've ever evaluated."
I've never seen a quarterback with so little to show in five years of his career, have such glowing evaluations. I hope they prove out to be legitimate.
Lurie stressed the importance of the franchise quarterback in building a championship team.
"There was an opportunity to do an upside gamble with an outstanding young quarterback who you hope can become healthier throughout his career," Lurie said. "It is so hard to get a franchise quarterback, as you know. It sets the ceiling on what you have as a team, and do you want to take upside gambles or not? You've got to make that decision."
Kelly was just as high on him as the Eagles had been in 2010.
"When you look at Sam, it's his overall accuracy that I think impresses everybody when you watch him play," Kelly said.
"Just looking at where we are and what we need to do, we've got guys open and we didn't put the ball on them in certain situations," Kelly said.
Kelly has said before that he values two abilities in a quarterback; accuracy and decision-making.  Bradford has been rated very high in both of those categories.
"These are not flippant decisions of a head coach," Lurie said. "These are very studied decisions. He watched Sam Bradford hundreds of times. He talked to every coach he ever had. This is well-researched. It wouldn't satisfy me if it wasn't."
Still there is one question that will dominate the upcoming season for Chip Kelly and the Eagles.
CAN SAM BRADFORD STAY HEALTHY?
Kelly pointed out that it wasn't unusual for a great quarterback to get injured and miss a season.
"I think Sam has an outstanding skill set as a quarterback. The only knock on Sam is that he got hurt. If he hadn't gotten hurt I don't believe he would have ever been in a situation where he was up for trade. Sam's injury is an ACL and he's rehabbing very hard from it. It's not something where you can say he's brittle or this is his situation. When you look at all the great quarterbacks," Kelly told NFL Media's Steve Wyche, "Peyton Manning has missed a year, Tom Brady has missed a year, Drew Brees has missed a year. Again, we felt like to get a player of Sam's caliber, it wouldn't have happened unless he was injured."
That sounds great but, Bradford has an injury history much more extensive than any of the other forementioned quarterbacks.  Yes, all those great quarterbacks missed a season, but Bradford missed his final season at Oklahoma due to a shoulder injury, then missed a couple of NFL seasons due to ACL tears.
Bradford has missed three of his last five seasons.  Maybe his body is just not able to take the pounding that goes on in NFL.  He is very slim. He's not a big physical quarterback.
He could be the greatest quarterback who every played the game, but he may be unable to stay healthy.  If that is the case, the decision to bring Bradford here in place of Nick Foles could blow up in Chip Kelly's face.  We'll have to wait and see what happened.