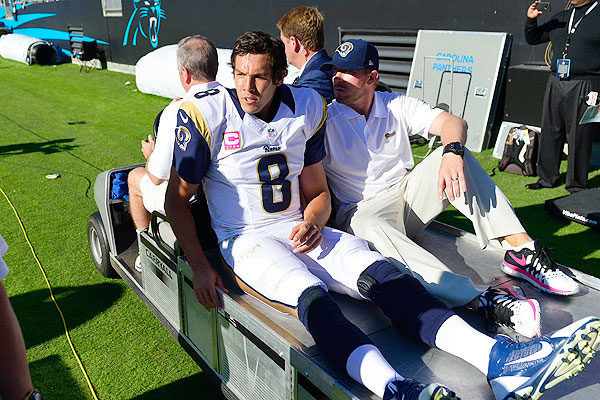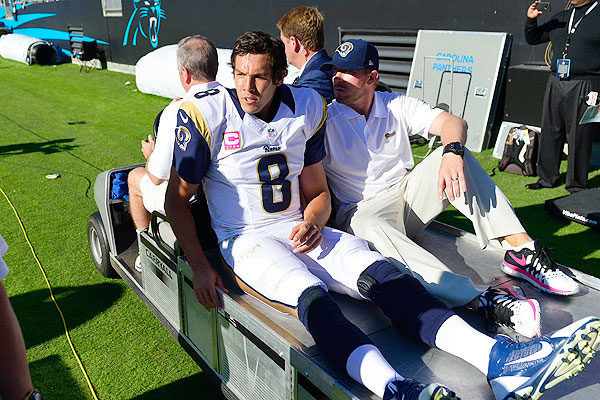 Eagles head coach Chip Kelly refused to voice much concern about Sam Bradford's injury history.  He believe his sports science routine and the team's doctors and training staff can keep Bradford healthy.
"Look at our starting receiver last year [Jeremy Maclin], who had 85 catches," Kelly said at the NFL owners meetings. "Look at the year he had coming off of two ACLs.
Maclin's injuries weren't on the same knee and they weren't in back to back seasons.
"Look at our center. Jason Kelce had an ACL right before I got there and had a sports hernia in the middle of last season, and still made the Pro Bowl. Our left tackle [Jason Peters], who is arguably a Hall of Famer, has had two Achilles' [injuries] and is playing at an outstanding level.
"I would say it's easier for a quarterback with a knee injury [to come back] than a shoulder injury, as we went through the history of it. We didn't bring Sam in to run the ball 75 times a game. I think it's a lot easier for a quarterback with an ACL than it is for a receiver with an ACL. The history in terms of sports science right now and what doctors are doing is unbelievable."
Bradford must be able to stay healthy or this plan will blow up in the face of the Birds.  There's no definite about when he will return to action.  He may not be healthy enough to take the field when training camp arrives in July.
"It's kind of up in the air," Sam Bradford said when asked about his recovery timetable. "We really haven't sat down and talked about it."
He's taking the return to action slower than he did after suffering the previous ACL tear.
"It's a lot of the same exercises," Bradford said. "We decided to take this one a little slower, per (the doctor's) recommendations."
Kelly is confident his trainers and doctors can keep Sam heathy.
"I think Sam has an outstanding skill set as a quarterback," Kelly said. "The only knock on Sam is that he got hurt."
"I don't think anyone should be worried," Bradford said. "Once they see me on the field … all those doubts will be gone."
No, the worries will go when he plays all of 16 game season.
Hopefully, he won't get injured again.