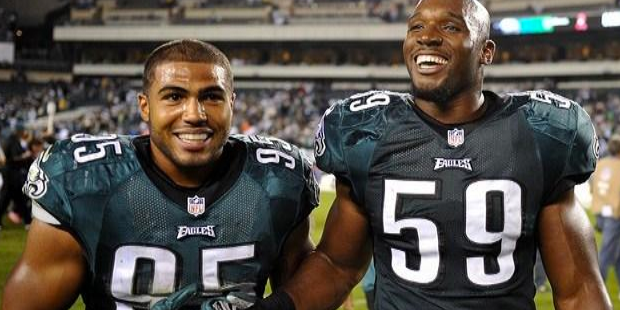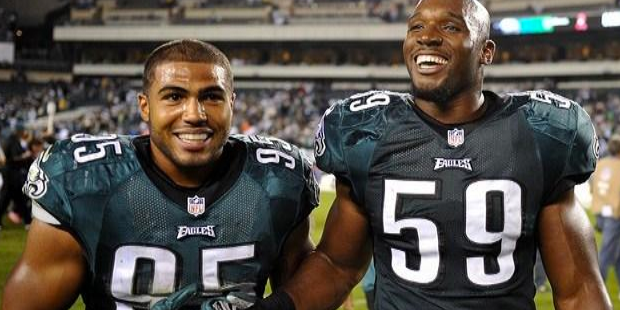 The Eagles have assembled an abundance of talent at the inside linebacker position, but they haven't told us publicly how they plan on using it.  I expect to see DeMeco Ryans and former Buffalo Bills inside linebacker Kiko Alonso as the starters with Mychal Kendricks and Alonso on the field on third downs and passing situations.
Kendricks reported to the Nova Care Complex for the first time yesterday after missing the beginning of the workouts because of previously schedule vacation and a week of working with his brother Eric, who was preparing for the NFL draft.  Eric is also an inside linebacker and he was drafted by the Minnesota Vikings in the second round.
They traded away the franchise's all-time rushing leader, LeSean McCoy, in order to acquire Alonso. He'll be coming off of a ACL surgery, but clearly will be a starter.  When healthy, Alonzo is an outstanding three-down linebacker, who can run with any running back or tight end in the league.  One of his strengths is defending the pass, so you know he's going to be on the field.
Chip Kelly said Alonzo is capable of sliding to an outside linebacker position and getting the job done there at times, if they need him to do so.
Veteran inside linebacker DeMeco Ryans is coming off of an Achilles tendon tear and there are questions about whether he will be playing two or three downs when he returns.  He's nearing the end of his career, so I wouldn't be surprised if he's only on the field for first and second down.    He understands the defense better than any other player on the roster, so they'll be glad to have his leadership again.
Still there's no guarantee that Ryans will return to his previous form.  Achilles tendon tears are serious and one of the reasons they have an abundance of talent stacked up at this position.  If Ryans doesn't return to form, they will have no problem going to battle with Alonso and Mychal Kendricks as the starters at inside linebacker.  They expect Ryans to back running things in the middle.
I think fourth year inside linebacker Mychal Kendricks could be on the verge of stardom, but I don't know if he's going to be around when the season starts. Kendricks is undersized, but he's a great athlete and one of the fastest linebackers in the league.  I don't know whether he's going to be on the field on both first and second downs, but I do expect to see him on third down.  He's a tremendous coverage linebacker and he's also a very good blitzer.  This should be the year, when he starts turning knockdowns into interceptions.
Kendricks has problems when he is at the point of attack.  The fact that he is undersized is always going to make him a target for opposing offenses, but he'll be able to solve as long as he gets a quick read and immediately attacks the play.
Rookie third round draft pick Jordan Hicks seems to be the heir apparent to Ryans.  He was labeled a "coach on the field" at Texas.  He will need to get in the weight room and get stronger, but he will be able to handle the mental part of the game.
Getting tutored by Ryans will help him in using his intelligence ,when it comes to anticipating plays and get every on the defense in place. This first year will involve making a contribution to the special teams.
Najee Goode is another speedy undersized inside backer, who is better against the pass than the run. He will spend this year contributing to the Special Teams if he make the ball club.
Brad Jones is a veteran linebacker, who was as a starter in Cleveland for a number of years.  His experience will make the Birds keep him around until they're sure that Ryans and Alonso are back to 100%.
Emmanuel Acho is a long shot to make the team.  He's going to have his work cut out for him to make this team.
First team: DeMeco Ryans, Mychal Kendricks/Kiko Alonso
Second team: Najee Goode, Jordan Hicks
Third team: Emmanuel Acho, Brad Jones