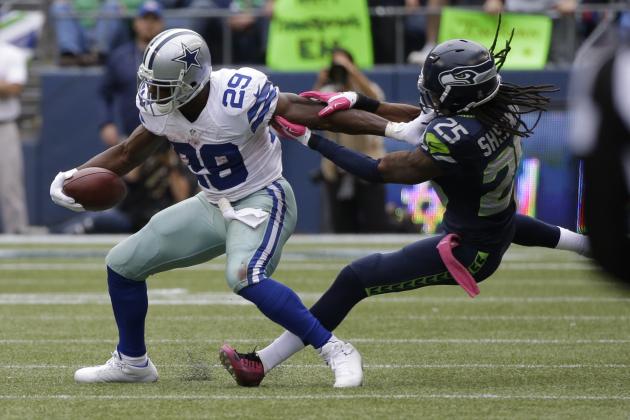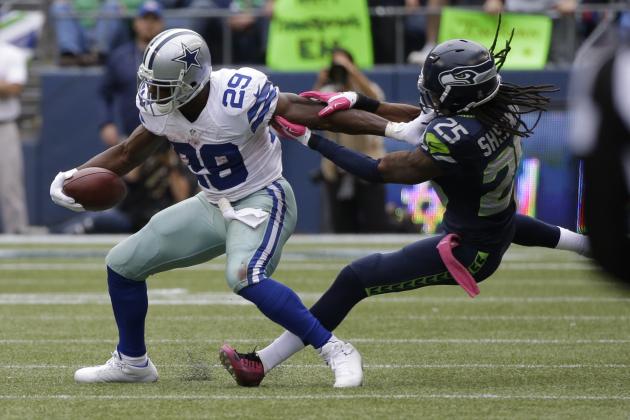 Dallas Cowboys Hall of Fame wide receiver Michael Irvin isn't buying what Jerry Jones and the Dallas front office are selling.  Irvin disagrees with the thinking that you can put anybody behind the Cowboys offensive line and they'll be successful.
"You can't tell me and you can't convince me, that you can just stick anybody in (at the running back position)," Irvin said. "If they would have drafted a Melvin Gordon or if they would have drafted a Todd Gurley, then that may be something."
Irvin thinks the loss of Murray for the Cowboys and the acquisition of DeMarco Murray for the Eagles has made Philadelphia the best football team in the NFC East.
"I go Philly, Dallas, Giants and Washington right now."
Irvin was on 97.5  The Fanatic with Ron Jaworski and Joe DeCamara last night and he wasn't holding anything back.
The Cowboys didn't draft a running back this year.  There were rumors that they were going to trade for Adrian Peterson, but that's no longer likely.
He thinks Murray is an upgrade for the Eagles over LeSean McCoy in Chip Kelly's offense.  The Playmaker feels Kelly will be able to get his new, big and physical running back matched up against little defensive backs when he spreads them out with those three and four wide receiver formations.
Irvin emphasized the differences in Murray and McCoy's running styles.  Murray's straight ahead physical style versus McCoy's slashing and cutting style.  He believes that straight ahead physical style will work better with Chip Kelly's offensive strategy.
"I call LeSean McCoy a guy that beats defenses", Irvin said. "DeMarco Murray is a defense beater. There is a difference. He ain't running around nobody. He's running through you."
It definitely sounds plausible.  Kelly wants to get as many defensive backs on the field as he can, spreads them out by formation, then he runs the football against them.  This is why he wants wide receivers, who can block.
There are many defensive backs in the league who don't want to hit or tackle anybody, especially a 230-pound freight train like Murray.
"You gotta put all of your guys on the line of scrimmage to stop DeMarco," Irvin said, "and then your passing game can do whatever it (wants to do)."
Irvin believes the presence of a punishing runner like Murray in the Eagles offensive backfield will help Sam Bradford and the Birds passing game like it helped Tony Romo and Dez Bryant a year ago.