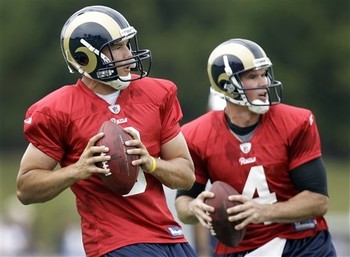 St. Louis Rams quarterbacks Sam Bradford, left, and quarterback A.J. Feeley drop back to pass during NFL football training camp Saturday, July 30, 2011, at the Rams' training facility in St. Louis. (AP Photo/Jeff Roberson)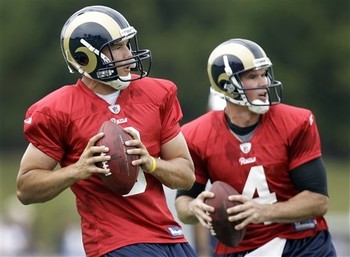 Earlier this week, former Eagles quarterback A.J. Feeley was on 97.5 The Fanatic with Anthony Gargano and he talked about his good friend, Sam Bradford. Feeley was a backup quarterback to Bradford in 2011 in St. Louis, so he knows him.  The former Heisman Trophy winner called Feeley immediately when he learned he had been traded to Philadelphia.
A.J. talked about filling him in on what it would be like to play in Philly.  He talked to Anthony about Bradford and raved about his intelligence and athleticism.
"A mellow cerebral quarterback", Feeley said in describing Bradford. "He's extremely athletic.  He's loves the game.  Very accurate. He's got an underrated arm.  You don't realize how strong his arm is because it's effortless for him. His first year he was offensive rookie of the year.  We didn't have many weapons.  Our best weapon was a guy the Eagles cut the year before Danny Amendola."
"He's kind of a unique guy because of how big he is and how athletic he is," Feeley said. "Assuming that he comes back to his original form from these injuries, he's a big kind of a dual threat guy — more so than Nick Foles ever was."
He's the reason we almost made the playoffs (in 2010) before losing to Seattle at the end of the season.
"Sam was quite the basketball player growing up", Feeley said.  "He was on a AAU team with Blake Griffin. He can hoop and that's a pretty good indicator of how good of an athlete he was. He was impressive when I saw him play."
"He ran this style of offense in Oklahoma", said Feeley. "He's still got to get over the injury thing."
Later in the interview, Feeley recounted a story to illustrate how intelligent Bradford was.  In 2011, then Rams offensive coordinator Pat Shurmur, who happens to be the Eagles current offensive coordinator left the Rams to be head coach of the Cleveland Browns, so current New England Patriots offensive coordinator Josh McDaniels took over as the Rams offensive coordinator and put in his system.
"We didn't have OTA's", Feeley said. "We were late getting into training camp, so we had to learn the entire New England offense in a matter of three weeks.  I'm not embarrassed to say it. Sam picked up the offense probably two times faster than I did. It was a tough deal. He was able to read something the first time, pick it up, walk in the huddle; which was definitely an advantage for all of the players because everyone else was struggling.  Sam at one point was teaching the offense to everyone."
I'm sure stories like this one got back to Chip Kelly and that's the reason, Bradford is here in an Eagles uniform.
"You look at Chip's offense, A.J. said.  "They spread you out and the game's basically angles and spacing.  You get the ball to playmakers in space. A quarterback who is athletic is going to be successful in Chip's offense as long as you're accurate and get it out of your hands quick.  Being able to move around gives the offense another dimension.  That's the great thing about Chip's offense.  It's kind of a plug and go.  Guys can pick it up. If they're accurate, anybody can play in this offense and have success.?"
Feeley did say at the end of the interview that Bradford needed to be more vocal. He didn't push his teammates in St. Louis  He's in his fifth year.  There are different leadership styles.
I've already had people tell me that Bradford doesn't have a lot to say.  He doesn't need to change who he is, but things he feels strongly about he needs to say something because he's not in St. Louis anymore he's in Philly.  Eagles fans want their quarterback to be in charge and in control.