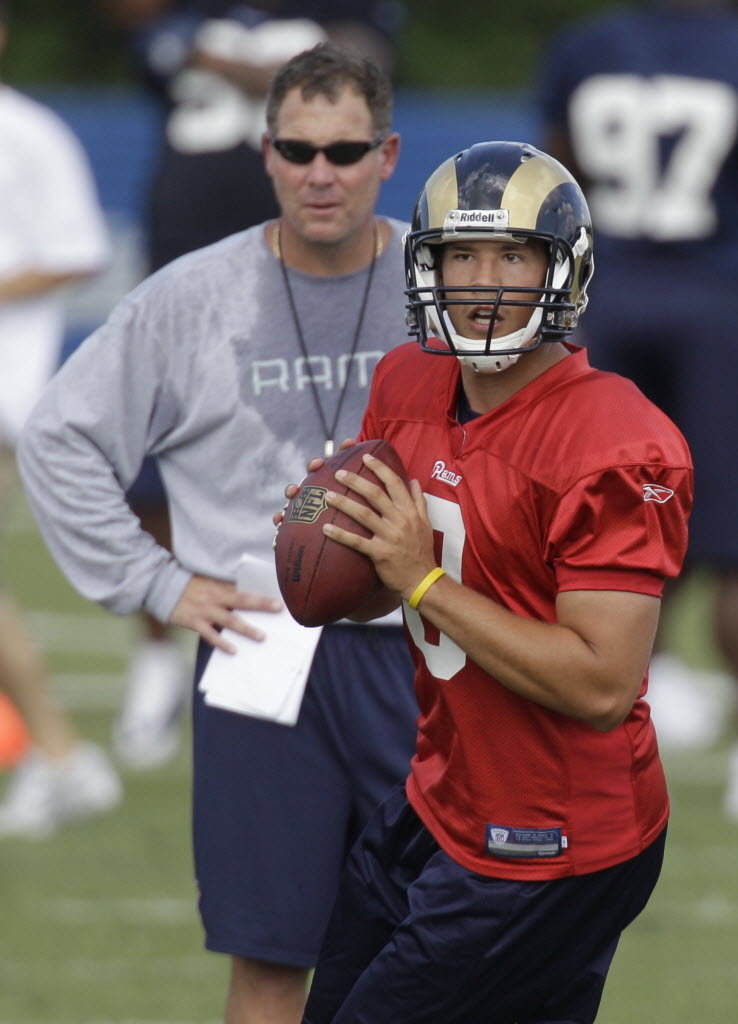 Eagles offensive coordinator Pat Shurmur is always the calm, quiet guy standing next to the team's quarterbacks at practice.  He's the guy in the background for Chip Kelly.   The former Cleveland Browns head coach was Andy Reid's "Quarterback Whisperer" for nearly a decade as he oversaw the play of Donovan McNabb and the rest of the Birds quarterbacks.  Now he plays that role for Kelly.
He's up in the box during the games on the phone with Kelly, but before the game and at halftime he keeps the quarterbacks calm, clearheaded and confident as they go about leading the team's offense on the field.  You see him encouraging them and correcting them, but he does it gingerly, so as not to damage their psyches.
Shurmur has been studying quarterbacks for more than three decades now and he was definitely the guy who sold Bradford to Kelly.   Check out some of the comments he made about Bradford to Dave Spadaro of PhiladelphiaEagles.com.
"He's a good decision-maker and a very accurate passer."
"He's more athletic and more mobile than you think."
"He's a quick thinker and he's a quick good decision maker and he understands the importance of executing quickly.  For those reasons he'll be a good fit for us."
"What you'll find with Sam. He's a very competitive guy.  He's a very talented guy and he works extremely hard, That's probably the foundation of what Sam is."
Shurmur was the offensive coordinator for the Rams in 2010 when they made Bradford the first pick in the draft.  During his interview with Spadaro, Shurmur takes us through the process the Rams used to evaluate the former Heisman Trophy winner.
"We had the first pick in the draft", Shurmur said.  "Sam was a very, very impressive player in college. We had about six or seven exposures to him.  He would come to our building.  We'd go visit him on campus.  We'd see him at the combine.  We went and visited him at his training site."
"He played at Oklahoma, so he played on a large stage", Shurmur said in response to a question about how Bradford handled all the attention and pressure.  "It really didn't phase him.  It wasn't too big for him.  We had A.J. Feeley at the time was his backup.  He and A.J. worked together.  He became his backup.  Sam became the opening day starter. He handled it really well."
"We got to know him in detail" Shurmur emphasized.
My ears perked up when I heard Shurmur talk about Bradford's leadership abilities.  Remember that Feeley said Bradford needs to learn to be a more forceful leader than he was a few years ago in St. Louis.
"He's got this rare ability to lead", Shurmur said.  "Where I think he makes people around him better."
I'm interested in seeing how Bradford deals with criticism here in Philly.  Will he take it as a challenge to get more focused or will it be distracting to him?
Bradford's former offensive coordinator was impressed with the quarterback's rookie performance back in 2010.
"He did a great job for us", Shurmur told Spadaro.  "He helped us win 7 games in that first year, coming off a horrible year the year before.  We fell a few plays short of winning the division with him as a rookie quarterback.  He was rookie of the year.  He's a tremendous player, tremendous person.  I think as the people in town get to know him.  He's got this quiet confidence, a great charisma about him.
"He's going to play really good football. People are going to enjoy having him here."
"He comes from a shot gun style offense in college, which is very similar to what we do here.  In fact, we put in some of the principles he did real well in college into the offense in St. Louis in that first year.  So he's going to come here with a lot of background of what we do.  We're going to be able to connect the dots very quickly.