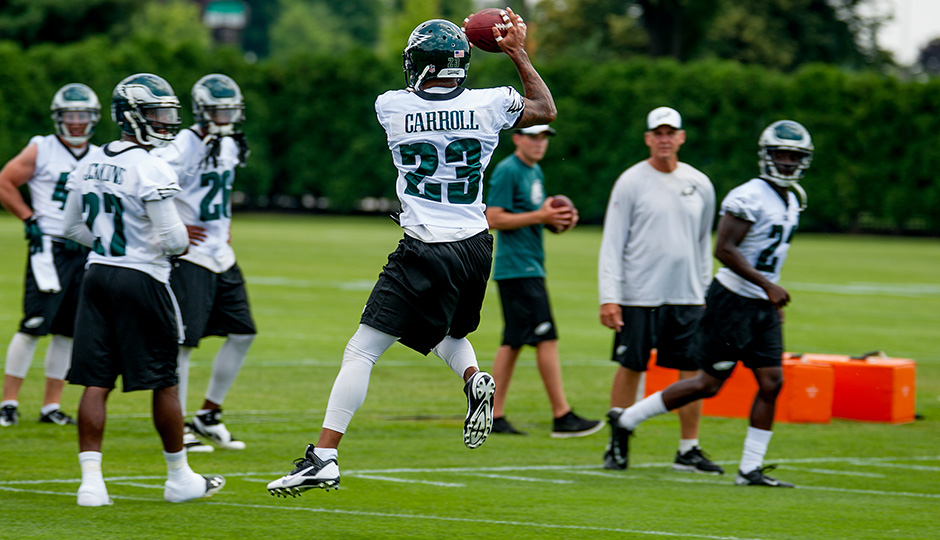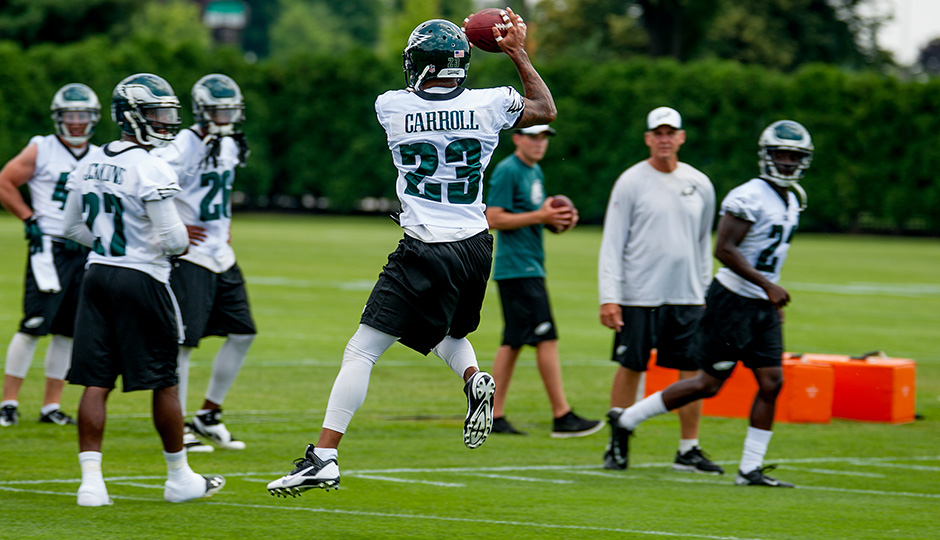 I wasn't all that impressed on Thursday after the Eagles OTA workout, when Chip Kelly was talking about how hard the new starting cornerback Nolan Carroll had worked during the off season.  Carroll had played some dime for the Birds last year, but he hadn't shown such great cover skills to warrant being a starting cornerback.
"A lot of guys have worked extremely hard, Nolan Carroll has one an unbelievable job in the off season", Chip Kelly said about the current starter at cornerback.
All that hard work is good, but I wanted to hear about how this young man could cover the likes of Dez Bryant, Odell Beckham, Victor Cruz, and DeSean Jackson one-on-one.  Hard work is one thing, but talent is another.
Earlier this off season, veteran safety Malcolm Jenkins had been brutally honest about the poor secondary coaching they got last year.  He did it without calling out the name of the coach, who was John Lovett.
"We've only been with him (new secondary Coach Cory Undlin) a month, or so, and our room has already gotten better in that month. Just from a standpoint of fundamental football and that's what we really didn't get the past two years. I heard that when I got here. And then you saw it last year.
Last Thursday after practice, Jenkins added to what Coach Kelly said and he made the statements that I wanted to hear about why Nolan Carroll is currently the starting cornerback opposite Byron Maxwell.
"If there's one guy who's really been killing it from on the field to in the weight room to everything it's probably been Nolan" Jenkins said. "His technique is drastically improved. I think he feels a lot better playing at the corner. A lot more confident. Last year we had him kind of playing at dime linebacker all year and he still has that background, that ability to go in and play the dime, the nickel, but he's really starting to feel comfortable in making a lot of plays out on the outside too, so that's been really encouraging to see. The stuff he's done in the weight room, as far as his technique will transition out to the field."
Jenkins point out, "His technique is drastically improved".  You must have great technique to cover all the league's great receivers one-on-one.  Even if you're a great athlete with tremendous size, quickness and speed, your technique had better be good, if you're going to be successful playing corner in the NFL.
He also said Carroll is playing with a lot more confidence.  You've got to have that swagger to play cornerback in the NFL especially when you play as much man-to-man as the Eagles do.
I going to take a close look at the corners in the OTA practice later today at the Nova Care Complex.