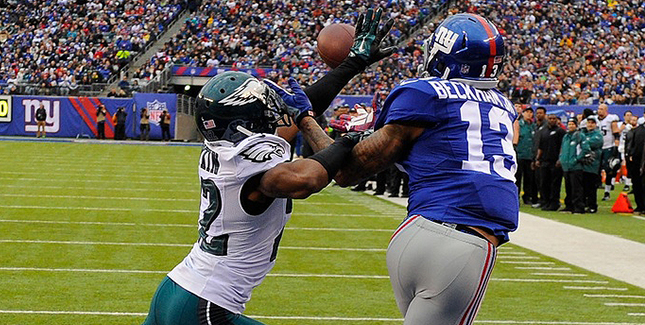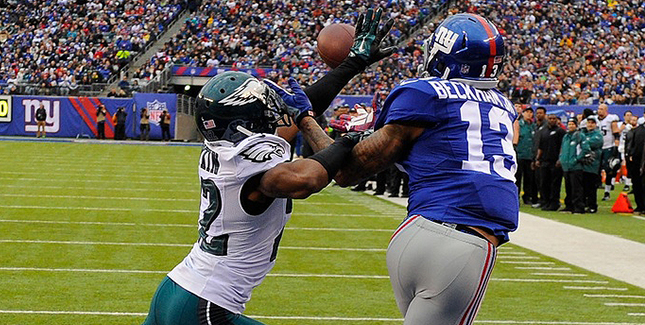 Eagles nickel back Brandon Boykin, who is considered one of the best if not the best slot cover defensive back in the NFL, is tired of talking about why he isn't starting outside at cornerback.  There used to be an understanding system in the secondary where the third best cornerback would be the nickel guy and once he proved he was one of the top two cornerbacks on the team, he would be moved outside to a starting position
He knows one of the reasons he's not starting at one of the outside cornerback positions is his height, 5'9″.  Do you think Boykin and fellow undersized Eagles defensive player, Mychal Kendricks, talked a few times during off season?  They both have been good players for the Birds, yet because of their height their names have been apart of trade rumors.
Chip Kelly has made it clear that he wants his cornerbacks to be six foot or above.  Boykin still wants a shot at the job.
"Here they have certain requirements," he said. "Be honest. Call it what it is. Maybe they want a taller guy to be outside, and that's what their preference is, just to start the standard. I'm sure [there are] some exceptions — there's a reason why I'm still here."

"I know I can play, and I think they know the same. So all of the other measurements, whatever they want, is fine. Wherever I'm at on the field, I'm going to make the plays that I'm supposed to make. Do what I'm supposed to do this year, free agency hits or whatever, next year hits, if I make the plays I'm supposed to make, I'll get the chance. I'll get the money. I'll get all of that stuff that's supposed to happen."
The diminutive cornerback even went so far as to let Chip Kelly know that he's going to hold him accountable for what he said he would do, which is give him a chance to be a starter at one of the outside cornerback positions.
"We had a meeting," Boykin said. "I talked to [Kelly]. I asked him what are the expectations for me. Everybody knows it's the last year of my contract, and he said, 'We're looking for you to compete for the outside spot.'

"So that's what he said. He's the coach. He's a man of his word, then I'm going to hold him accountable to that, like he does us.

"And I'm going to go out there and ball and do what I'm supposed to do, and once camp hits we'll see who outperforms whoever, and I guess you guys can worry about the rest."
Boykin isn't thrilled about his situation, but he's not going to let it affect the way he plays.
"I'm just going to continue to be the best slot [corner] in the NFL. I feel like I am. I feel like my statistics show that, and that's what I'm going to focus on."