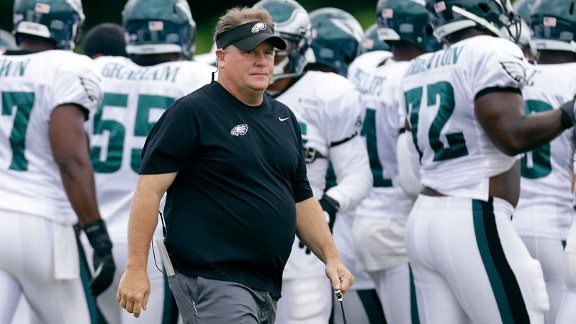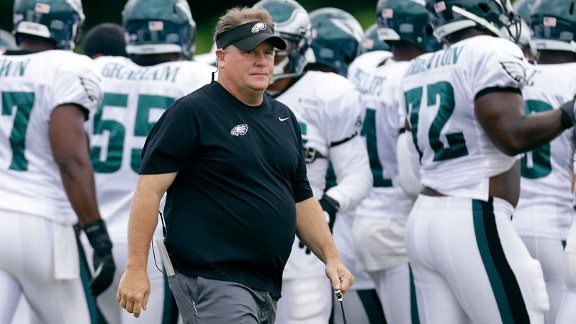 Winning the NFC East is a must in year three of the Chip Kelly era. 2014 ended in disappointing fashion, which led to a roster shakeup rarely seen by a team over the course of a single off-season.
Players were acquired via trade or signed in free, talented but also with injury history. Chip is gambling, hoping that the cards turn over in his favor. A game within a game, how the mind works for Chip, drawing the attention of local and national media with his unorthodox approach.
He may warrant intrigue; but at some point winning has to be the result or the entertainment value decreases in worth.
I look at all of the changes the other three NFC East teams made in the off-season. I compare those to the overhaul the Eagles went through, factoring in the concept that it could be either Bradford or Sanchez starting the majority of games this season.
My initial thoughts; the Cowboys are the team the Eagles will chase, but don't count out the Giants.
Minus the loss of Murray at running back, the Cowboys arguably came away with three first round picks from the 2015 draft. They "improved" their offensive line which was already one of the best units in the NFL. They improved in all three phases of their defense. A running back by committee will likely be their approach, and they still have Dez Bryant, a challenge awaiting the new Eagles secondary. I like Dallas finishing with nine wins on the season, good for third place in the division.
The Giants have one of the best young wide receivers in the game, added Vereen to their depth at running back and the change in offensive philosophy had Eli Manning playing well after an initial slow start to the season. The Giants have won two Super Bowls with their current head coach, and I expect a bounce back year after a forgettable 2014. I like the Giants finishing with ten wins this season, second place in the division, and it will come down to some tie breakers to see if they get one of the wildcard spots.
The Redskins focused on getting "nastier" in the trenches, although their quarterback situation limits what the team can do. Even with the upgrades the team made in free agency and the draft, I feel there is some disconnect between quarterback and coach and a lack of talent ay several positions. I'll bump their win total up to seven games this season, finishing in last place in the NFC East.
As for the Eagles, I'm giving them eleven wins for the season which earns them a second divisional title under Chip Kelly. Unlike Maxwell, a trip to the Super Bowl is something I can't picture; we are still very far away from matching the level of the Packers and Seahawks.