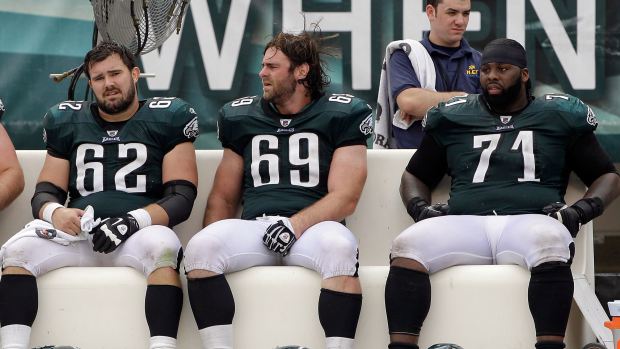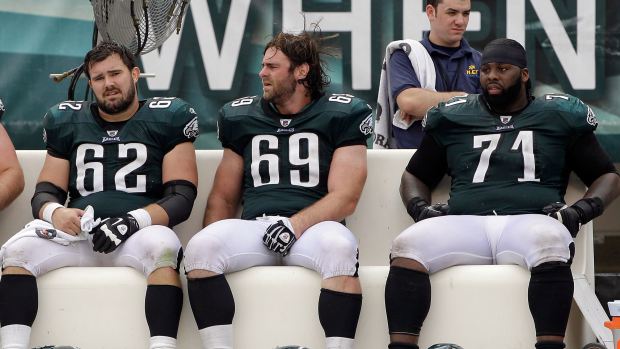 The key to the Chip Kelly's offense isn't going to be quarterback Sam Bradford and his outstanding arm.  The key to Kelly's offense is the running game.  That's what makes everything go, so I was making a point to look at it closely as the Birds were working out yesterday.  They were handing big DeMarco Murray the football on those zone option plays and he was breaking it outside because he didn't see anything inside on those runs.
It's understandable because the players don't have pads on right now and it's not a full go camp, but Murray isn't an outside runner, he's a punishing up the gut, north-south runner, who got his yards behind that big powerful Cowboys offensive line by hitting it up in there like Chip Kelly likes to see.  He's not going to have a good year taking plays outside.  Murray is at his best when he's running north-south with his power.
The Eagles offensive line isn't a big power line.  They are more of an athletic line with undersized and athletic center Jason Kelce and athletic offensive guard Evan Mathis.   If you take away Mathis and put Allen Barbre and Matt Tobin in there beside the undersized Kelce, I'm not sure they're going to get the same type of movement that the Dallas line was getting last year.  There was no way anybody was going to stop that big bruiser of a running back, Murray, once that offensive line got your defense going backwards.
The key to the running game for the Birds will be the job that two offensive lineman are able to do against one of the opposing defensive linemen on the key double team on each play.  That's the key to the Dallas ground game and it's the key to Chip Kelly's ground attack.
A lot of times the key double team is the center and one of his guards trying to get that nose tackle or defensive tackle moving backwards.  Once they get him moving backwards, one of the offensive linemen that's on that double team is able to come off and pick up the linebacker behind the tackle, but moving the big nose tackles and defensive tackles in the NFL isn't an easy job.  Some of these guys are 360 pounds and up with a low center of gravity.
It would be easier to move a mature oak tree than to move some of the nose tackles and defensive tackles in the NFL.  Kelce isn't at his best when he's trying to block those big nose tackles, when they're anchored in there. When he gets them moving sideways, he's able to use his athleticism on them, to get them moving laterally and slowly backwards, but he can't just drive them out of there because he's not big enough to do it.  Murray is a north-south runner, but I don't know if this is a north-south offensive line we have here in Philadelphia.  I'm going to be interested to see how well Murray and Mathews work running behind this line.
If you take away Mathis, you don't have that great double-team of Mathis and Jason Peters taking a defensive lineman for a ride on the left side.  In 2013 when they were the best running attack in the NFL, the Eagles were a left-handed team as they ran to that left side behind Mathis and Peters any time they wanted to do so.  If you take away Mathis and put the two backups in there, I don't know how much movement they're going to be getting.
Hopefully we have Lane Johnson at right tackle developing into a dominant run blocker like Peters is on the left side.  It's one of the reasons I liked the fact that Johnson was going through MMA workouts out in Los Angeles this off season because the Eagles may be able to start running to the right side in the same way they've run to the left side.  It's also the reason I wanted the Birds to use that third round pick on an offensive lineman rather than using it on an inside linebacker, Jordan Hicks.
When the Eagles line was at their best in 2013, they were beating people with speed and athleticism and LeSean McCoy was using his quickness and changes of direction to leave the defensive front gasping for air.
Chip Kelly's system wears down the defensive front until they can't take the pace of the plays he's throwing at them, but you have to get it going. If you're not putting together drives then you're wearing them down.  That's why Chip hates it when you have a play that loses yardage, now you're in danger of having to punt.  If you're punting you're not tiring out that defense.
One of the keys to success in the running game is the offensive line getting to know each other on those double team blocks. The Eagles offensive line is playing together for the first time with Mathis out, Herremans gone and Barbre and Tobin in there.  Incidentally, on the first team offensive line, Chip has Tobin playing left guard on one play with Barbre at right guard, then on the next play Tobin moves to right guard and Barbre plays the left guard because they want both of them to be able to play each side.
We talk about the health of Sam Bradford being so important to this football team, but the only that's more important than his health is the team's running game.  If the Birds aren't one of the best running games in the NFL, this team isn't going to have the success that we want them to have.
It all starts with the running game and two of the Eagles offensive linemen being able to double team one of the opposing defensive linemen off the football.  Chip describes as "two guys throwing one guy out of the bar".   He explains it that the four legs of the two offensive linemen on the double-team, should be able to come together and throw one guy out of the bar.