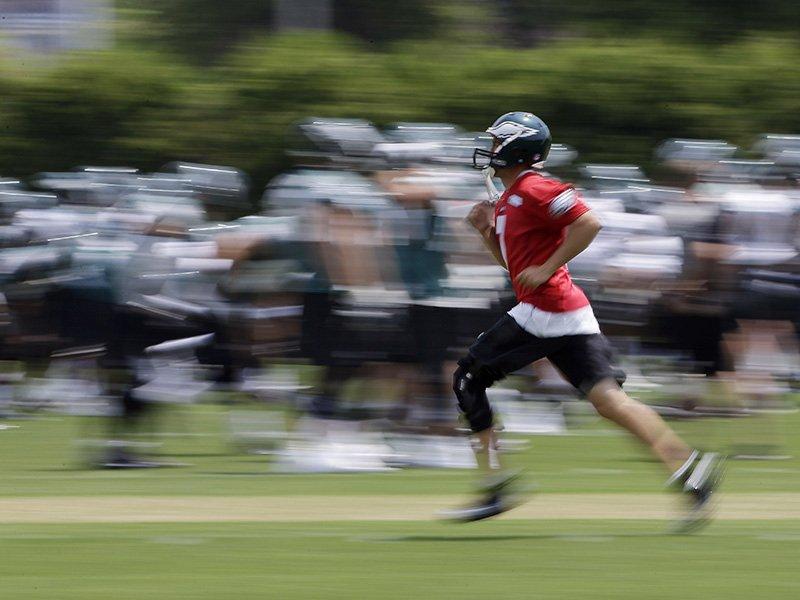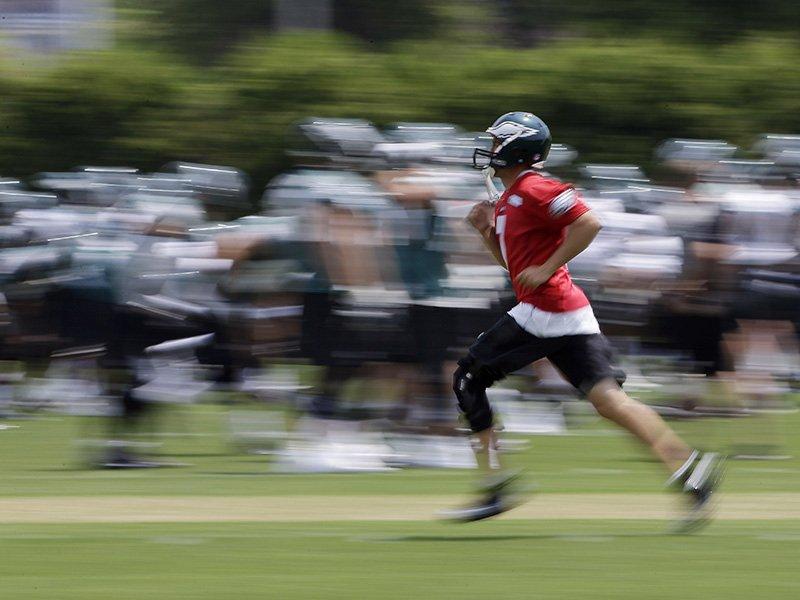 Eagles offensvie coordinator Pat Shurmur answered questions from the media today  and most of his time was spent talking about one of his quarterbacks, Sam Bradford.  Yes, that Sam Bradford, the one with the fluid, smooth, effortless delivery and the ACL problem.  As I've already told you here on GCobb.com, Shurmur was the expert witness in Chip Kelly's evaluation of Bradford that moved him to make the trade.
It's all understandable.  Here you have your offensive coordinator, who knows this talented young quarterback better than nearly all of the other offensive coaches in the league.  I'm sure Shurmur knows Bradford better than Jeff Fisher, who is the current head coach of the St. Louis Rams.  Bradford has been injured for just about all the time that Fisher has been with the Rams, but Shurmur played a hand in drafting him and coaching him through his rookie season.
Shurmur told us what he contributed in the evaluation of Bradford.
"I was able to give some insight having worked with Sam for a year and in his rookie year.  He came in.  We drafted him. He worked his way through training camp and became the first-day starter.  Helped us win seven games and we almost won the division.  In his first year, he was Rookie of the Year.   He was an outstanding player as a rookie."

"What I did was talk about the experience that I had with Sam.  I was able to give some insight.  How he prepared.  How hard he worked.  What he was like as a quarterback behind center.  What he was like as a leader.  All the things that I think he's really, really good at."

"I certainly have a very strong, good opinion of Sam and what he can accomplish.   Had he been able to stay healthy then I think he wouldn't have been available for us."
After a strong report like that you would figure that there's nothing else that Shurmur could have done.  Right?  No, not only did he provide the sterling endorsement, he went even further.
"When the deal was getting made I kind of had my fingers crossed in the background (in hopes) it was going to get done."
Now Bradford is here in the mix and Shurmur is working with him and the rest of the quarterbacks.  The former first pick in the draft is getting the chance to work on the field with his new teammates in the new system with its terminology.
"Each day he gets better", Shurmur said. "Each day we see improvements from that standpoint.  Like all the other players he's getting more and more comfortable with what we do."

"All I know is that since he's been here he's made great strides in terms of getting his knee strong enough to come out here and compete.  He's had a surgery like a lot of guys in the off season. He's working his way through it. Hasn't had any setbacks and he's able to improve in our offense. We feel very confident that he will be ready to go when it's time to play for real."
I know Mark Sanchez is confident, comfortable in the offense and his arm feels better, but we all know who, if healthy, is going to be catching the snap from Jason Kelce when the season starts.