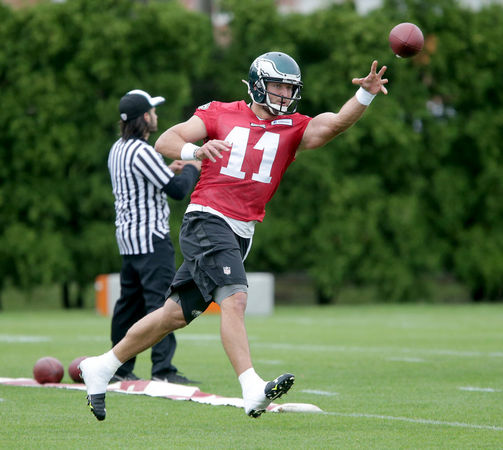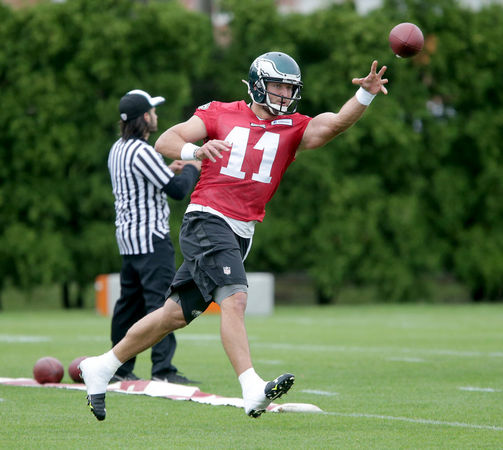 I expected everything I heard from Eagles offensive coordinator Pat Shurmur about Sam Bradford, but I was surprised with what he had to say about Tim Tebow.  I thought Tebow was struggling quite a bit, but Shurmur emphasized the positive.
"He is actually getting better every day," Shurmur said earlier today. "He works extremely hard. He is getting comfortable in what we do. He is having more good plays than bad plays out here."
Really?   He's getting better?
I saw Tebow missing quite a few throws, when he does throw the ball.  He pulls the football down and runs quite a few times in 7-on-7, which is a passing drill.  I know it's probably unrealistic to expect him to learn the offense in a matter of days, so maybe Shurmur is being fairer with him than I am.
Tebow is trying to learn the offense, while at the same time polishing up his throwing mechanics.  I think they're going to give him all the time he needs to learn the offense and get his throwing up to par because he looks good on those option plays.
The new quarterback coach, Ryan Day was also lenient on Tebow.
"He is working hard out here just like everyone else", Day said.  "He has some good throws, and some throws he wants to get back.  But he is working hard to change his throwing motion, and every day he is getting better."
Where did that "throws he wants to have back" phrase start?  That makes me think of Andy Reid.
I wonder what Matt Barkley is saying and thinking when he hears these types of comments about Tebow.  In my eyes, Barkley has been performing much better than Tebow in these workouts.   I've seen Tebow's bad throws, but I guess I've been missing some of his good throws.