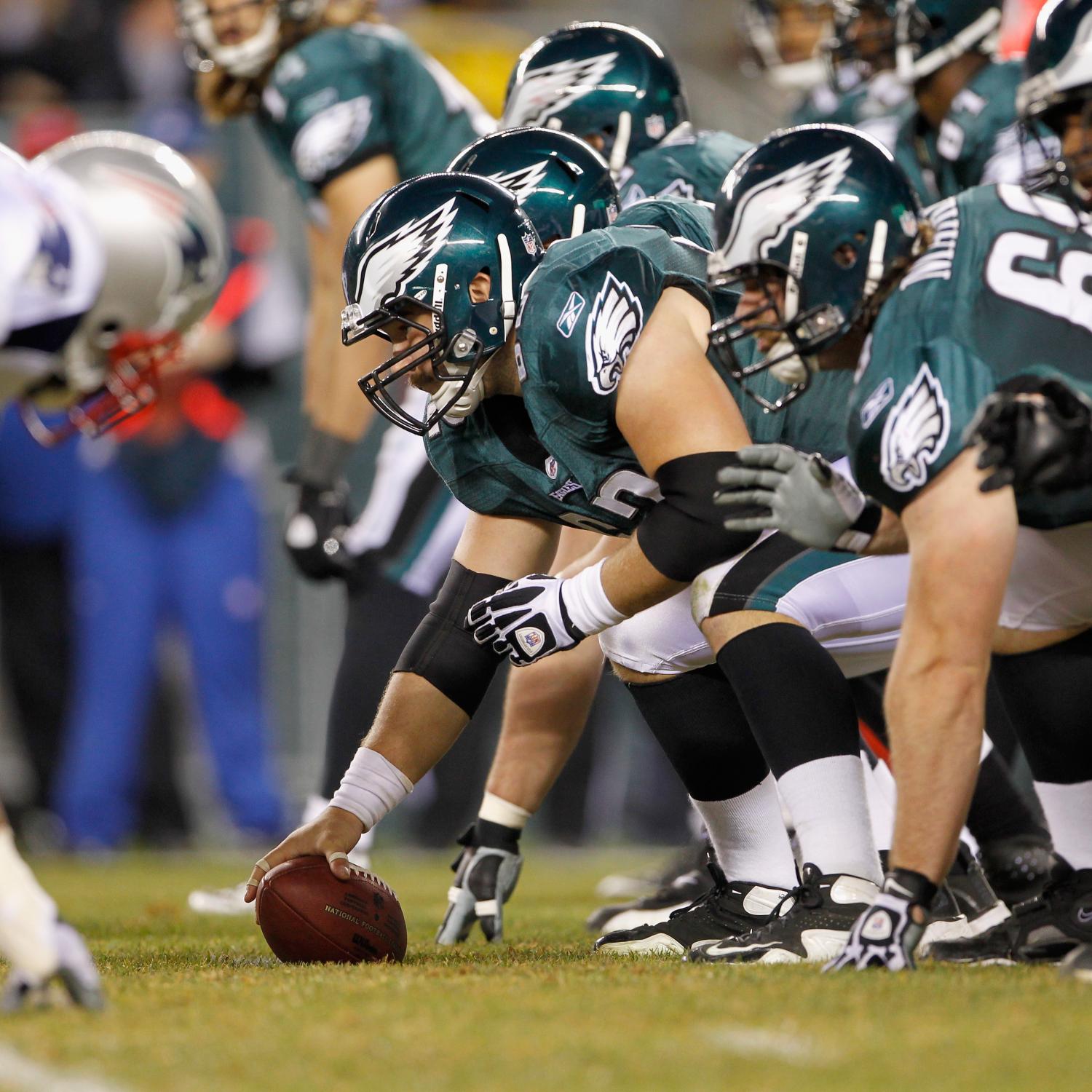 Chip Kelly's offense is built on the running game, so the Birds must run the football effectively in order to have success.  Running it effectively means the offensive line will need to control the line of scrimmage and work as a cohesive unit with their ball carriers.  The running backs must explode through the holes that the offensive line creates.  Both units must work together like a well-oiled machine.
I'm sure you know the lay of the land by now regarding the offensive line.  The Eagles had one of the best offensive lines in football during the 2013 season, when they paved the way for LeSean McCoy to lead the league in rushing.  Last year injuries slowed them down and they struggled when they had to play their backups.   Now they have a partially aging offensive front that is trying to deal with some changes.
Despite the problems on the offensive line in 2014 and the lack of quality depth, the Eagles haven't drafted an offensive lineman is either of the last two drafts.  Now they may be at the breaking point.  Pro Bowl left guard Evan Mathis wants a new contract and has so far refused to attend OTA workouts. Les Bowen of Philly.com reports that Eagles are in the process of trading Mathis.
Right now a replacement is also needed at right guard because veteran Todd Herremans was released during the off season after his play dropped due to injuries and age.  Herremans is now an Indianapolis Colt.
Former Eagles and Cowboys offensive lineman, and current anchor for the NFL Network Brian Baldinger and I were talking yesterday at the Eagles practice and he's confident the Birds will be able to run the football effectively.  "I have all the confidence in the world in DeMarco Murray and his ability to find the holes behind this offensive line.  He's got great vision and great instincts.  He will be able to adapt to whatever the situation is."
Baldinger was also high on young guard Matt Tobin, who could be starting at the right guard position, if Mathis gets traded and veteran offensive lineman Allen Barbre has to step in and replace Mathis at left guard.  Tobin will be the starter at right guard, at least that's way it looks right now.
"But I thought Tobin was their best guard last year in training camp," Baldinger told me and Philly.com's Sam Donnellon. "Now, he got hurt, and he missed time. But he's an exceptional player. He runs real good."
"I have to get better at pass protection and my balance on the run after my initial block", Tobin told CBSPhilly.com's Joe Santoliquito. "I have to maintain my balance after those first few steps. I'm getting a lot of reps out here and I think we have good coaching here and everyone sees how it works. I'm more comfortable. Last year, at this point, it was all left side, mostly at left tackle. This year, I'm getting both sides and my brain has kind of settled in on the left side now. I think my best position is wherever I'm playing."
I hope this kid's brain is settled before the season starts.  Barbre and center Jason Kelce will need to help keep Tobin focused on doing his job whether he's playing right or left guard.  Baldinger was talking about how the Eagles offensive line is able to run and create holes in the line by stretching the area the defensive line has to cover laterally.  They are more an athletic offensive line than  a big powerful line.  Hopefully they work well with the new running backs Murray and Ryan Mathews.
"I think it's getting guys comfortable and playing well together", Barbre said to Santoliquito. "I feel comfortable just about anywhere anymore. I've played both sides of the line quite a bit. It comes down to where you feel comfortable the most. I cut my teeth on the left side, so it's been natural for me to adjust."
I am concerned about this group and I'm no where near as confident in them as Baldinger.  Amazingly, Baldy is concerned about the aging of Pro Bowl left tackle Jason Peters.  He saw a reduction in Peters effectiveness late in the season last year and wonders whether he will be able to continue playing at a Pro Bowl level this season.
My advise to you is stay tuned.