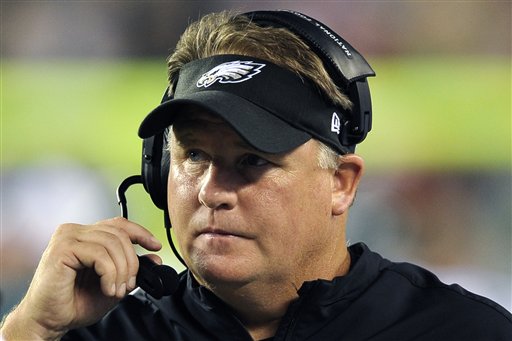 Philadelphia Eagles head coach Chip Kelly walks the sideline during the first half of a preseason NFL football game against the New England Patriots, Friday, Aug. 9, 2013, in Philadelphia. (AP Photo/Michael Perez)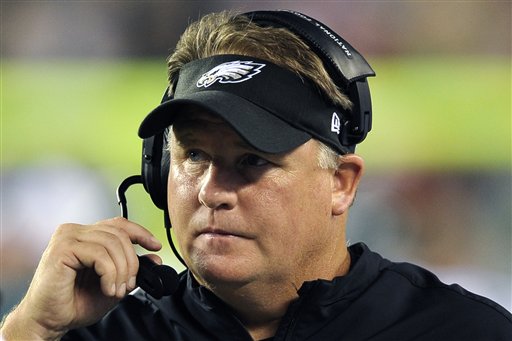 According to Peter King of MMQB.com, Eagles head coach Chip Kelly and former Dallas Cowboys head coach  Jimmy Johnson have communicated with each other a number of times, since Kelly has been the head coach of the Eagles.  It's a good thing, because Johnson is definitely the right person for Kelly to talk to, since he was successful in doing what Kelly wants to do, which is to transition from being a top college football head coach to a Super Bowl Championship NFL head coach.
After winning a couple of National Championships back in the 1980's, Johnson left the University of Miami to become the head coach of a bad Dallas Cowboys team.
He shocked the NFL at the time, by agreeing to trade one of the best running backs in the league, Herschel Walker, to the Minnesota Vikings, for a slew of draft picks.  It was a daring move, which helped to turn around the Cowboys and make them a Super Bowl Championship team.  It took guts to make the move and Johnson had the guts.
King told Dave Spadaro of PhiladelphiaEagles.com, that the two coaches had talked primarily about the NFL Draft and what type of attitude should be taken when drafting and acquiring talent.
"Here's the big question: Do you want to play it safe and be good or do you want to take a chance and be great? If you're not afraid to fail, you can do some great things in this league," Johnson said. "But most people are afraid to fail, so they play it safe. I always liked to take risks because I was always confident in my abilities. I think — no, I know — Chip is confident in his abilities, too."
The key phrase in Johnson's advise to Kelly was, "If you're not afraid to fail, you can do some great things in this league".
"My advice would be to have somebody – and not a group of people, just one person that you trust, that you like, that's loyal, that's like-minded – do those type of things. That will help because during the season itself, the job can be a little overwhelming," Johnson said. "But in the offseason? The draft and free agency? Take advantage of your talents. You're good at evaluating players because you did it in college just like I did in college, so that's where you can shine. But during the season is when you're going to need a little bit of help."
It looks like Kelly took Johnson's advice to heart because he definitely has showed some guts in making some of the moves he has made.