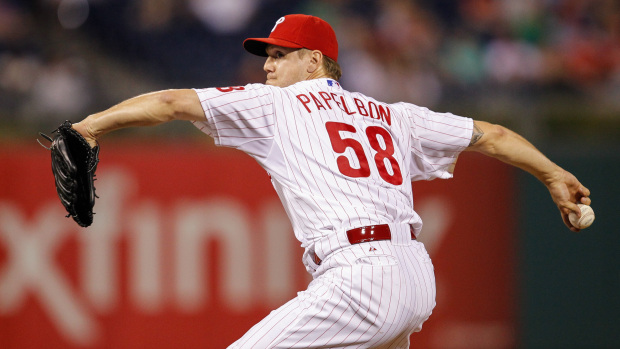 PHILADELPHIA, PA – AUGUST 24: Closer Jonathan Papelbon #58 of the Philadelphia Phillies throws a pitch during the game against the Washington Nationals at Citizens Bank Park on August 24, 2012 in Philadelphia, Pennsylvania. The Phillies won 4-2. (Photo by Brian Garfinkel/Getty Images)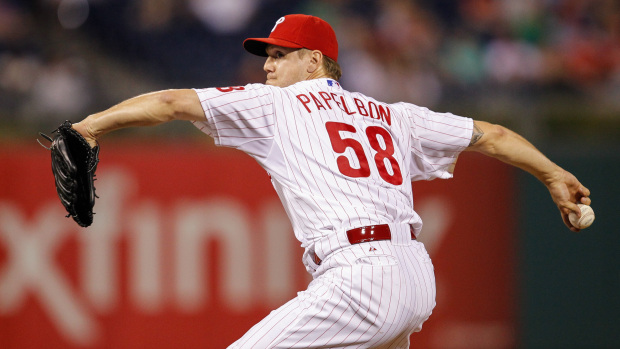 Yesterday on the 94WIP Morning Show Phillies GM Ruben Amaro let us know what going one with the trade possibilities regarding Jonathan Papelbon, Cole Hamels and Aaron Harang, as well as what they will do with Chase Utley when he gets healthy.
Regarding Papelbon, Amaro doesn't think the reliever's brash personality will hurt his value on the trade market.
"I know that the clubs that have seen him pitch and know what he's about know what kind of competitor he is," Amaro told host Angelo Cataldi. "They know that he wants to win. They know that when he takes the ball, he doesn't make any excuses. He knows what it takes to make the last pitch of the season.
"There's live discussions going on right now regarding Pap. I do believe that there's enough of a market that we can probably get something done. But again, I don't necessarily believe in 'probably.' … There's a lot of clubs that are interested in a lot of our players and we have to sort through it and make the right deals."
"So he's got a lot of those positives, and even though he gets a little verbal sometimes, the fact of the matter is, when he's between the lines, he's as good as there is. He's pitched very, very well this year."
Regarding Hamels and Harang, Amaro didn't bite his tongue.
"No, I'm not worried about Cole Hamels and his value," the GM said. "People know what he is.
"As far as Aaron Harang is concerned, he had a foot problem and he's dealing with an injury so you can't really trade a guy that's got an injury. Frankly, there was no real market for [Harang] prior to him getting injured.
"I think we have to let some of these things play out and we will. We've had great dialogue with a lot of clubs on several fronts. I would think that we'll be able to get some things done. Whether it's big or small, I think the goal remains the same. That's to try to shoot for as many talented young players that we can to add to our already similar talented club because I think we've got some pretty decent pieces going so far in the big leagues, even though we're playing pretty poorly."
Finally regarding Utley and his comments about him not being the starting second baseman.
"No, I don't regret it," Amaro said of the comment. "I was just being straight and honest. Maybe that would hurt some feelings. But Cesar, at the time, is playing very, very good baseball. That may change. And when Utley gets ready and ready to play, as I said, he'll get opportunities to play. We'll just have to have that be a difficult decision for Pete. Hopefully it's a situation where Chase is playing well and Cesar is playing well, and we'll have to mix and match and make sure guys get as much playing time as necessary.
Regarding possible retirement of Utley,
"No, he's absolutely, unequivocally not going to [retire]," Amaro said. "He's got plenty in the tank left. I think that he believes that getting over some of this ankle issue that's been nagging at him for quite some time, I think he feels that will get him turned around, and I'm hopeful that it does. For him, for us, for everybody."