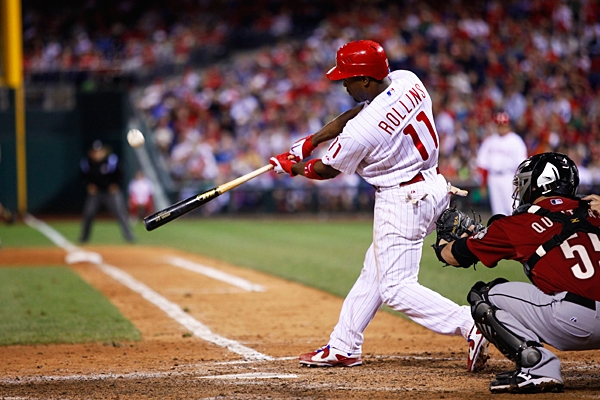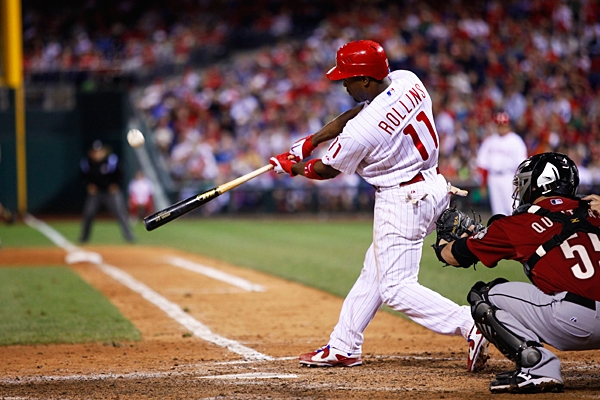 Hall of Fame shortstop Barry Larkin, who starred for years as the shortstop of the Cincinatti Reds was asked if former Phillies shortstop Jimmy Rollins was a Hall of Famer and he said, "Yes, Rollins is absolutely a Hall of Fame shortstop".
"His numbers are better than mine", Larkin said about Rollins, who is still playing with the Los Angeles Dodgers.
There's no question that Rollins was one of the three four key players for the Phillies to lead them to a World Series title.  For a small guy he hit with power, ran the bases well and he's still one of the best defensive shortstops in the game.  He has a great arm for a small guy, plus he won a MVP award, which is quite an accomplishment.
Rollins has 2373 hits in his career and 224 of those hits are home runs.  He's doubled 492 times,  tripled 112 times and he has 916 RBI's at this time.  His career batting average is .265.
Larkin had 2340 hits in his career and 198 of those hits were home runs.  He doubled 441 times, tripled 76 times and he has 960 RBI's in his career.  His career batting average was .295.
They're close in comparison with Rollins leading in hits, home runs, doubles and triples, but Larkin is ahead in RBI's and batting average.
Amazingly Rollins is likely to be the one Hall of Famer off of that great Phillies team.  Chase Utley was by far the most popular, but he has no chance at all of being a Hall of Famer.  His numbers just aren't there.
Ryan Howard, who also won a MVP award and finished second or third in the voting three or four times, but he won't be a Hall of Famer because he didn't come up soon enough in his career.  He would need to at least get to the 400 or 500 home run mark to get in, plus he's not popular in his home town.
Rollins will have a great chance of getting in when you look at the numbers he put up.