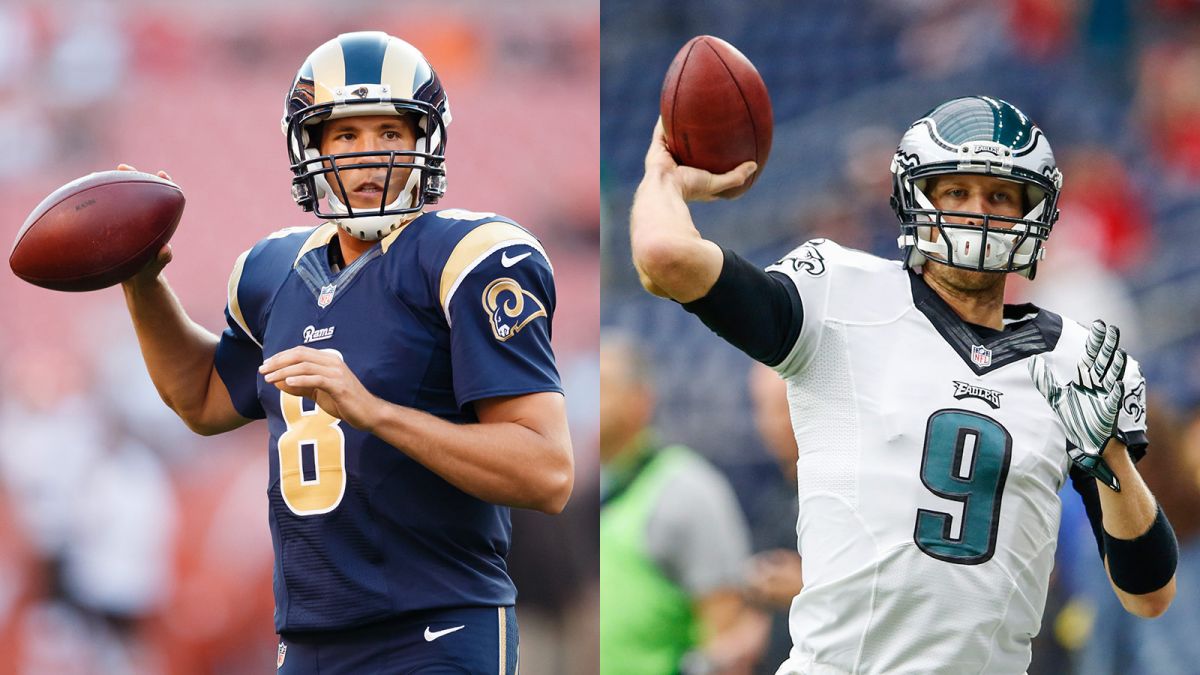 Let me put this myth to bed right now.  Sam Bradford is no more of a Philly guy than Nick Foles.  Both of them are more introverts than extroverts. Bradford's personality and psyche are no more suited for Philadelphia and tough-coaching than Foles.
Bradford may have a better arm and be a more accurate passer than Foles.  He may be quicker mentally than Foles.  But he is not more of a Philly guy than Foles.
According to former NFL and Super Bowl MVP quarterback Kurt Warner, who lives in St. Louis and used to play for the Rams,  Bradford lost his confidence in his ability to make plays, while in a low-pressure place like St. Louis.  Here's what Warner said about Bradford in an interview with Chris McPherson of PhiladelphiaEagles.com.
"I think the biggest thing that I have seen with Sam in his short career is that I want to see him get the confidence back that he believes he can make every throw on the football field.  I think there was a time in St. Louis where he got to the point where he was more afraid to make a mistake than to make a play.  He managed games instead of playing up to his potential.  I believe if he plays up to his potential he can be a really good quarterback in the National Football League."

'I just think that after maybe a lot of hits early in his career.  Lack of success early in the career has maybe led to this. That's next step for him is to get back to the confidence level, to throw caution to the wind and go back to playing the way you played in college and the way you played in your rookie year.  I think there's a huge upside for him."
How could anybody say that a guy with that problem, is more suited for playing football here in Philadelphia than Foles?
Bradford has had five mediocre seasons at best in St. Louis, a city where nobody cares about football.  He has been hurt much of the time and when he hasn't been hurt, he has underperformed.
Foles on the other hand, had one great year and another so-so year, while playing under the pressure of the Philadelphia spotlight.
The reason I bring up that subject is because of some comments that were made about Foles on 97.5 The Fannatic, in the last couple of days.
"Nick, I think, wasn't very comfortable in that role (as a franchise quarterback) especially in Philadelphia,,,,,,, I don't think Bradford is the type of guy where he lets that type of stuff get to him," Philly.com writer Jeff McLane said to Anthony Gargano on The Fannatic.
ESPN analyst Louis Riddick, who worked previously in the Eagles front office gave his opinion of Foles.
"My experience with Nick is that he was very even-keeled, very mellow, very much not affected by a lot of outside things, but the more I've talked with people directly that were with him every day and coached him, and he was the kind of guy who behind the scenes didn't necessarily like being criticized, didn't necessarily like maybe being coached hard." Riddick said according to Anthony on The Fannatic.
I don't disagree with McLane or Riddick that Foles didn't like the constant criticism here in Philly, but I do disagree that Bradford has shown that it doesn't bother him, as well.
I'm rooting for Bradford here in Philadelphia, I hope he leads the Eagles to a Super Bowl title, but he's not going to like the tough-coaching or the constant criticism on radio and television anymore than Foles.