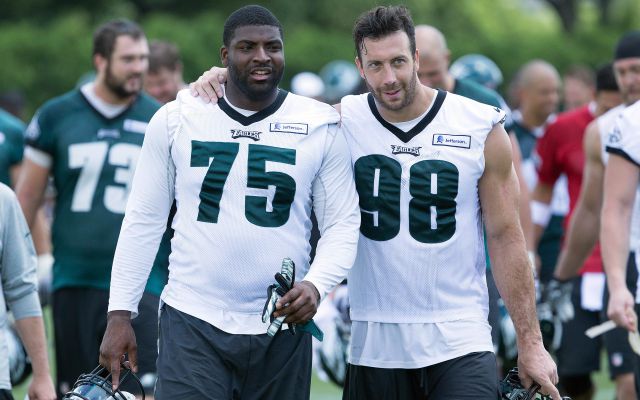 Jun 17, 2015; Philadelphia, PA, USA; Philadelphia Eagles defensive lineman Vinny Curry (75) and linebacker Connor Barwin (98) walk off the field after practice at minicamp at The NovaCare Complex. Mandatory Credit: Bill Streicher-USA TODAY Sports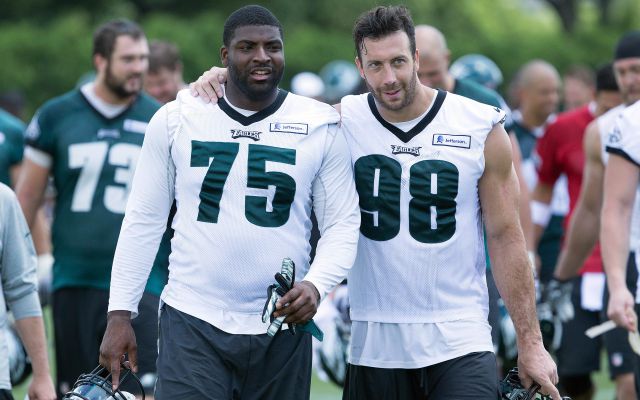 The Eagles have a tremendous amount of talent at the inside linebacker position.  Defensive coordinator Billy Davis must a find a way to maximize that talent and put these players in position to make big plays.
This is the year that Mychal Kendricks should explode on the scene.  The game is slowing down for him, so he recognizes plays before they happen, so he needs to be thinking about forcing a turnover on every play.  We should see Kendricks forcing fumbles, getting sacks and coming down with interceptions.  I want to see him become a turnover machine.
He showed his explosiveness as a pass rusher as he recorded four sacks, which is quite impressive for an inside linebacker.  I want to see him learn to anticipate routes, so that he can get a few interceptions.  I want to see him tackling the football and pulling it out to create fumbles.
The same is true of Kiko Alonso, who showed the ability to force turnovers in his rookie season. He picked off four passes during his first NFL season with the Buffalo Bills.  He's a smart football player, who knows how to read pass routes and anticipate where the quarterback is going with the football.  During the OTA's, we saw Alonso demonstrate his versatility in pass coverage and as a pass rusher.
The key to the success of this crew will be how defensive coordinator Billy Davis and his staff decides to use these guys.
Veteran inside linebacker DeMeco Ryans will probably be playing on first and second downs.  He'll be calling the defenses and getting everybody properly lined up.  Alonso is ready to step in there at that spot, if Ryans isn't able to go.
We will have wait and see what Ryans is capable of after the Achilles tendon injury from a year ago. He looked good in OTA's and mini-camps but he wasn't totally recovered from the injury, but he looks like he's well ahead of schedule in his recovery. They should get outstanding play from their inside linebackers all season.
The outside linebackers are led by Pro Bowler Connor Barwin, who led the NFC in sacks with 14.5 quarterback take downs. He will be rushing the passer again this year and that's a good thing for the Birds. Like Kendricks and Alonso, Barwin is versatile.  He can rush the passer or drop into the coverage, which will keep offenses guessing, but their defensive coverages and blitzes must be designed with the thought of causing turnovers.
Barwin's length causes problems for opponents because he can use the long arms to knock down passes or put a pass rush move on a blocker to get to the quarterback.
Brandon Graham isn't starting because of his ability to play pass coverage.  He's starting because of his ability to rush the passer.  Graham is a powerful player, who the Eagles will need to step up this season and make an impact as a pass rusher.  They need him to register double-digit sacks and some of those sacks need to come when games are on the line.  Graham got a good contract this off-season and he's probably in the best shape of his career, so it's time for him to show up big.
Don't be surprised if you see a lot of defensive end Vinny Curry lining up at the one of the outside linebacker positions on pass downs.  Curry may be the best pure pass rusher on the team and he makes things happen when he's given the chance.  He's explodes off the corner at the snap of the ball and does a great job of closing on quarterbacks.
If Graham or Barwin goes down, the Eagles will need to put last year's number one draft pick Marcus Smith in the game.  Smith missed just about all of the OTA workouts, but he has gotten bigger and stronger, which should help him as a pass rusher.
If Graham plays the way he's capable of doing, the Eagles group of linebackers should be amongst the best in NFL.