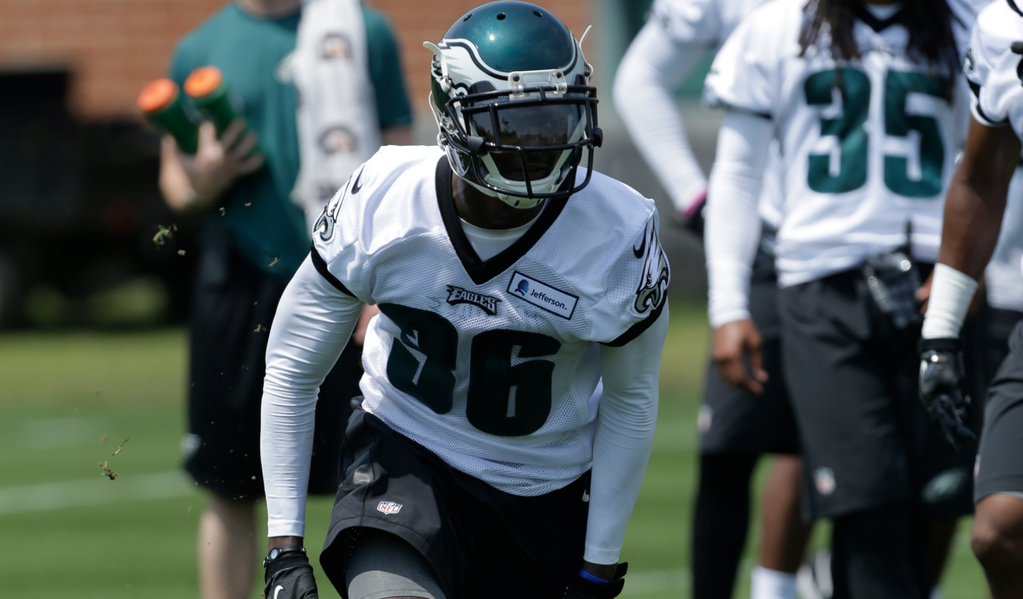 I haven't gotten a word yet on Eagles cornerback JaCorey Shepherd, but it didn't look good when he was carted off this afternoon at the Eagles practice.  He had a collision with running Darren Sproles near the sideline.  Shepherd's teammates said he was in some serious pain after the play, so there's definitely a chance that it could end his season.
Shepherd will have a MRI tomorrow and we'll learn how serious it was after the doctors look at his pictures.
Eagles young cornerback Jaylen Watkins is next in line for that spot.  Remember the Eagles just traded away cornerback Brandon Boykin to the Pittsburgh Steelers for a 2016 fifth-round draft picks.
It was another good day for Sam Bradford, but he missed some throws and quite few passes wind up on the turf.   There's no question Bradford is making more plays than the other quarterbacks.  Bradford is comfortable making any throw.
Still despite all the positives, we won't know whether Bradford is ready until he faces a pass rush and gets hit.  I want to see him stand in there with a blitzing linebacker coming free.
WR Josh Huff has got to learn to secure the football after the catch.  He ran a nice route against cornerback Byron Maxwell and had the ball pulled out of his hands after the catch.  Turnovers killed the Eagles last year and they can't let it happen again.
Huff did some good things this afternoon.  He pulled down a nice throw from Sam Bradford on a ball he had to catch over his outside shoulder.  It was a tough catch on a seam route and he turned it into a touchdown.
On another play in the red zone, Bradford stood in the pocket looking for a place to go with the football.  He looked to his left and looked to his right, then he hit Huff down the middle for six. Huff dove and pulled it in.
You could see the speed of backup running back Ryan Mathews during today's practice.  Mathews ran a wheel route and caught a long touchdown pass from Bradford.  He ran away from a defensive back on that play.  I saw DeMarco Murray get the ball pulled out of his hands in the practice.  Fumbling has been a problem in his past.
I don't see anybody lining up at the right guard spot on a consistent basis.  We've seen Matt Tobin, Andrew Gardner, Julian Vandervelde and John Moffitt for a couple of workouts.  Nobody has taken hold of the job, so it's a reason to be concerned. We will need to see how this guys do in the preseason games. Remember, it only takes one blown assignment or missed block from these suspect guards to end Sam Bradford's season.