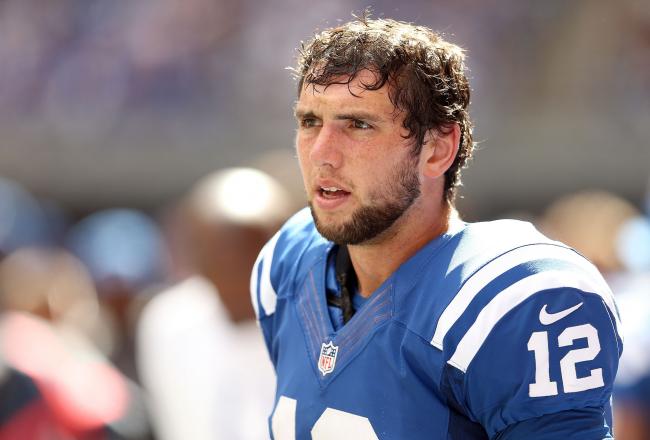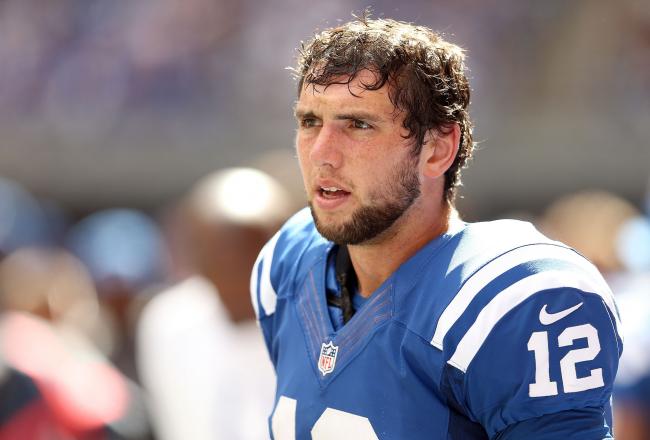 Indianapolis Colts
In what may be the easiest division to project, the Indianapolis Colts are practically a lock to win this division easily and make the playoffs once again.
Andrew Luck has been everything that he was advertised as coming out of college, and now the Colts have gone out and given him more weapons to work with. Frank Gore was signed to fill the team's void at the running back position, and the durable veteran should have at least one more good season left in his tank.
But the addition to this offense that really excites me is Andre Johnson. Johnson has never played with a quarterback of Luck's caliber. He's been sentenced to the likes of the David Carrs, Matt Schaubs, and Ryan Fitzpatrick's of the world. The former Texan has a lot of good football left in him, and it's exciting to think about what he and Luck will be able to do together.
The team also added another deep threat in the first round of the draft with receiver Phillip Dorsett.
The Colts made the focus of the off-season upgrading the offensive talent around Luck, meaning that they weren't able to do as much to help improve their defense. They signed former Eagle Trent Cole to upgrade their pass rush (former first-rounder Bjoern Werner has been a bust to this point) but other than that they'll be returning almost all of their defensive starters from a year ago.
Their secondary is in decent shape with Mike Adams at safety and Vontae Davis at corner. These two combined for nine interceptions a year ago. The problem with this defense is that they just don't generate enough pressure on the quarterback. Reserve linebacker Jonathan Newsome was their leader in sacks with just 6.5.
Luck and the powerful offense are enough to make this team a serious contender in the AFC. With the talent around Luck improving considerably, this is certainly an exciting team to watch in 2015.
Projected Finish: 11-5, 1st Place
Houston Texans
Defensively, the Texans have everything they need.
J.J. Watt is the face of the franchise, coming off a year where he registered 20.5 sacks. What's particularly exciting is that the Texans went out and signed Vince Wilfork in the off-season to pair with Watt on the defensive line.
Last year's top draft pick Jadeveon Clowney was a major disappointment, appearing in just four games. If he's able to come back and harness the potential that made him the number-one overall pick in the draft, he's got the potential to make a great defense even better.
The secondary is also solid as a rock, anchored by corners Jonathan Joseph and Kareem Jackson. The team added to their depth, spending their first-round pick on corner Kevin Johnson.
The problem is that the Texans have nothing to offer on the offensive side of the ball.
Quarterback remains an eyesore. Brian Hoyer comes over from Cleveland to replace Ryan Fitzpatrick, continuing the revolving door of veteran quarterbacks that this franchise continues to turn to. Ryan Mallet and Tom Savage may also get cracks at the job at some point this season.
Star running back Arian Foster is already injured, set to miss at least the first half of the season with a groin injury, leaving Alfred Blue and former Eagle Chris Polk to carry the load at running back, but even if those two perform well there's a dramatic dip in talent from Foster to them.
At wide receiver, Andre Johnson is gone, leaving DeAndre Hopkins at the team's top target. Hopkins outperformed Johnson last year, but defenses may catch up to him in 2015.
Houston surprised people by going 9-7 in the first year of head coach Bill O'Brien, and playing within this weak division, they have a chance to do something similar in 2014. Quarterback issues are doomed to derail this team's playoff hopes.
Projected Finish: 7-9, 2nd Place
Jacksonville Jaguars
The Jaguars may have the worst luck of any franchise in the league.
Just look at their first-round picks from the last five years. Tyson Alualu in 2010? A backup defensive tackle. Blaine Gabbert in 2011? Let's not even go there. Justin Blackmon, the fifth overall pick in 2012? Battling Josh Gordon of Cleveland to see who can come up with the more dynamic and damaging suspensions. Luke Joeckel amd Blake Bortles of 2013 and 14′ still may pan out, but both have their questions. And now, in 2015, defensive end Dante Fowler tears his ACL during the team's first mini-camp, ending his season before it began.
That's pretty rough.
All is not lost, but Gus Bradley certainly has his work cut out for him. The Jaguars' ownership is expecting significant improvement in year three, and if they don't get it, it could spell the end of the Gus Bus in Jacksonville.
Blake Bortles holds the key to the season. He turned the ball over too many times in his rookie year, with 17 picks. However, he threw just five over his final eight starts, offering some hope that he was starting to figure things out. The team tried to upgrade his talent at running back, spending a second-rounder on T.J. Yeldon, who should step in right away as the featured back.
They also went out and spent big money to pry tight end Julius Thomas away from the Broncos to give Bortles an elite redzone target. Thomas won't put up the numbers he had with Manning, but a reliable tight end is a young quarterback's best friend, and Thomas could help Bortles grow.
The Jaguars also tried to improve Bortles' protection on the offensive line, signing tackle Jeremy Parnell away from the Cowboys.
Given the improvements they've made around him, it's fair to expect Bortles to take some steps forward in his second year. If he's able to do that, the Jags should be a tough out for a lot of teams, and it will give ownership the confidence it needs to stick with Bradley as the head coach long term.
Projected Finish: 6-10, 3rd Place
Tennessee Titans
The Titans are an even bigger wreck than the Jaguars.
Tennessee finished 2-14 in the first season of new head coach Ken Whisenhunt, who did little to win over either the fans or the players.
The team hopes to start fresh by drafting quarterback Marcus Mariota in the first round of this year's draft. The challenge will be to successfully integrate Mariota into a pro-style offense. The team also tried to give him a big target to throw to and grow with, selecting Dorial Green-Beckham in the second round.
Beyond Mariota and DGB, the Titans have very little exciting talent. Bishop Sankey was a disappointment at running back, prompting the team to spend its fourth and fifth-round picks to address the position again.
The team hopes that signing linebacker Brian Orakpo will help improve the team's anemic pass rush. Beyond that, the team is mediocre across the board on the defensive side of the ball.
Whisenhunt faces a massive rebuilding project, and the Titans won't be much more competitive this year than they were in 2014.
Projected Finish: 4-12, 4th Place