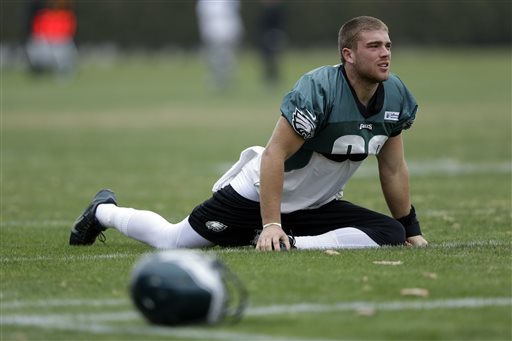 Philadelphia Eagles tight end Zach Ertz stretches during practice at the NFL football team's training facility, Thursday, Dec. 5, 2013, in Philadelphia. (AP Photo/Matt Rourke)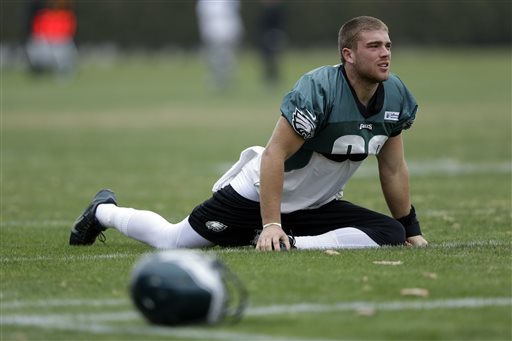 Earlier today in a news conference, Eagles head coach Chip Kelly said tight end Zach Ertz was going to need a procedure done on a "core muscle".  He said it was going to sideline him for the preseason, but he didn't let it be known that it was going to done today.   Now we find out, it's already been done.
Dr. Meyers, who is a surgeon who specializes on hernias,  is believed to be the surgeon, but the surgery is rumored to be on his groin according to Jeff McLane of Philly.com.
According to Nick Fierro of McCall.com, the Eagles now say Ertz was operated on today in order to repair a "core muscle" injury. He is expected to miss the rest of the preseason, but Chip Kelly says he expects him to be ready for the regular season.
According to Ed Kracz of The Philadelphia Intelligencer, Ertz's injury is very much like Jason Kelce's injury a year ago.
#Eagles confirm TE Zach Ertz had surgery conducted by Dr. William Myers to repair a core muscle injury.

— Philadelphia Eagles (@Eagles) August 14, 2015
#Eagles say Zach Ertz had surgery today to repair "core muscle" injury. It's similar to hernia Jason Kelce had last year. More coming …

— Nick Fierro (@NickFierro) August 14, 2015
#Eagles center Jason Kelce said Ertz's injury is similar to the sports hernia Kelce had last year, but not on the same level.

— Ed Kracz (@kracze) August 14, 2015
Could Ertz have overtrained in offseason? "Possible," Kelce said, "but probably not."

— Nick Fierro (@NickFierro) August 14, 2015