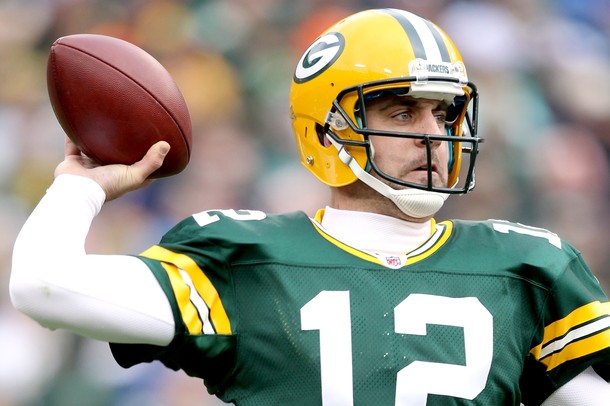 Green Bay Packers
If ever there were a true Gold Standard in the NFL, it would be in the Green Bay Packers.
Green Bay is a Super Bowl contender every season, and they're also a team that has been constructed almost exclusively by draft picks. They've been able to avoid going to free agency and blowing their salary cap space, giving them annual flexibility to whatever they need.
Aaron Rodgers is at the height of his prime, and runs the offense at a nearly flawless level. He's got a pair of 1,000-yard receivers at his disposal in Jordy Nelson and Randall Cobb, who combined for 2,700 yards and 25 touchdowns a year ago. Davante Adams is growing and could take on an even larger role in his second season.
Eddie Lacy may also have an even larger role in the offense now that Mike McCarthy is no longer calling plays. Lacy only had more than 17 carries in a game three times last year, but still ran for over 1,100 yards and 9 touchdowns.
Green Bay has been working on improving their secondary. Last year's first-round pick Haha Clinton-Dix will be joined by this year's top pick Damarious Randall, and second-rounder cornerback Quinten Rollins.
The Packer defensive line may be the only weak point on the team, but the elite linebackers featuring Clay Matthews and Julius Peppers more than makes up for it.
Green Bay is destined for another top season, with the only thing that could stop them being a Rodgers injury.
Projected Finish: 13-3, 1st Place
Detroit Lions
The Lions turned in a solid 2014 campaign, finishing 11-5 and coming up just short of advancing to the second round of the playoffs against the Dallas Cowboys.
The team lost a couple of high-priced veterans in the off-season, saying goodbye to Ndamukong Suh, Nick Fairley, Dominic Raiola, and Reggie Bush, but still managed to make some improvements.
Second-round pick Ameer Abdullah could find himself as Detroit's top running back by the season's end. He's an explosive guy that is also tough to tackle, and fits what the Lions look for in their scheme perfectly.
Quarterback Matt Stafford was a bit underwhelming last year, only throwing for more than 300 yards three times during the season. Calvin Johnson missed three games last year, and was never completely healthy, so having his top target with a clean bill of health could aid Stafford greatly. Golden Tate also stepped up for a career-year with 99 receptions for over 1,300 yards, but only found the endzone four times.
The Lions replaced Suh with former Raven Haloti Ngata, who brings plenty of playoff experience to the table. Ezekial Ansah is a guy coming off of a breakout season where he notched 15.5 sacks.
The defense has a mix of up and coming young players and savvy veterans. Along with Ngata, the team has Stephen Tulloch locking down the middle, and Rashean Mathis in the secondary providing plenty of experience and still performing at acceptable levels.
The team also has De'Andre Levy back at outside linebacker, with Darius Slay and Glover Quin (who led the league with seven interceptions last year) in the secondary.
The Lions are getting closer to becoming a true force in the NFC. The key is for Matt Stafford to finally figure things out and become a quarterback that is great and not just good. Until such time as he proves that, the Lions are still a distant second to the Packers.
Projected Finish: 10-6, 2nd Place
Minnesota Vikings
The Vikings are finally taking some steps in the right direction.
They've turned the page on Christian Ponder, and now are moving forward with Teddy Bridgewater as their starter. Bridgewater played well in his rookie year, and provided the team with some real optimism for the future.
Bridgewater will benefit greatly from the return of Adrian Peterson, who returns from suspension to be the team's workhorse at the position once again. Peterson should be fresh and more determined than ever to come back big. He's a special talent, and once took the Vikings to the playoffs on his back and its exciting to think how he and the improved passing game with Bridgewater will compliment each other.
Minnesota added to the receiver position, picking up Mike Wallace who they hope will be able to give them a serious downfield threat. Charles Johnson emerged as a viable option, and will start alongside Wallace with Cordarelle Patterson being worked in.
Everson Griffin led the defense with 12 sacks, and the improvement of tackle Shariff Floyd should continue to bolster the defensive line. Linebacker Anthony Barr turned in a promising rookie season, and the arrival of Eric Kendricks should make the linebackers even better. First-round pick Trae Waynes will join Xavier Rhodes and Harrison Smith in the secondary to give the team another promising layer of defense.
There's a lot to like about this Vikings team. They've sured up almost every position on the team, and they're in position to be one of the surprise teams of 2015. They're solid as a rock defensively and with the return of Peterson and an improving Bridgewater, I think this team could very well find themselves in the mix for a Wild Card.
Projected Finish: 9-7, 3rd Place
Chicago Bears
Down in the cellar of the North, we have the Chicago Bears.
The Bears are going through yet another transitional phase, having pulled the plug on head coach Marc Trestman. John Fox arrives from Denver to take over, and comes into a situation where his roster lost a good deal of talent over the off-season. Gone are Brandon Marshall, Charles Tillman, Lance Briggs, Chris Conte, and center Roberto Garza.
Fox also has to deal with Jay Cutler as his starting quarterback for at least one more season. Cutler is primarily still on the roster because of a bad contract extension that the team locked themselves into a year ago. The former Bronco's numbers weren't horrible last year (3,812 yards, 28 touchdowns) but Cutler still turns the ball over too much.
Matt Forte remains the focal point of the offense, and still has a solid offensive line to support him. Forte compiled nearly 2,000 total yards a year ago, and is still one of the league's best dual-threats.
The Chicago defense is a shell of what it once was. They've been unable to replenish talent on the roster, and more of their old core have moved on with Charles Tillman and Lance Briggs departing. Jared Allen still has some value as a pass rusher, but he isn't what he once was. Antrelle Rolle was signed to provide some veteran leadership, but he's another guy that has seen his best come and go.
The Bears have very little upside, and things could get much worse for this team before they get better. Cutler is a lost cause at this point, and Forte is simply going through the motions before he hits free agency next year.
Projected Finish: 5-11, 4th Place