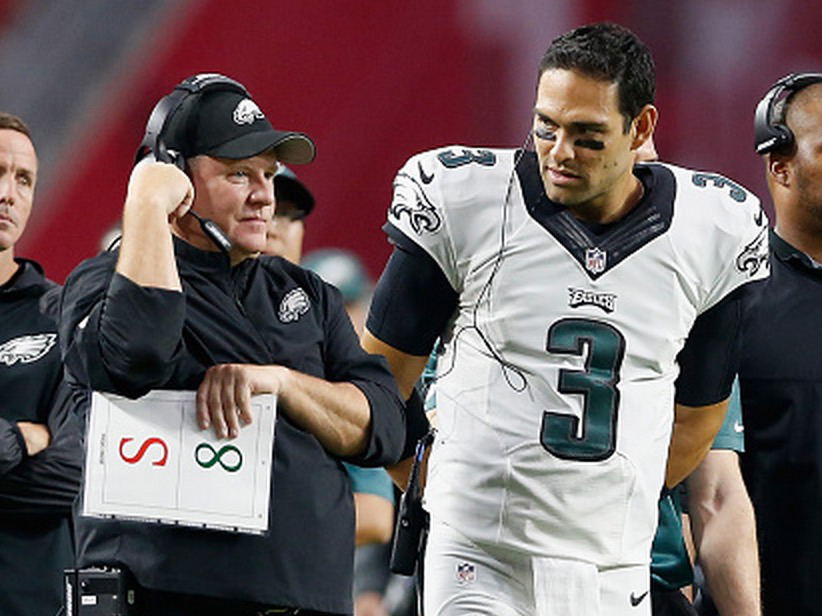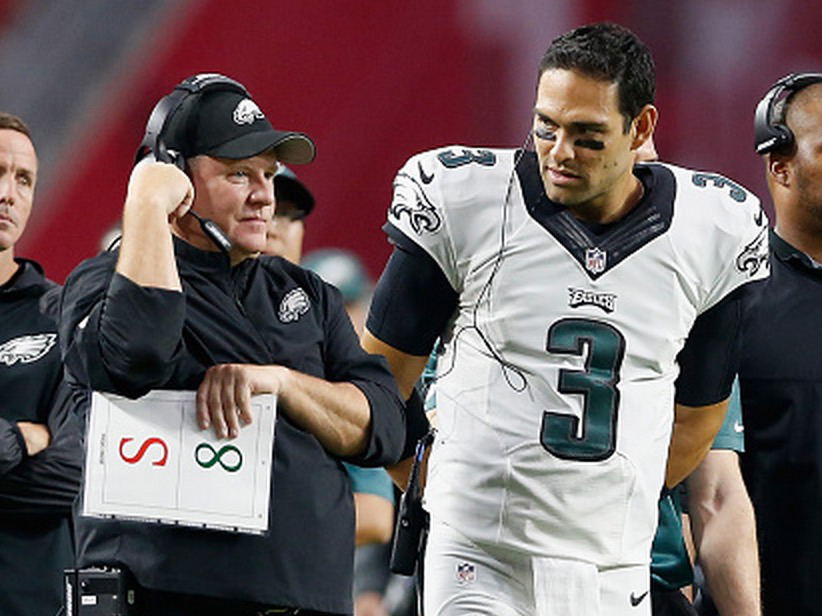 Brutal Showing By Sanchez
Mark Sanchez got to run with the first-team offense to open Sunday's game, and did everything he could to show why he's no better than a backup option in this league.
Sanchez was sloppy in both of his drives. On the opening possession, he was late on a throw to Trey Burton that ended up being broken up by the Colts. Burton had five yards of separation between himself and the coverage, but Sanchez didn't release until it was too late. On the same drive, Sanchez missed Darren Sproles on a third and one by firing too hard and over the head of Sproles. A nice soft touch pass would resulted in a first down.
On the second drive, Sanchez missed another easy touchdown by badly overthrowing a wide open Jordan Matthews. The former Jet threw another terribly high pass on the next play to Nelson Agholor, but the rookie was able to make a great play on the ball to haul it in.
Sanchez finished just 2/7 for 52 yards and a touchdown, and for a guy who supposedly had eyes on winning a starting job, this wasn't an effort that will make Chip Kelly think twice about starting Sam Bradford.
Agholor Makes Good First Impression
First-round pick Nelson Agholor enjoyed a strong debut in his first preseason game.
Agholor made a great play on a badly thrown ball by Sanchez, adjusting to how high and wide it was thrown on him, and managed to come down and use his explosiveness to roll for a 34-yard touchdown reception.
On the downside, Agholor did drop a couple of catchable balls. He let one slip through his hands from Mark Sanchez in the second quarter, and dropped a well-thrown ball by Matt Barkley on a third down in the second quarter.
Later in the second, Agholor drew a pass interference on the Colts that brought the Eagles into Indy territory.
Agholor seems to have a lot of quickness, and showed a knack for making the first man miss. It was an exciting first showing for a guy who will be counted on to play a large role in his first season.
Barkley Vs Tebow Round 1
Matt Barkley made a couple of very nice throws on his first drive, dropping long passes right into the hands of Jordan Matthews and veteran wide out Miles Austin to take the Eagles right down the field and set up an Kenjon Barner touchdown run.
On Barkley's second drive, he hit Trey Burton down the seam for a nice first down, but threw an interception on the next play on a ball that was tipped by Bjoern Werner.
On his third drive, Barkley did a good job avoiding the pass rush to pick up a short gain on the ground. On third down, Barkley put another ball on the money to Nelson Agholor but the rookie let his concentration down, and dropped the pass.
At the end of the second half, Barkley gave Seyi Ajirotutu an opportunity to make a play on a ball, but Ajirotutu let the ball fall right through his hands in the endzone.
At the start of the second half, Barkley went through his progressions well and ended up checking down to running back Raheem Mostert for a 40-yard gain that would help set up a Parkey field goal.
Tim Tebow took over midway through the third quarter, and did a nice job on his opening drive. Tebow delivered a strike to Eric Tomlinson on a long third down to keep the drive alive. Two plays later, Tebow hit Tomlinson again on a crossing route for another first down. The next play, he went right back to Tomlinson again and also drew a roughing the passer penalty.
Tebow didn't do anything notable until the end of the fourth quarter. After being given a short field from an Indianapolis turnover, Tebow took the ball in for a seven yard touchdown run.
Barkley was extremely efficient, and showed a good command of the offense. He constantly put the Eagles in position to score points, and did a fair job protecting the football. Tebow wasn't nearly as poised or decisive as Barkley.
Offense
Andrew Gardner opened as the team's starting right guard. He didn't appear to have any issues in protection.
Matt Tobin didn't work at all at guard, seeing his snaps come at left tackle.
With Tobin out of the picture, the right guard race appears to be between Gardner and John Moffit.
Ryan Mathews took just two carries, but looked good running for a 13-yard gain and a first down.
Kenjon Barner had an impressive showing on offense and special teams. He ran for 29 yards on six carries while scoring a touchdown, and seemed to have good vision on the field throughout the game.
Tight end Eric Tomlinson led the team five catches for 61 yards. Chip Kelly stated earlier this week that the team may keep four tight ends for the second straight season, and Tomlinson may have given himself an early lead for the job.
Defense
I was really impressed with Bennie Logan. Logan was constantly in the Colts' backfield causing all kinds of disruption. The third-year nose tackle finished with three tackles, all three resulting in either losses or short gains for the Indy running game.
I also liked what I saw from Brandon Graham, who like Logan was constantly around the ball. Graham recorded two tackles, including a nice open field stop on a pass in the flat for a short gain.
Second-round pick Eric Rowe had some good and bad moments. Rowe gave up a completion to Philip Dorsett, but stayed with the play, caught up to Dorsett, and forced a fumble that was recovered by Chris Prosinski.
Byron Maxwell gave up a long completion on a third down to Philip Dorsett, there may have been a miscommunication with Malcolm Jenkins on the play.
We had a couple of Marcus Smith sightings! Smith made a nice play against the run in the second quarter for a loss.
Brad Jones and Emmanuel Acho opened up as the team's starting inside linebackers. Jordan Hicks and Najee Goode quickly rotated in during the first quarter.
Goode did not play well. He allowed a long completion on a third down, and also missed a tackle on Zurlon Tipton that set up the Colts with a short second down.
Linebacker Jordan DeWalt-Ondijo impressed me. He made a nice stop in the running game during the first half, and seems to have some nice speed, size, and power. He's 6-4 and weighs in at 240 lbs.
Cornerback E.J. Biggers had pretty solid coverage throughout the day, and broke up several passes.
Jaylen Watkins was the first-team nickel back, and made several nice plays against the pass. However, Watkins struggled with his tackling, allowing several runners to get right by him.
Safety Ed Reynolds had two fourth-quarter interceptions.
Special Teams
Riley Cooper as a punt returner? No thanks. Don't see him at all as a fit in that role.
Barner's 93-yard punt return for a touchdown was a thing of beauty. Barner broke a tackle, made another guy miss, and found his way into the open field to take the ball to the house before the half ended.
Cody Parkey struggled a bit, missing an extra point attempt and also missed a field goal. For the game, Parkey went 3-4 including a 48-yard kick.
Final Thoughts
Any time your football team makes it through a preseason game with no injuries of any kind, the game is a success.
But with the exception of Mark Sanchez, the Eagles got a lot of good individual efforts across the board.
Matt Barkley is going to make it very hard for the Eagles to release him. He's doing exactly what they want him to do in order to drive up some possible trade value.
It's a shame that the team is thinking of showing him the door so quickly. Today I think we saw some signs that Barkley is developing, and the idea of tossing any kind possibility that he might be a legitimate quarterback prospect on some level in favor of the gimmick that is Tim Tebow just doesn't make sense to me.
Follow Denny Basens on Twitter @DennyBasens