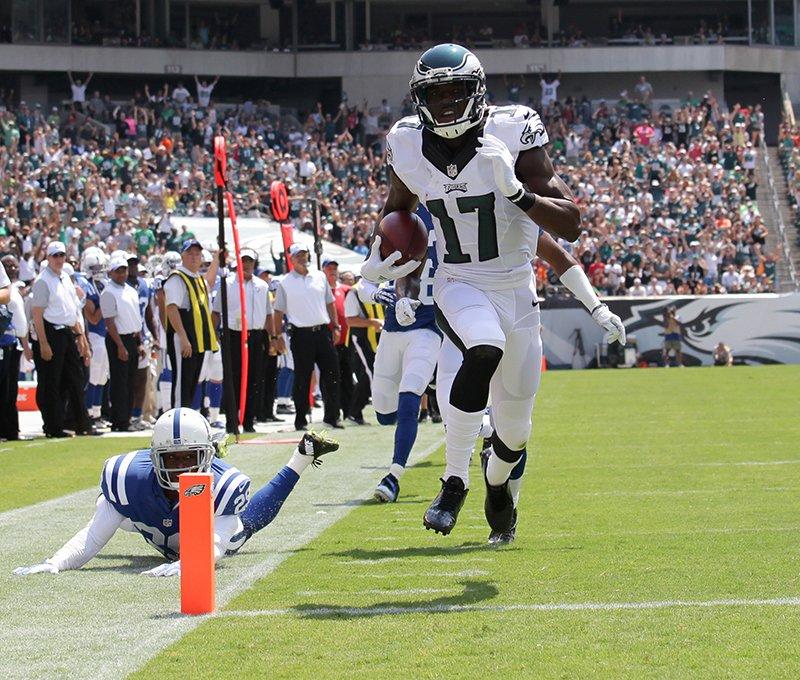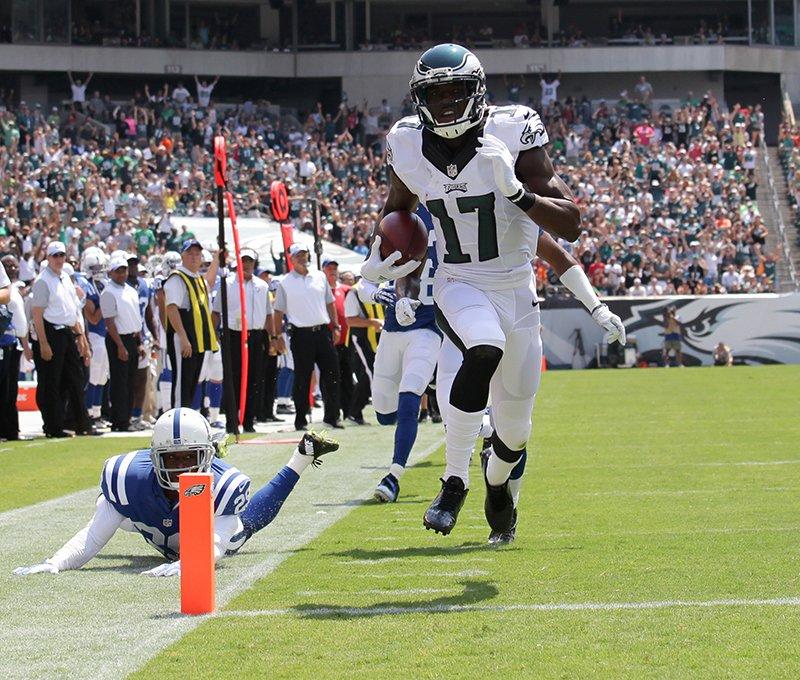 The Eagles wide receivers played well yesterday with Nelson Agholor, Jordan Matthews and Miles Austin showing that they'll ready for the season.  I thought it was interesting that Riley Cooper was returning punts.  Chip Kelly is giving him a chance to show all that he can do because he's not a definite to make this team.
We didn't see any Josh Huff yesterday, which was a shock to me.  There were no passes to Huff and there's been no mention of Huff after the game.  This was a major surprise, or should I say disappointment.  I don't even know if he played.
You got your initial look at the Eagles first round draft pick, Agholor and he's will be a key player for the team's offense this year.  Agholor is already one of the best route runners on the team, but his ability to run with the football after the catch sets him apart from the other receivers.
"The one thing with Nelson once he gets the ball in his hands, he's explosive. That's one of the things we knew about him. You could see it when he played in college. When he has the ball in his hands he's a dynamic player. That's why we drafted him."
Agholor caught three passes for 57 yards and that 34 yard touchdown catch. He made the play on the touchdown catch by aggressively going up and getting what was a high throw, then accelerating in between a couple of defensive backs, while on his way into the end zone.
Later in the game, Agholor caught another quick stop route, this time from Matt Barkley and again he turned it into a substantial gain.  He's going to be lethal on those quick screens that Chip Kelly likes to call.
Agholor did have a bad dropped pass on a third down throw, which would have been a first down.  After the game, Agholor showed Kelly another reason why he grabbed him in the first round.  The kid wants to get better, so he evaluates himself honestly.
"Yeah, I absolutely would have loved to get back two 3rd down situations", Agholor said. "One of them was an in crossing route. It's considered a basic route and I felt like I could have come back to the ball a bit stronger. Then there was one on the sideline. I need to work on just finding the ball and not looking who is throwing the ball. I think my eyes went to the quarterback. At the end of the day, I like the fact that that happened today. It's a good thing to learn from. I look at my timing, because sometimes when I look back to the quarterback, I can see both. But, different things happened today that were good."
You saw Matthews catch a couple of passes yesterday, but he was missed by Mark Sanchez on a play where he was wide open.  Matthews halled in a 26-yarder on the same play from Barkley for a nice gain.  He didn't play a long-time but it was a good start for the Birds second-year receiver.
Veteran Miles Austin did a nice job of using his body to make a catch on a 39-yard fade route.  Barkley threw the ball to the only place he could put it, which was the back side.
Tight end Eric Tomlinson stood out for the tight ends with five catches for 61 yards.  He's had a good camp and he played well yesterday.  With Zach Ertz questionable going forward, Tomlinson has put himself in position to make the football team.  I don't think Ertz is going to miss a couple of games.
Trey Burton was wide open on the Eagles first play but Sanchez badly under threw him.  Burton did make a catch in the game for 21-yards.  He will make the team and is a good receiver from the tight end position, but his lack of size makes it very difficult for him to block.
Rookie wide receiver Rasheed Bailey showed some of his playmaking ability when he went and grabbed a Tim Tebow pass with one-hand.  He caught two passes in the first game for 23 yards.