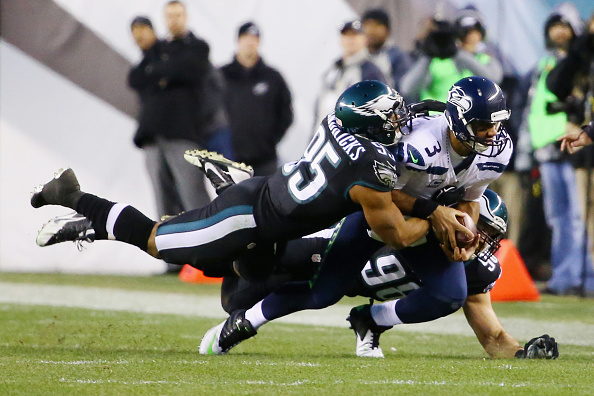 PHILADELPHIA, PA – DECEMBER 07: Quarterback Russell Wilson #3 of the Seattle Seahawks is tackled by Mychal Kendricks #95 and Connor Barwin #98 of the Philadelphia Eagles in the first half of the game at Lincoln Financial Field on December 7, 2014 in Philadelphia, Pennsylvania. (Photo by Al Bello/Getty Images)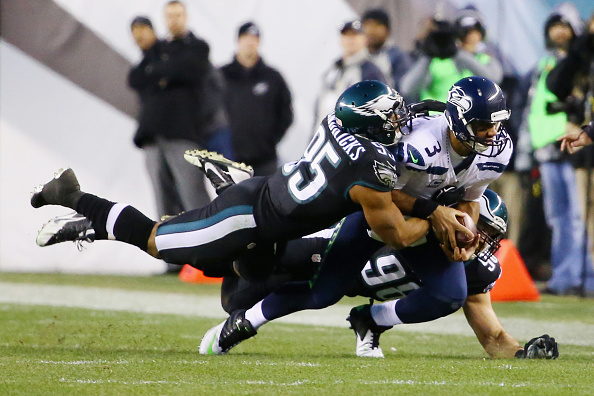 Last night the Eagles announced the signing of inside linebacker Mychal Kendricks to a four-year extension.  Kendricks, who was rumored to be on the trading blocks throughout the off-season, is not only here for the 2015 season, he will be an Eagle until at the least the 2019 season.  According to Derrick Gunn of Comcast Sportsnet, the deal is worth $29 million dollars and $16.4 of it is guaranteed.
This was the type of deal that gives security to both sides.  Kendricks could have waited and probably gotten more money in a couple of years, but he has $16.4 guaranteed in his pocket right now, as he plays out his rookie deal this year and the next.
The Achilles tendon injury to veteran linebacker DeMeco Ryans might have prompted this move by the Eagles.  Ryans has been sidelined him this preseason and the injury has likely brought him much closer to the end of his career.  The signing of Kendricks takes care of that question mark in the middle of the Eagles defense.
Kendricks is an undersized, athletic linebacker, who has the speed to run with any running back in the league.  He's a good tackler, who as quick as at cat as a blitzer.  He had four sacks last year, which is quite an accomplishment for an inside linebacker.
The former Cal Bear is a three-down linebacker because of his ability to cover and to blitz.  Speed and quickness are the keys to Kendricks' game and they are why he's very valuable in this pass happy league.