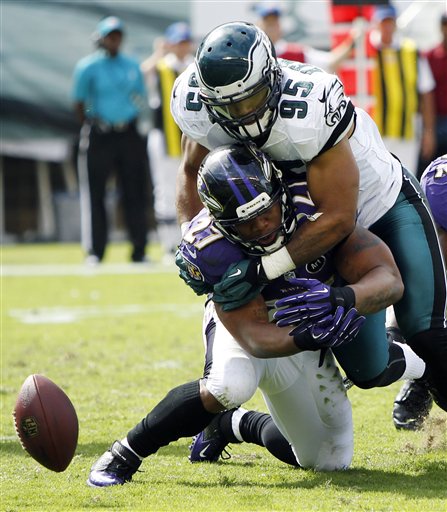 Philadelphia Eagles linebacker Mychal Kendricks, top, breaks up a pass intended for Baltimore Ravens running back Ray Rice in the second half of an NFL football game on Sunday, Sept. 16, 2012, in Philadelphia. (AP Photo/Mel Evans)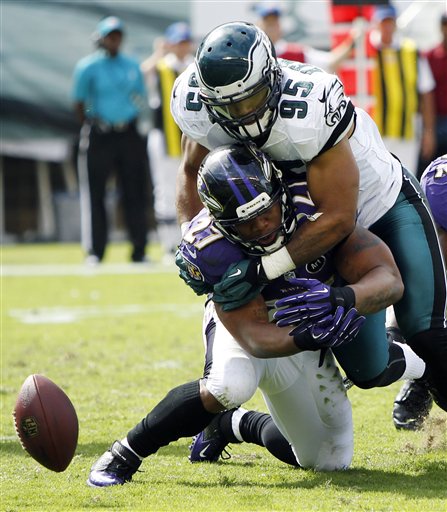 There's a good reason Eagles inside linebacker Mychal Kendricks just got a new four-year extension from the Birds.  The NFL is now a passing league and speed and athleticism are becoming more valuable every year.   It's simple, you need defensive players, who can defend the pass by rushing the passer or covering receivers.
Kendricks is a speedy athletic inside linebacker, who is ideal for playing against today's NFL offenses which emphasize the passing game.  Kendricks is like having an inside linebacker, who has some of the pass coverage skills of a safety.  He's also very adept at rushing the passer from the inside linebacker position because of his quickness and speed.
"I do believe I am the prototype," Kendricks said after practice yesterday.  "With the game becoming faster and offenses spreading out, you need quicker linebackers who can go and disrupt plays. I feel I can do that. My goal is to become the best inside rushing linebacker in the game."
"In this day and age, the prototype, he's getting close to it," Eagles defensive coordinator Billy Davis said. "With all the passing and spread out offenses out there, you need speed and athleticism in there. The old days, especially in the 3-4, we used to find the big Levon Kirkland big that could go butt heads with a guard and you don't need that quite as much anymore.
The guy likely to be playing next to Kendricks for a while is Kiko Alonso, who is also a very athletic inside linebacker.  Alonso, who had four interceptions in his rookie year, is also very good against the pass.  He excels at running and changing direction, which are must when it comes to playing against the passing game.
Kendricks and Alonso are both three-down linebackers, which adds to their value in a league that has become pass happy.
If Alonso can stay healthy in 2015, don't be surprise if the Birds pursue him with a contract extension.
Staying at the inside linebacker position, Davis talked about DeMeco Ryans and gave us some news about his availability for the opening game against the Falcons.
"You know, I don't know. Those are tough injuries to get 100 percent," Davis said regarding Ryans availability for the opener in Atlanta. "He's ahead of schedule, he's ahead of where most guys would be with that. I think it's going to be close. Hopefully, we can get him out there a little bit this week (in Saturday's Green Bay game), for his sake and ours, just to see kind of where he is."