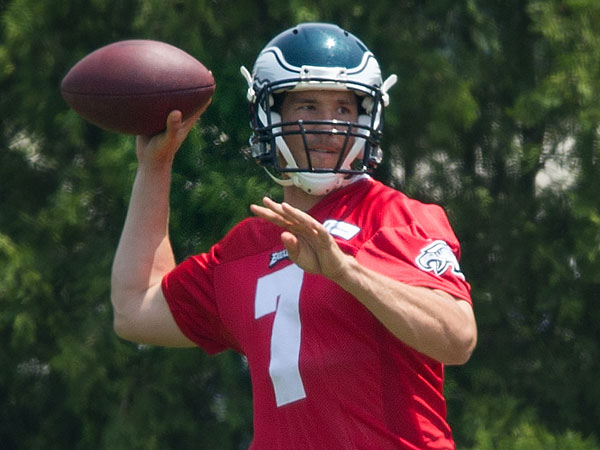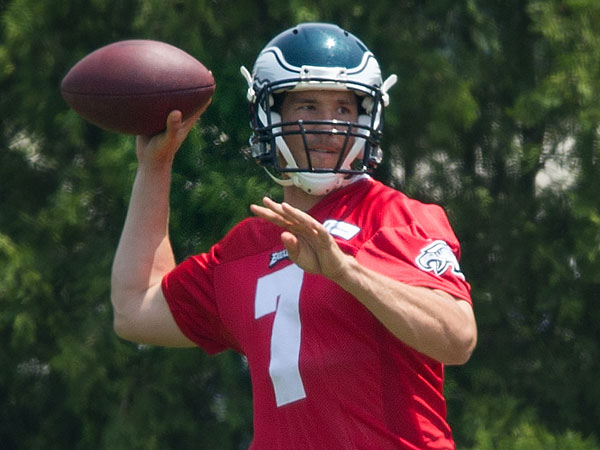 Bradford Brilliant
Sam Bradford couldn't have been any more impressive than he was on Saturday night. He played three series, went a perfect 10/10 for 121 yards and threw three touchdowns. And the former top draft pick was every bit as impressive as those numbers suggest.
Bradford just made one great throw after another. He finished the opening drive with a picture-perfect pass to Darren Sproles on a wheel-route for a touchdown. He floated the ball in the perfect spot, with perfect timing, dropping it right into Sproles' arms for a score.
Bradford capped the team's second drive by making a throw to Trey Burton for the team's second touchdown. With the Green Bay pass rush surrounding him, Bradford was able to stand up to the pressure, find the open man, and deliver an accurate throw.
On the team's third drive, Bradford delivered a strike to Brent Celek to cap his preseason with another touchdown.
I can't say enough about how impressive Bradford's poise, timing, and delivery were throughout his night.
Tebow's Two-Point Offense Fails
We all knew that when the Eagles signed Tim Tebow, Chip Kelly had visions of gimmicky plays and wrinkles to add to his offense in his head.
During the off-season, the Eagles were one of the teams that tried to push the league to move two-point conversion attempts to the one-yard line, with the idea of their Tebow packages in mind. They failed to get two point tries moved to the one, but they still want to try to implement Tebow to give them an edge in two-point conversions.
Tonight, the Eagles unveiled Tebow in that role, calling upon him for two attempts after the team's first two touchdowns. Tebow failed on both tries, getting stuffed on a quarterback draw up the middle, and having a feeble pass attempt broken up on the second play.
Tebow also turned in another mediocre showing when he took over for Matt Barkley in the fourth quarter. The former Bronco threw for just 15 yards, and one of his completions came on a very poorly thrown ball that Rasheed Bailey had to make a great adjustment on.
Quick Thoughts
Offense
I think Kenjon Barner has a roster spot wrapped up at this point. Barner helped up set up the team's final touchdown drive before the half by taking a screen pass 50 yards into Green Bay territory. He's shown he can contribute in a variety of ways, and he's given Chip Kelly more than enough justification to keep four running backs.
Another Oregon Duck that added to his case to make the roster was Jeff Maehl. Maehl caught three passes for 43 yards and a touchdown in the first half, and also drew a pass interference penalty. I think he has the edge over Seyi Ajirotutu for the sixth receiver spot.
Trey Burton already had his roster spot locked, but added fuel to the idea that he might have a regular role on offense this year. Burton caught two touchdowns in the first half.
Mark Sanchez went 13/19 for 150 yards and two touchdowns, and did a fine job moving the offense once he was placed in the game.
I thought Matt Barkley looked OK tonight. Barkley went 5/9 for just 28 yards, though he did have Eric Tomlinson and Quronn Pratt drop a couple of catchable balls.
Defense
Bennie Logan has looked like this defense's most improved player so far. Logan was dominant again, and played a major role in limiting the damage that star running back Eddie Lacy was able to do.
Walter Thurmond capitalized on a poor throw from Brett Hundley, and returned an interception for a touchdown in the first quarter.
I thought Eric Rowe had a really rough night. Rowe got beat routinely in coverage throughout the night, and was pushed around when the Packers ran at him. It was a tough showing for the second-round pick, who still looks really raw at this time. He hasn't pushed Nolan Carroll at all for the starting job opposite Byron Maxwell.
Mychal Kendricks saw his first action of the preseason, and looked really rusty. Kendricks missed several tackles, and was also flagged for a pass interference penalty in the end zone.
Ed Reynolds has fallen behind in the race for one of the final safety positions. Reynolds had a tough game tonight, missing several tackles.
Jerome Couplin may be ascending while Reynolds in falling. Couplin made several nice plays and hits during the game.
Jaylen Watkins has been up and down this preseason, but I think he is worth hanging on to. He's shown some decent cover skills, and I think he could really do with another year of seasoning.
Special Teams
Raheem Mostert began the game with a kickoff return that put the Eagles in Green Bay territory. There's no room here for Mostert with the emergence on Kenjon Barner, but he should have a home in the NFL somewhere this year.
Kip Smith was given the kicking duties for the tonight, most likely as a favor by the coaching staff in an effort to showcase himself for the rest of the league with the first wave of cuts looming after the game.