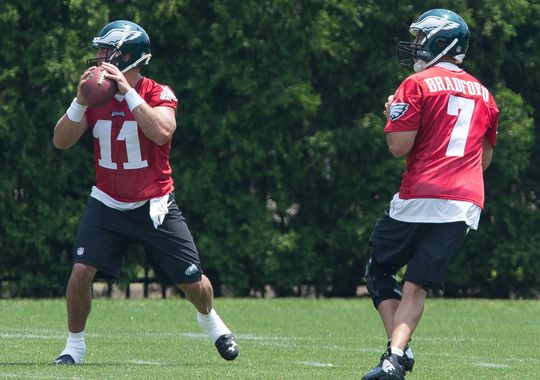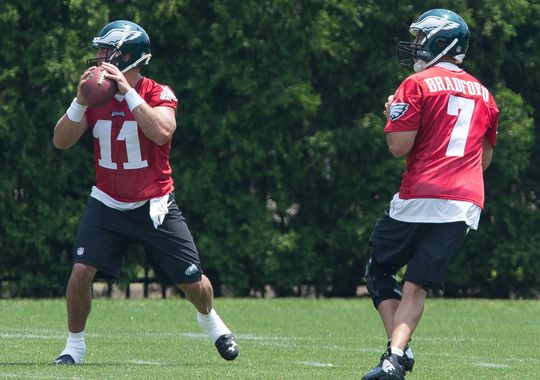 Tebow Secures Third Quarterback Job
Barkley badly underthrew Josh Huff on the team's first possession, leading to an interception. If Barkley had thrown the ball properly, he might have had a touchdown pass to Huff.
Barkley missed two more throws on the team's second drive, overthrowing Trey Burton twice within three plays. Barkley would convert on a fourth and eight throw to Burton, standing up to a rush and delivering the throw to extend the drive.
Barkley was pulled after two drives to give way to Tim Tebow. Tebow played the second quarter and made a number of nice throws. He seemed much more settled than Barkley, and was able to move the team down the field for an 85-yard drive, capped by a touchdown pass to Rasheed Bailey in the final moments of the first half.
Barkley returned in the third quarter, but didn't do much with his second run of the night.
Tebow finished the game by throwing another touchdown pass and cementing his spot on the team.
Eric Rowe Is Not Ready To Play
Third quarterback battle aside, the biggest thing I took from tonight's game was just how far off second-round pick Eric Rowe is from contributing this year.
Rowe capped a very erratic preseason with another poor showing tonight. Rowe was slipping and sliding on the field at the Meadowlands, as he continued to give up big plays in the passing game.
Rowe has been getting burned regularly throughout the preseason games. He's struggling to recognize the routes of opposing receivers, and guys are getting easy separation from him on most plays.
Based off of his showings this preseason, the Eagles can't count on Rowe to play much of a role this season. He's just not ready, and he needs time to develop before going onto the field. If he can't fight off third and fourth stringers in the preseason, he's not going to do the team much good in the regular season.
It once again begs the question, who is going to play the slot for this team?
Right now, it's certainly not Rowe. Jaylen Watkins has had massive struggles with consistency of his own. E.J. Biggers may be the team's safest option right now, but he's far from ideal.
This certainly wouldn't be an issue if the head coach didn't see fit to part with Brandon Boykin…
Quick Thoughts
The thing that makes the preseason truly insufferable for me isn't the fact that the Eagles are playing third and fourth string players, but listening to the broadcast team of the Eagles Television Network.
First of all, the main broadcast team always seems poorly prepared and completely disinterested in the contest. From lazily mistaking Kip Smith's field goal attempt for a traditional extra point try, to sprinkling in cliche after cliche, it's painful to listen to.
Worst of all is enduring Dave Spadaro's condescending voice as he talks down to Eagles' fans about how there's "no shot" the Eagles land Robert Griffin as a third quarterback, or his comment about Kip Smith and the Eagles' kicking situation, as though we needed Spadaro to chime in and tell us that there was no controversy between Smith and Cody Parkey
Offense
Good effort by Josh Huff on the Barkley interception to go after the defender and knock the ball loose. The runner was ruled down by contact on the play, but it was good to see Huff stay focused and make a smart play of his own.
Raheem Mostert had another solid game, and continued to run the ball hard. Kenjon Barner is ahead of Mostert on the team's depth chart, but he's played well enough to be on an NFL roster somewhere this year.
I thought John Moffit had some nice moments in this game. I think he sticks around as a backup.
I don't see how Seyi Ajirotutu makes this team. He has a good reputation as a special teams guy, but the can't catch a ball to save his life. He's had several big drops in the preseason, and I have to believe Jeff Maehl has the edge on him for the sixth receiver spot.
Defense
Kiko Alonso got his first action of the preseason, and was in on several tackles. Alonso was around the ball on nearly every play he was in for.
I'm not a fan of Ed Reynolds. The guy can't tackle anyone.
Jaylen Watkins gave up an 18-yard touchdown pass on the Jets' opening drive. Watkins bounced back to make a beautiful play on a diving interception in the second quarter to set up the Eagles with a short field.