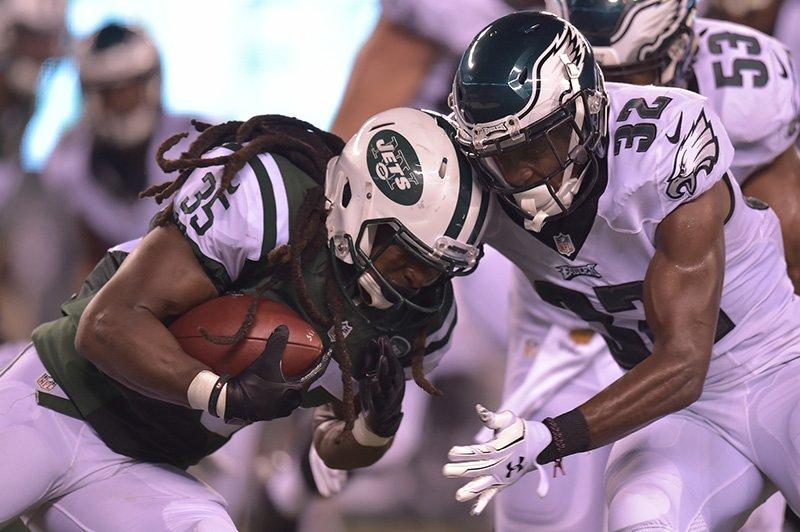 It was a long night for the Eagles young cornerbacks at Met-Life Stadium.  The nickel back position is one of the few areas of the team that has yet to gel that will be counted on when the season starts on Monday September 14th.
Second-round draft pick Eric Rowe was overmatched in his man-to-man coverages.  He was beaten on deep go routes, on comeback routes and every other route he had run against him.  It's very clear, that he's not ready to play cornerback against good NFL receivers.
They thought he would be able to play the cornerback position because it's based more athletic ability, than on having an extensive understanding of the defenses and the coverages.  He's not ready to control the secondary and adjust to formation, shifts and motions.  Being a safety requires knowing the defensive coverages thoroughly. Rowe isn't ready for that.  His coverage problems at cornerback, and lack of understanding of the defensive coverages will mean, Rowe's biggest contributions will be for the Special Teams until he improves his man-to-man techniques.
He's playing up too high, so late in the route, he can't change direction.  I would like to see him get a better jam on the wide receivers.  He's got the size and strength to delay the wide receivers releases.
The good things that Rowe did last night were on the Special Teams as a gunner. He also showed he can be a good open field tackler, which is a must to play the safety position.  If he continues to struggle at cornerback, they may have to be forced to move him to safety.  There's no question that he is physical enough to play safety, but he's got to gain a better command of the coverages.
Not only was Rowe in over his head, but cornerback Jaylen Watkins was also overmatched in his battle against the New York Jets backup wide receivers.  Yes, you read that right, the Eagles thought it was a good idea to trade Brandon Boykin to the Steelers, but they don't have enough quality cornerbacks to deal with teams that play four wide receiver formations.
Remember that the Jets backup wide receivers are nothing to write home about.  These guys aren't Pro Bowlers, yet they looked like it when they were playing against the Eagles cornerbacks, last night.  Watkins did pick off a pass late in the game, but it was an awful throw by the Jets quarterback.  It did show some promise, and may give Watkins a chance to make the team.
Another young cornerback and 2015 draft pick Randall Evans doesn't seem to have the athletic ability to play the corner position at the NFL level.  I think he might be able to play safety, but I don't know if he's going to get the chance to play it with the Eagles.
Right now, it looks like the Eagles are going to be forced to have one of their safeties, probably Walter Thurmond, move inside to play the nickel back position.   One of the backup safeties will replace Thurmond at his safety position.